Een interactieve tentoonstelling in de bibliotheek van Genk 
Ter ere van het 25-jarig jubileum van auteur en illustrator Leo Timmers opende in maart 2018 de tentoonstelling De wereld van Leo Timmers. Het concept werd bedacht door Leo Timmers en Maarten Deckers in de zomer van 2017. Ons concept werd geleidelijk tot leven gebracht met de hulp van Ann Vanderheyden en Danny Bierset, de steun van de stad Genk en vele helpende handen. We hebben geprobeerd om een ​​leuke en meeslepende ervaring op te bouwen voor kinderen, jong en oud. Ons campagnebeeld vat het mooi samen: verwacht je aan een ontmoeting met een buslading vol grappige en kleurrijke personages uit Leo's kinderboeken en tv-animaties en laat je meevoeren door de wereld van Leo Timmers.
An interactive exhibition at the library of Genk
In March 2018 the public library of Genk (Belgium) opened the interactive exhibition The world of Leo Timmers. It celebrates the 25th anniversary of Leo Timmers' career as a children's book author and illustrator. The concept was dreamed up by Leo Timmers and his long time collaborator Maarten Deckers during the summer of 2017. It gradually came to life with the help of Ann Vanderheyden, Danny Bierse, the city of Genk and many other helping hands. We all tried to build a fun and immersive experience for children young and old. Perhaps our campaign image says it best: expect to meet busloads of funny and colorful characters from Leo's children's books and tv animations that will invite you on a journey, above or below water, through the world of Leo Timmers.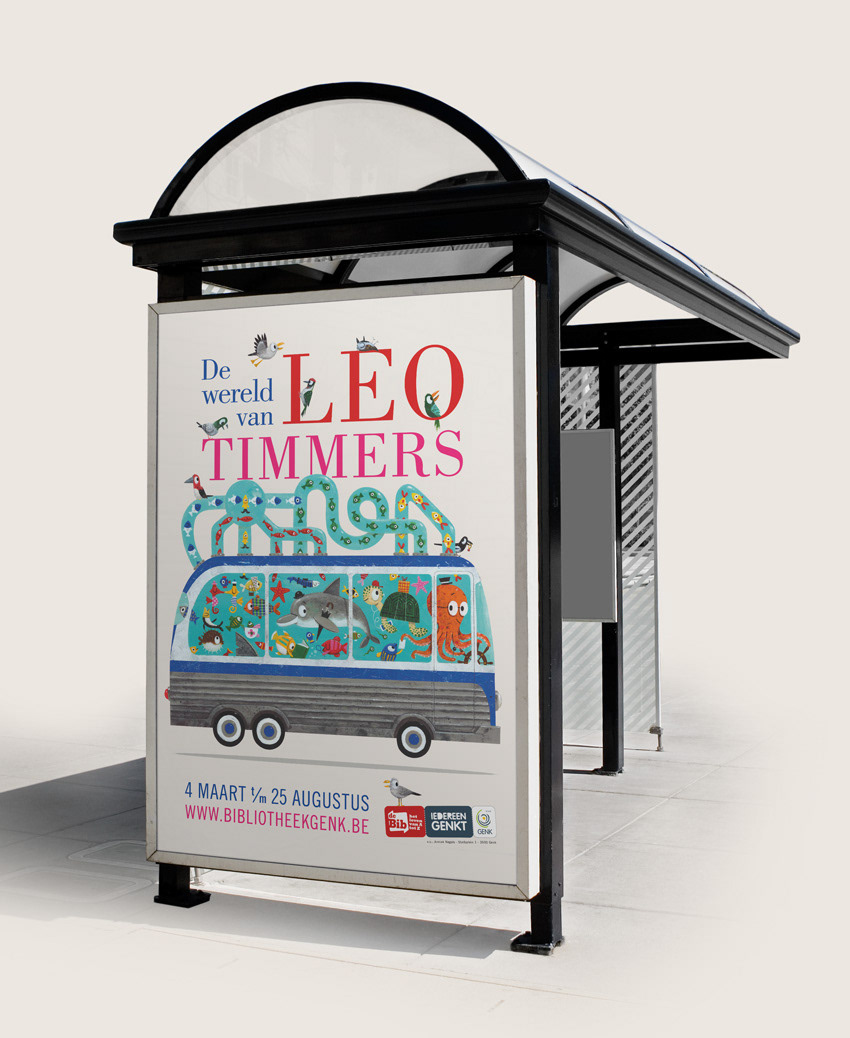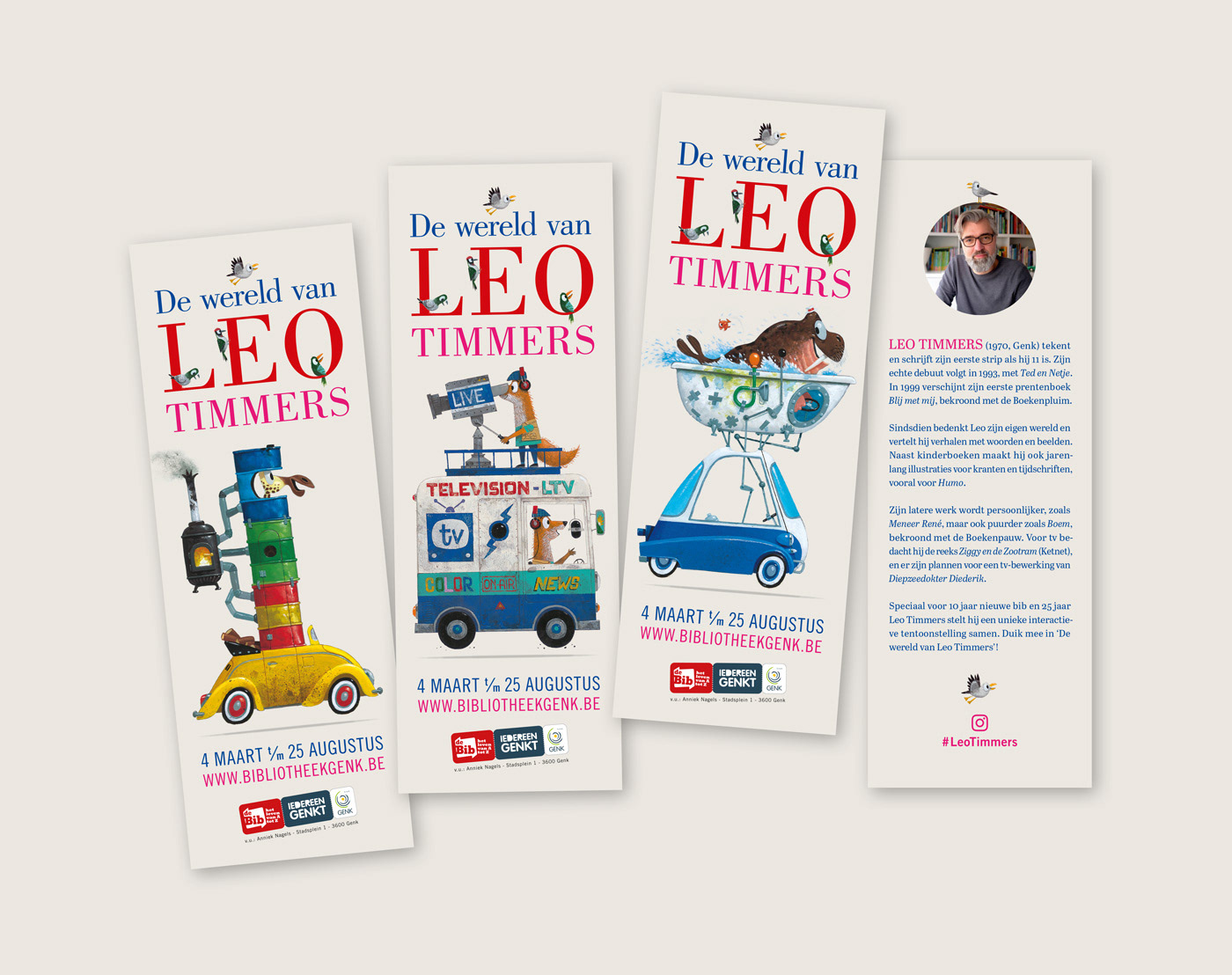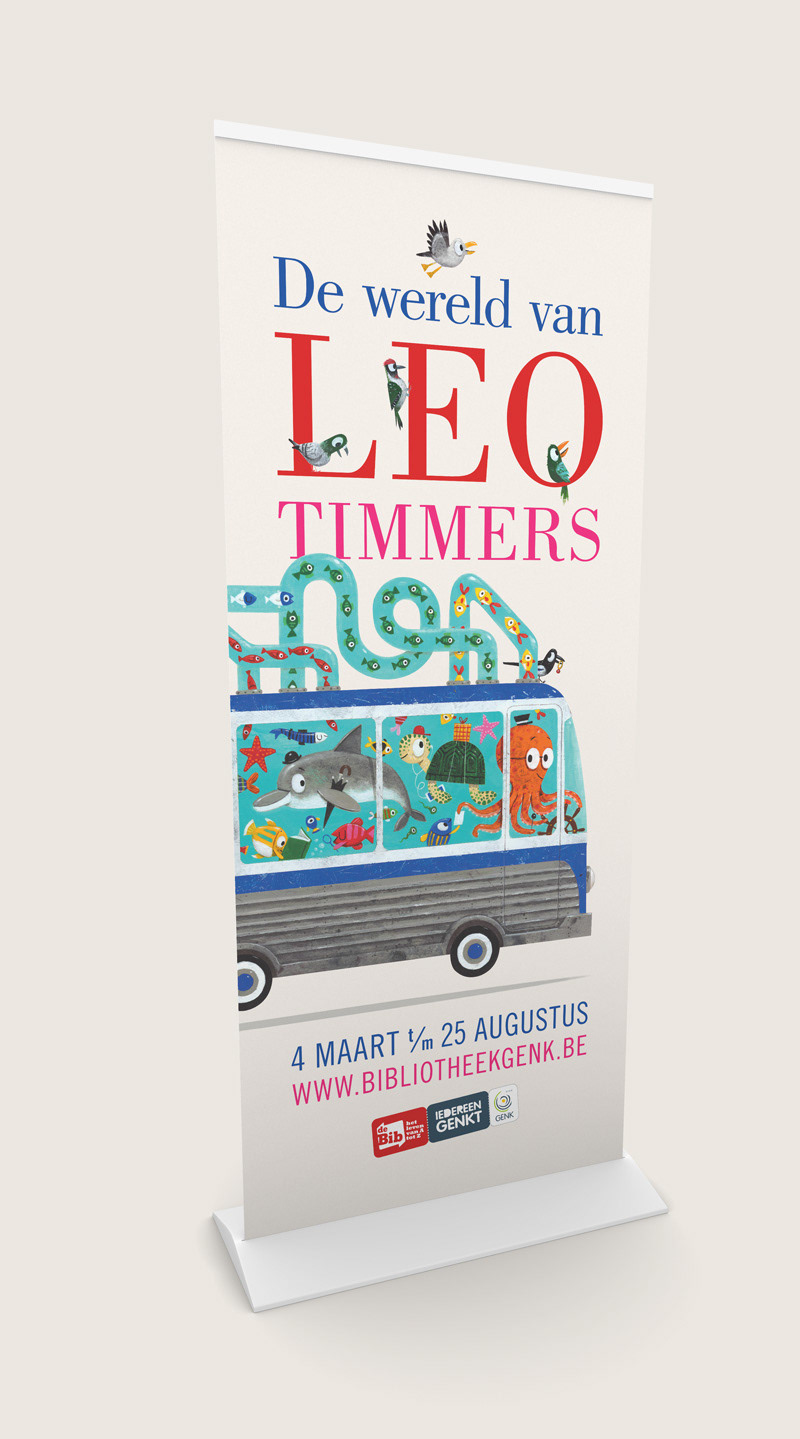 Op de grote ramen aan de voorkant van het gebouw ontmoet je een gigantische walvis samen met de vele vrienden van Diepzeedokter Diederik, terwijl je aan de voorkant van het gebouw in een heuse dierenfile terechtkomt. In de bibliotheek kun je op Ziggy's Zoo Tram springen, in een raket kruipen en Franky ontmoeten, de oceaan verkennen in de kleine onderzeeër van Diepzeedokter Diederik of je technische knobbel bovenhalen in de garage van Gust.
On the large frontside windows of the building you can meet a giant whale and many of Deep-sea Doctor Derek's friends, while the building's streetside windows have animals in cars driving up and down. Inside the library you can hop on Ziggy's Zoo Tram, crawl inside a rocket and meet Franky, explore the ocean in Deep-sea Doctor Derek's little submarine or get all technical and hands-on inside Gus's Garage.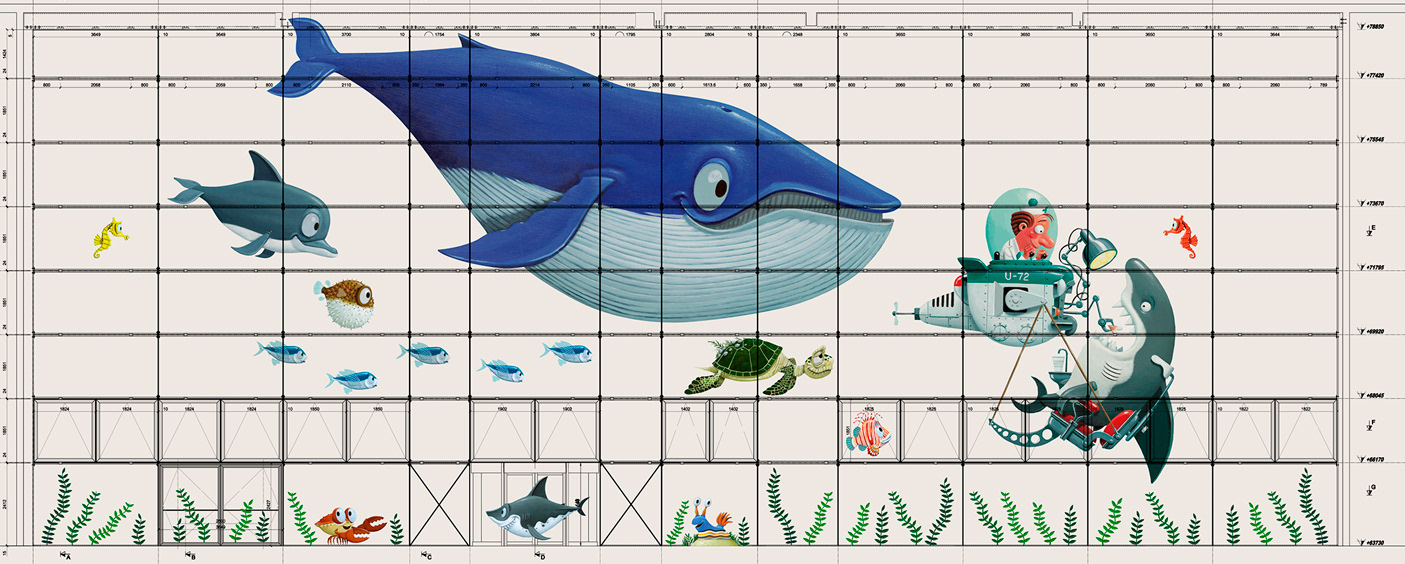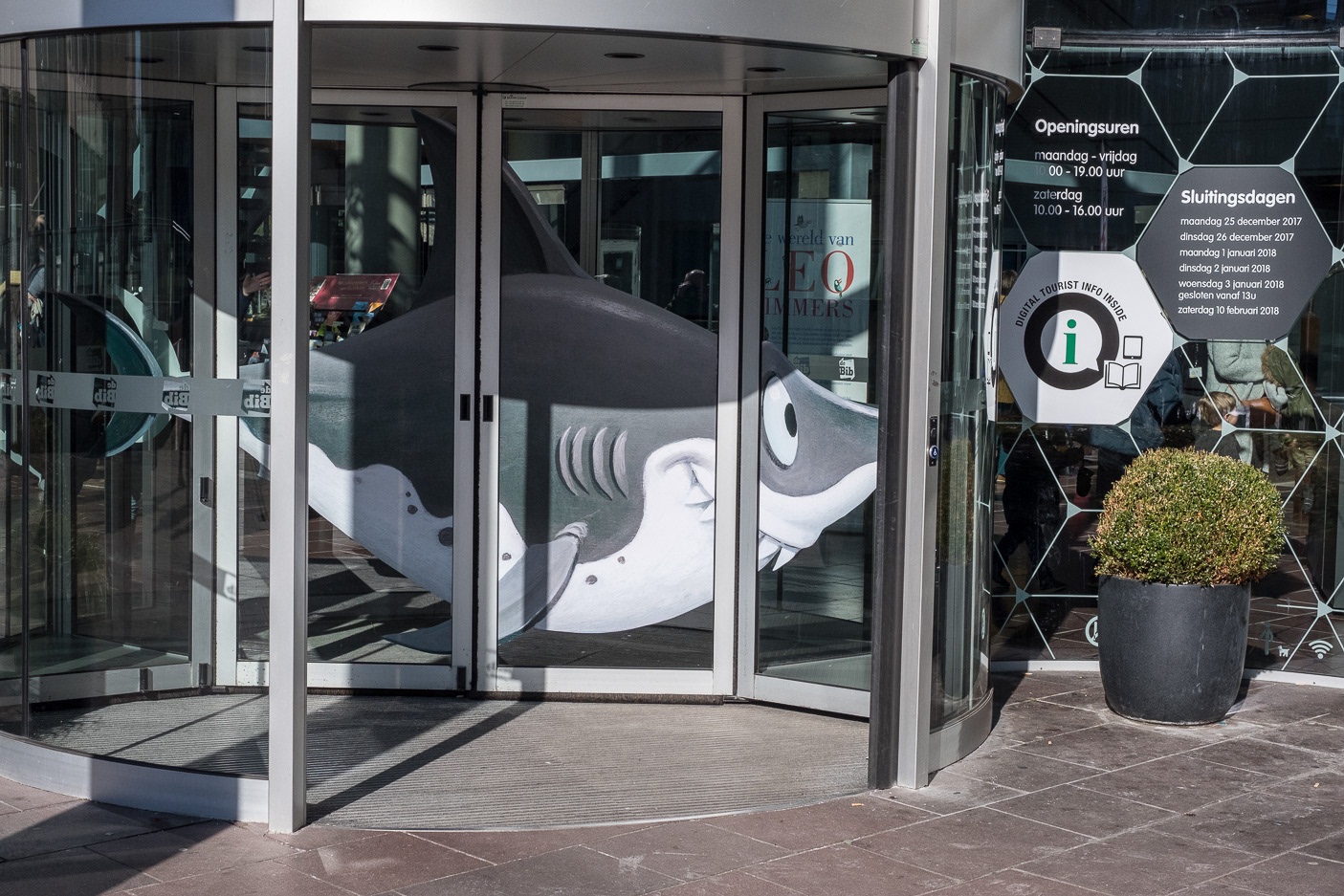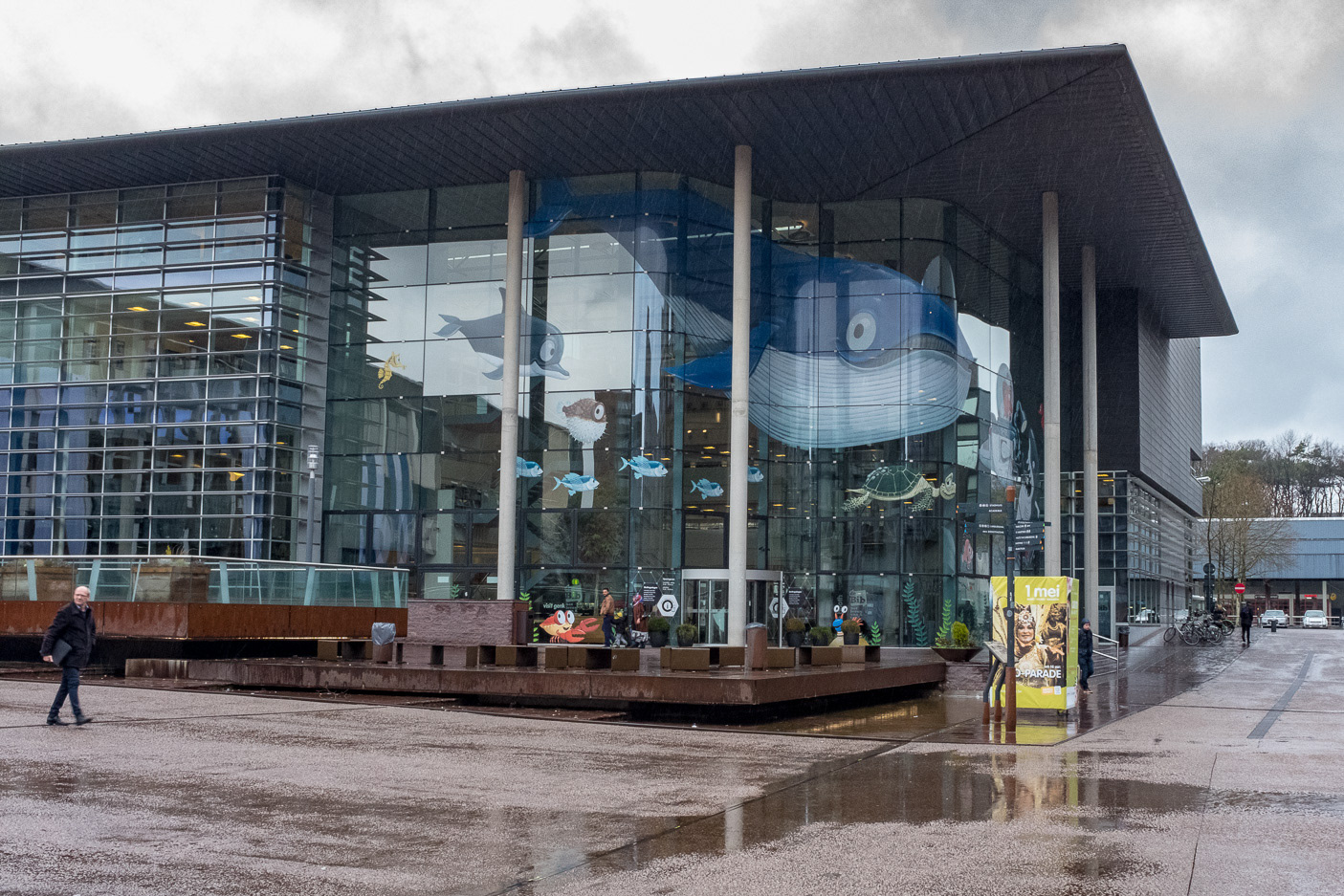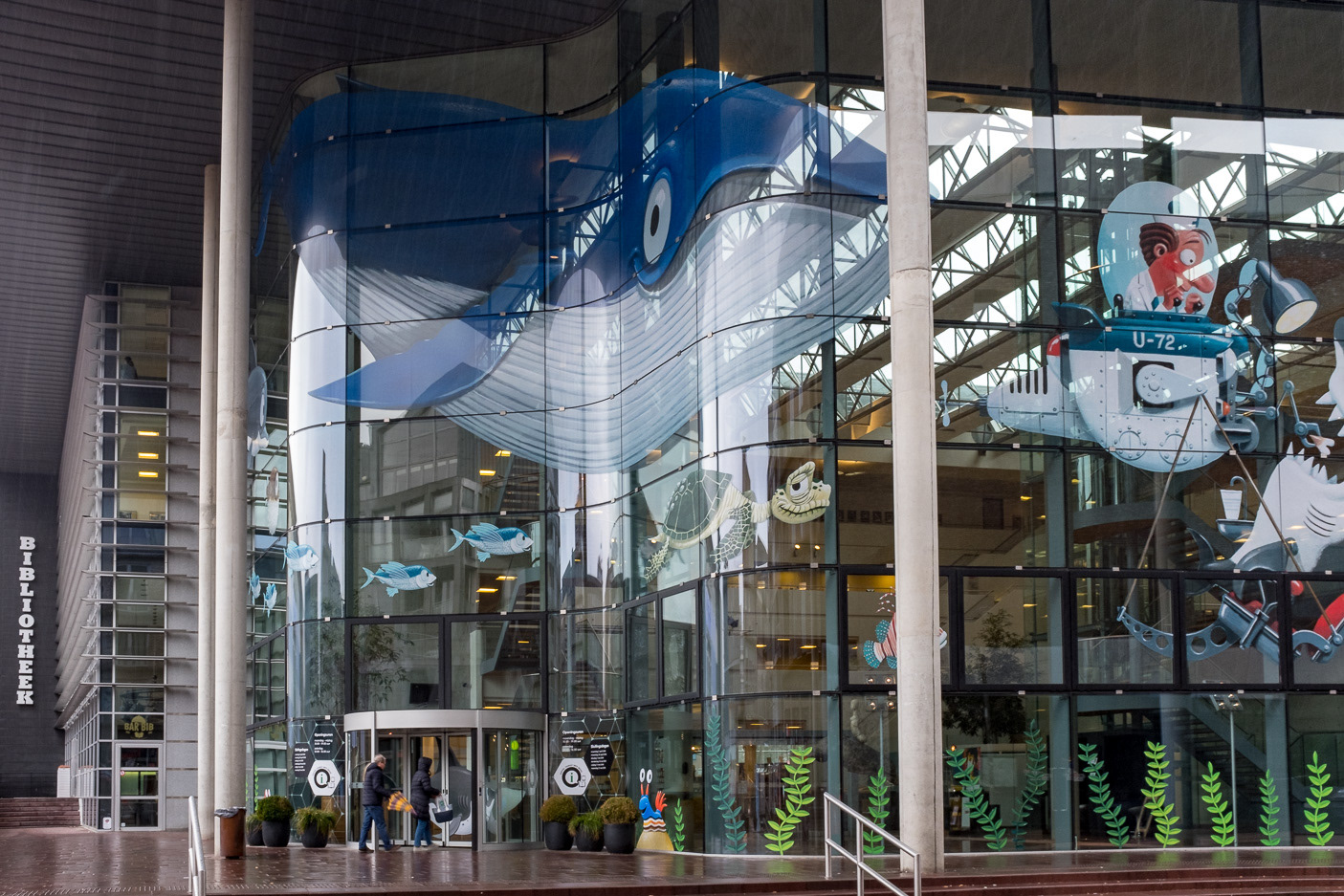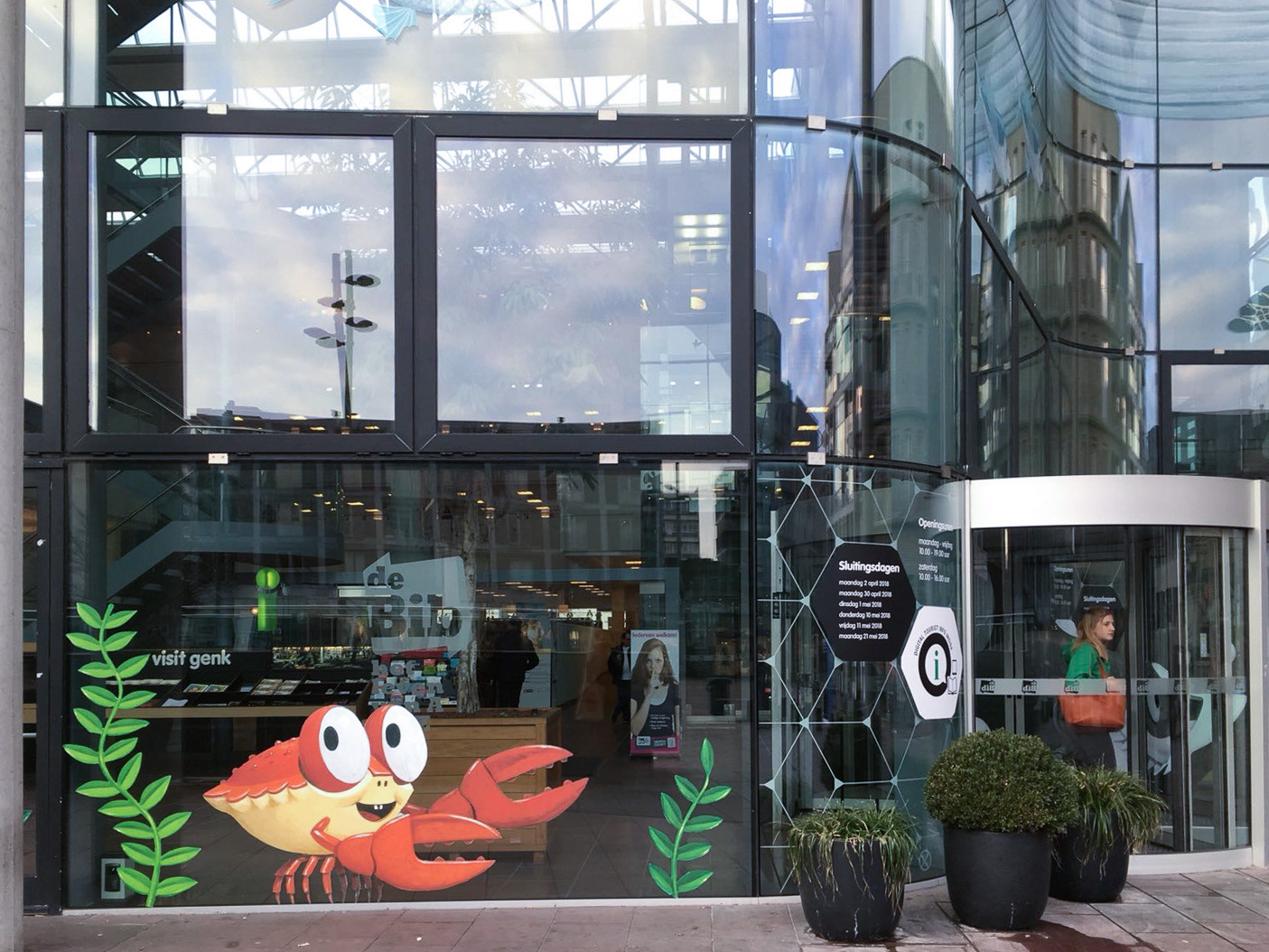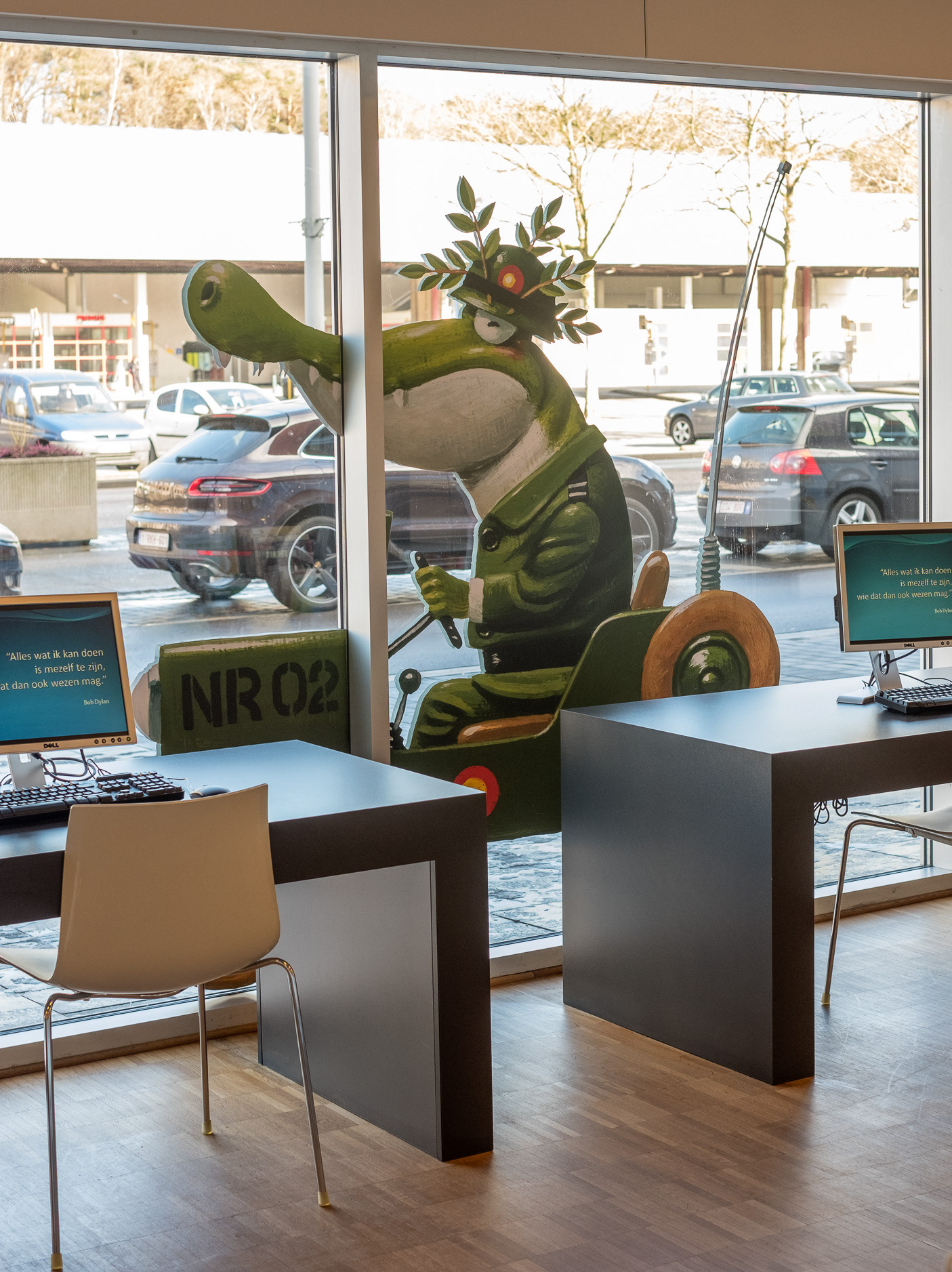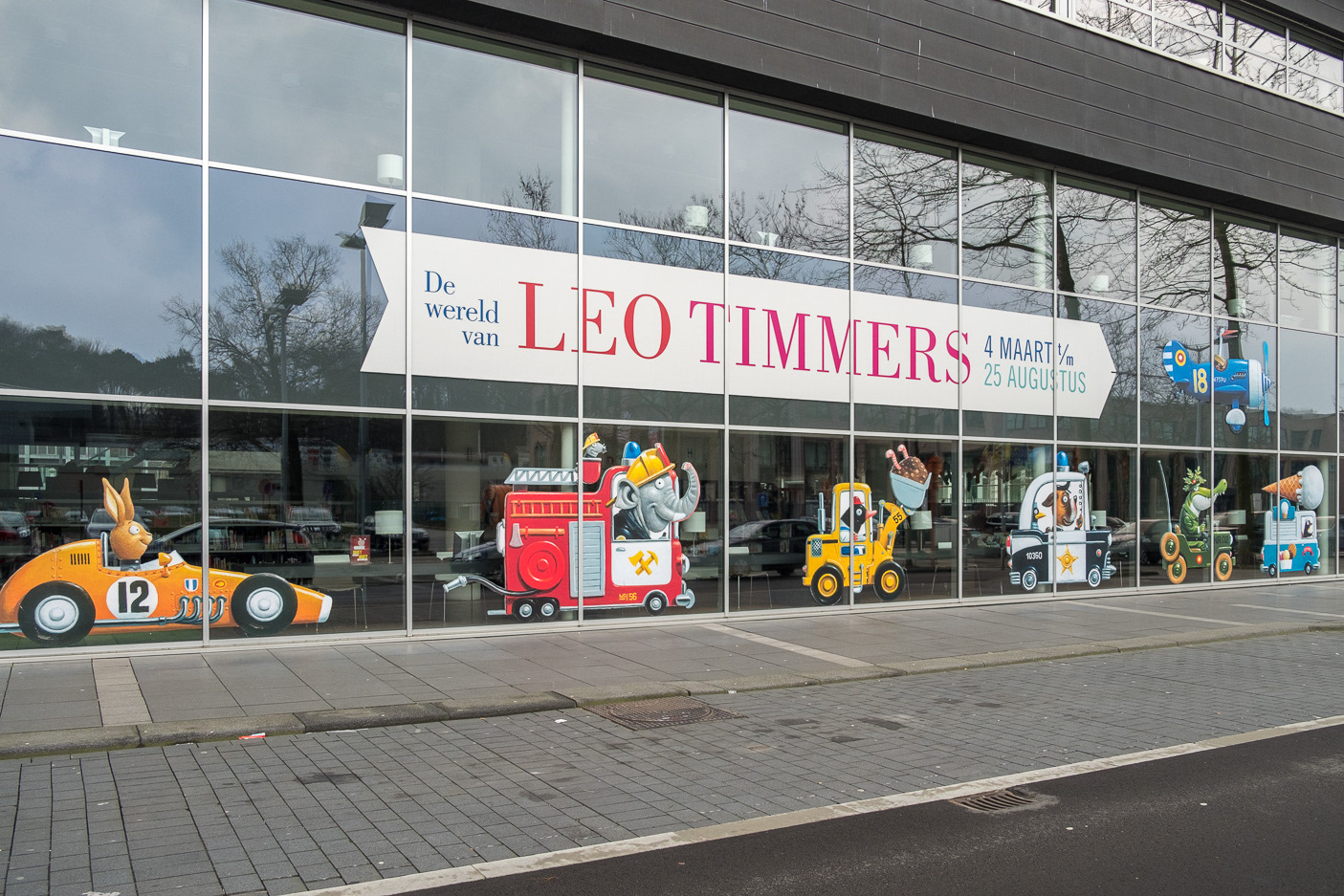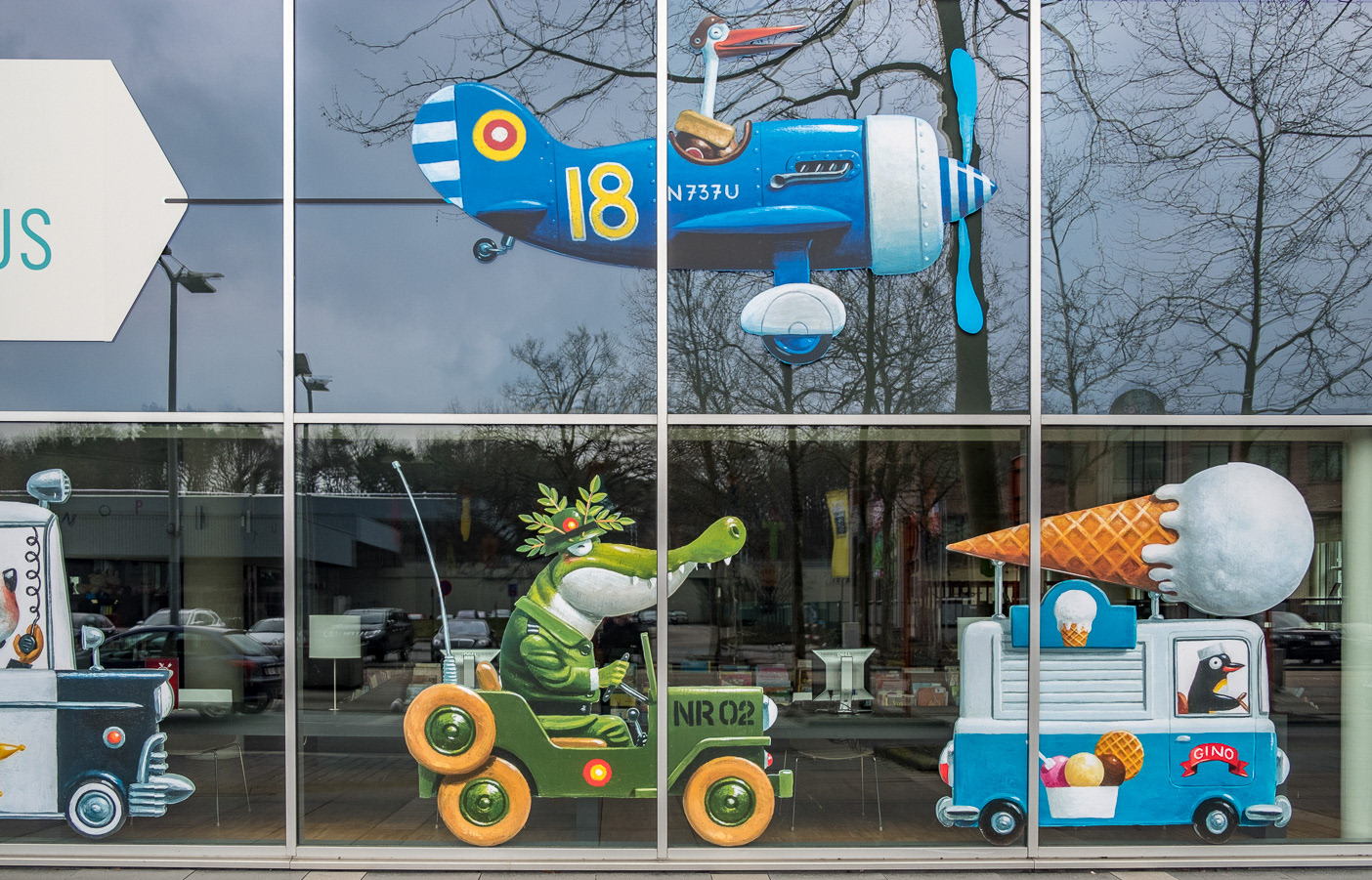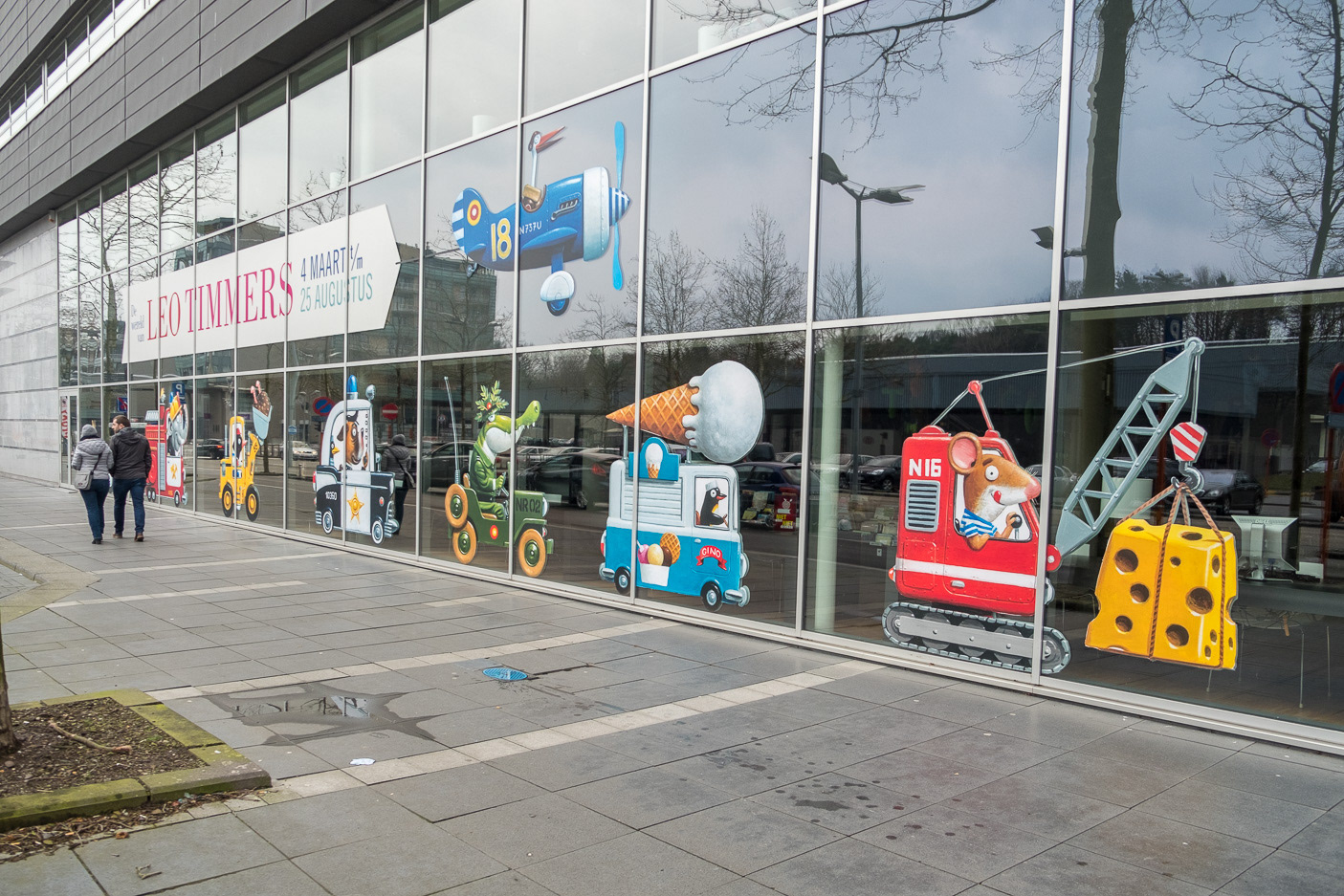 Het middelpunt in het atrium van de bibliotheek is een levensgrote zootram. In deze tram bevindt zich een kleine bioscoop waar kinderen op kussens kunnen liggen en afleveringen van Ziggy & The Zootram, de 3D-animatieserie van Leo Timmers, kunnen bekijken. Ziggy en zijn dierenvrienden wonen in gekke huizen in een krater op een eiland en ze hebben een geheim - naast wandelen als mensen, praten als mensen en zich kleden als mensen - werken ze allemaal in een dierentuin. En als ze op weg zijn naar hun werk in hun magische, transformerende tram, gebeurt er altijd iets geks.
The centrepiece in the library's atrium is a life-sized zootram. It functions as a tiny cinema where children can lie down on cushions and watch episodes from Ziggy & The Zootram, Leo Timmers' 3D-animated tv-series about a smart little crocodile called Ziggy. He and his animal friends live in their kooky houses in a crater on an island and they have a special secret - besides walking like people, talking like people and dressing like people - they all work at a zoo! And when they are on their way to work in their magical transforming tram, something crazy always happens.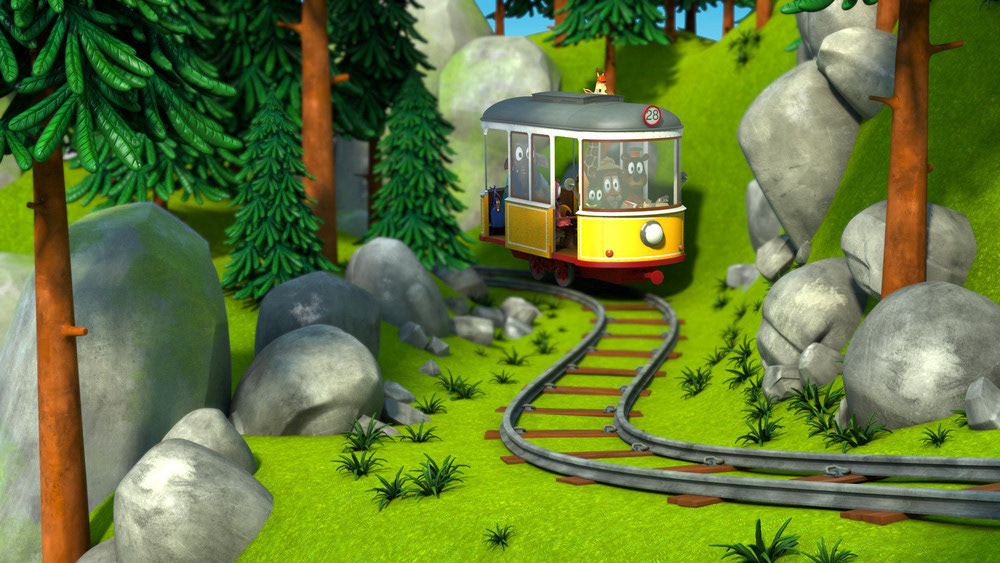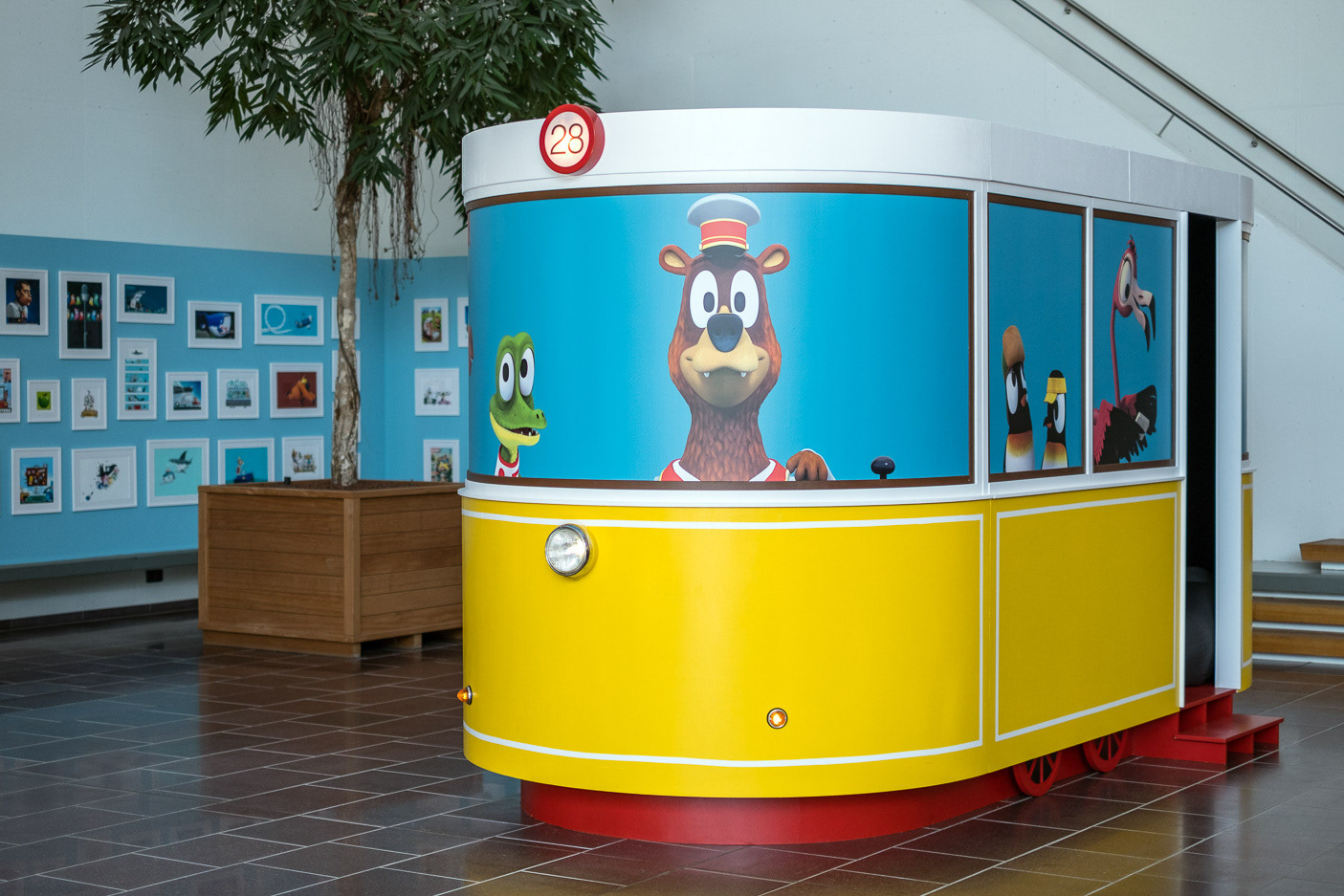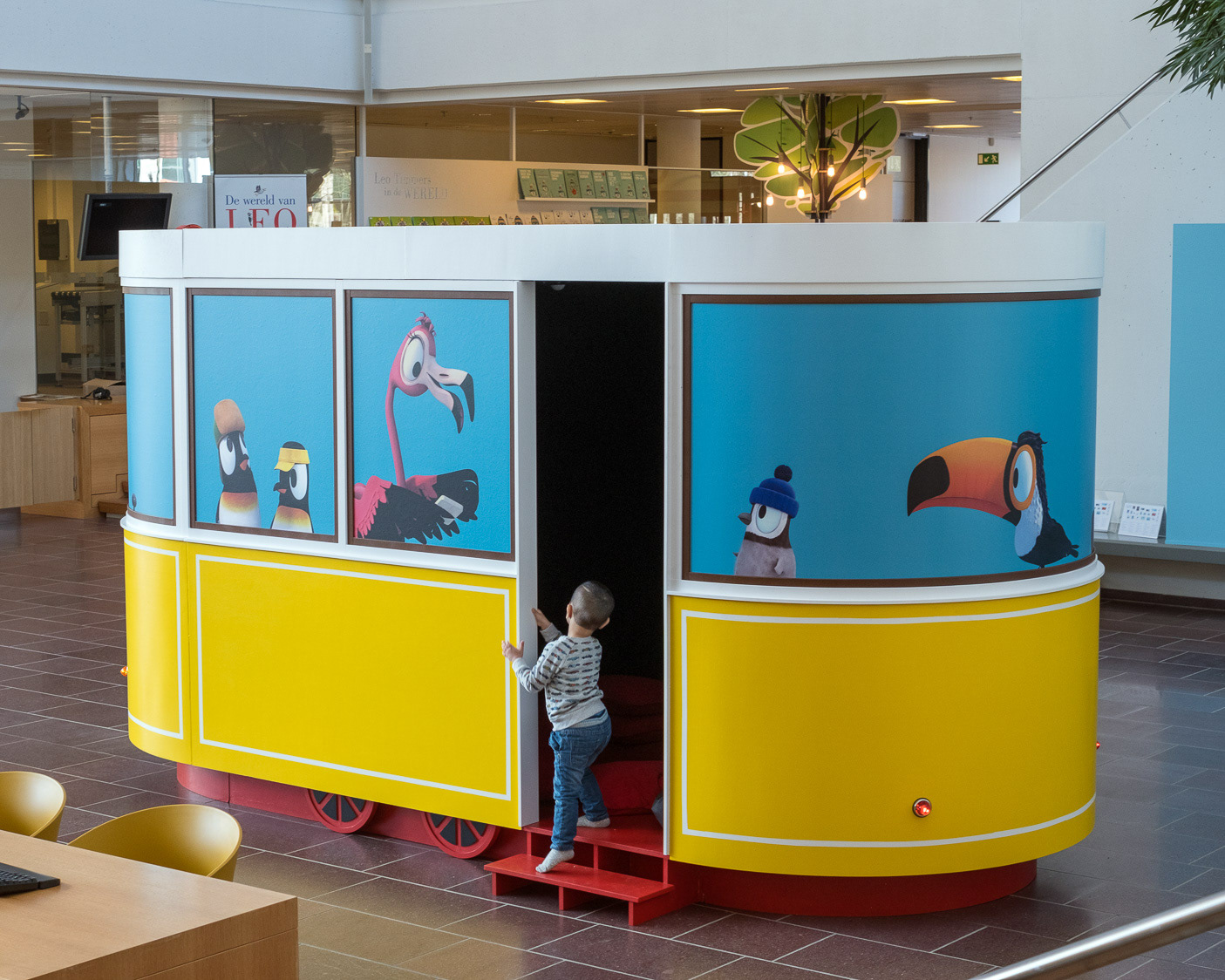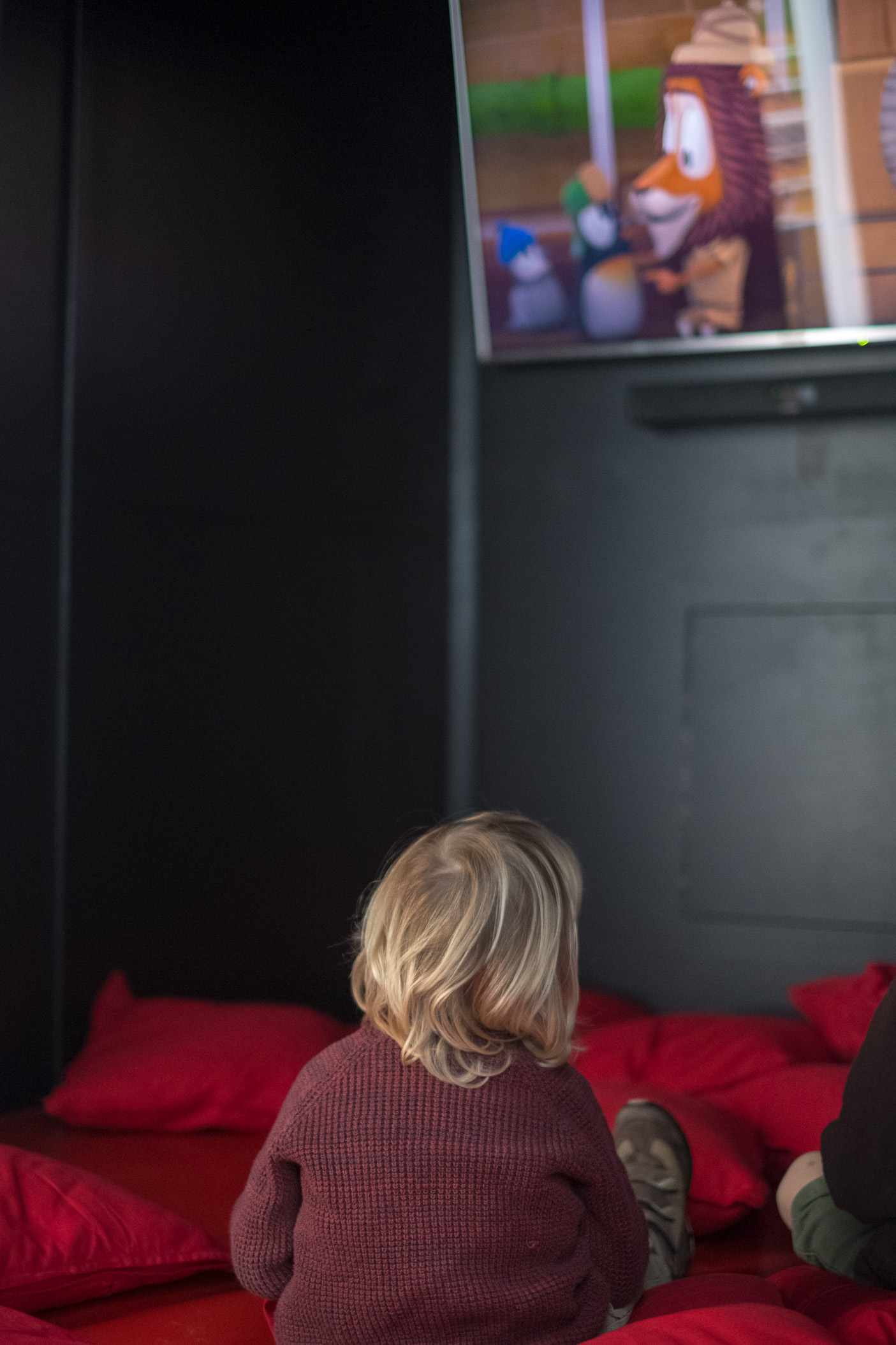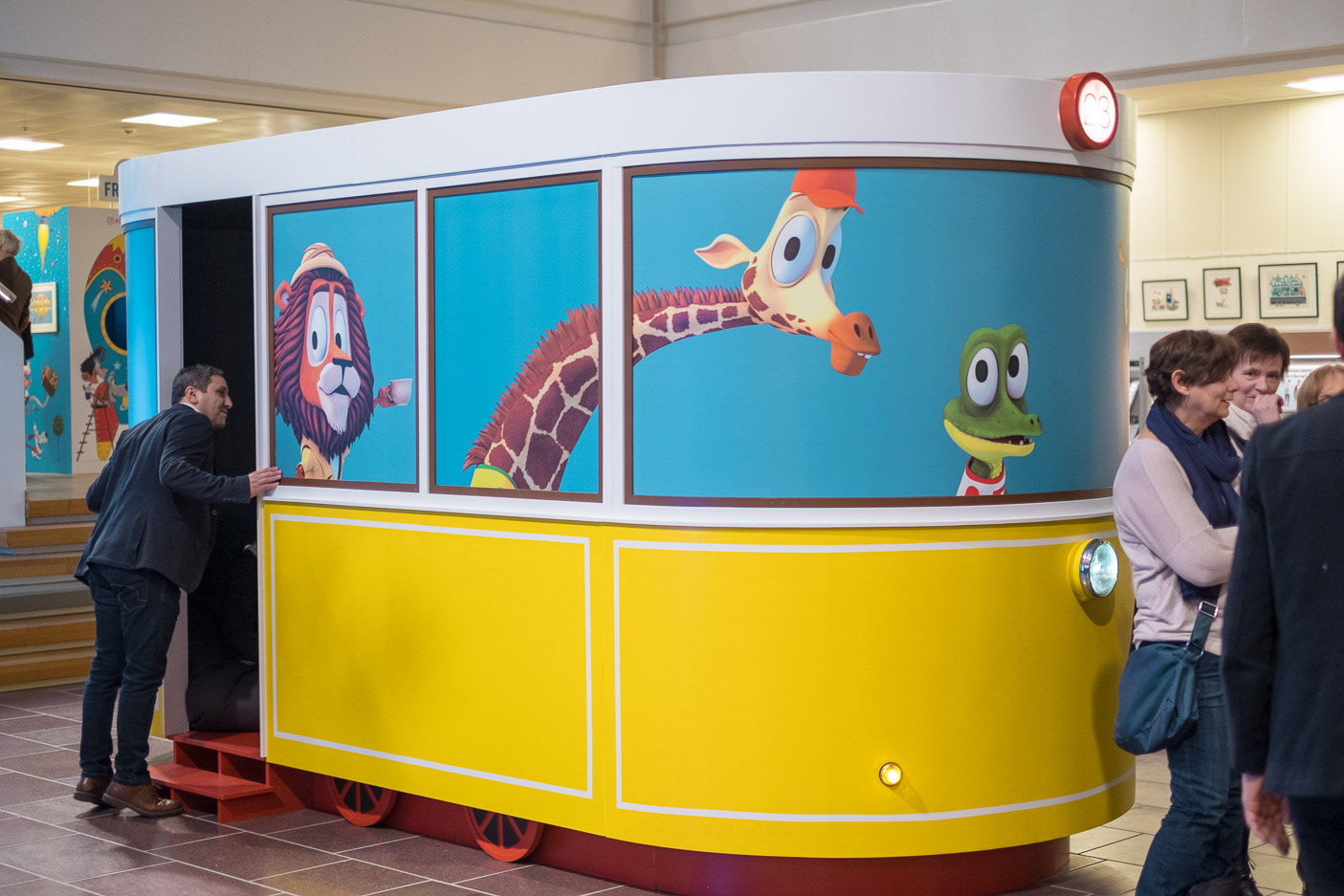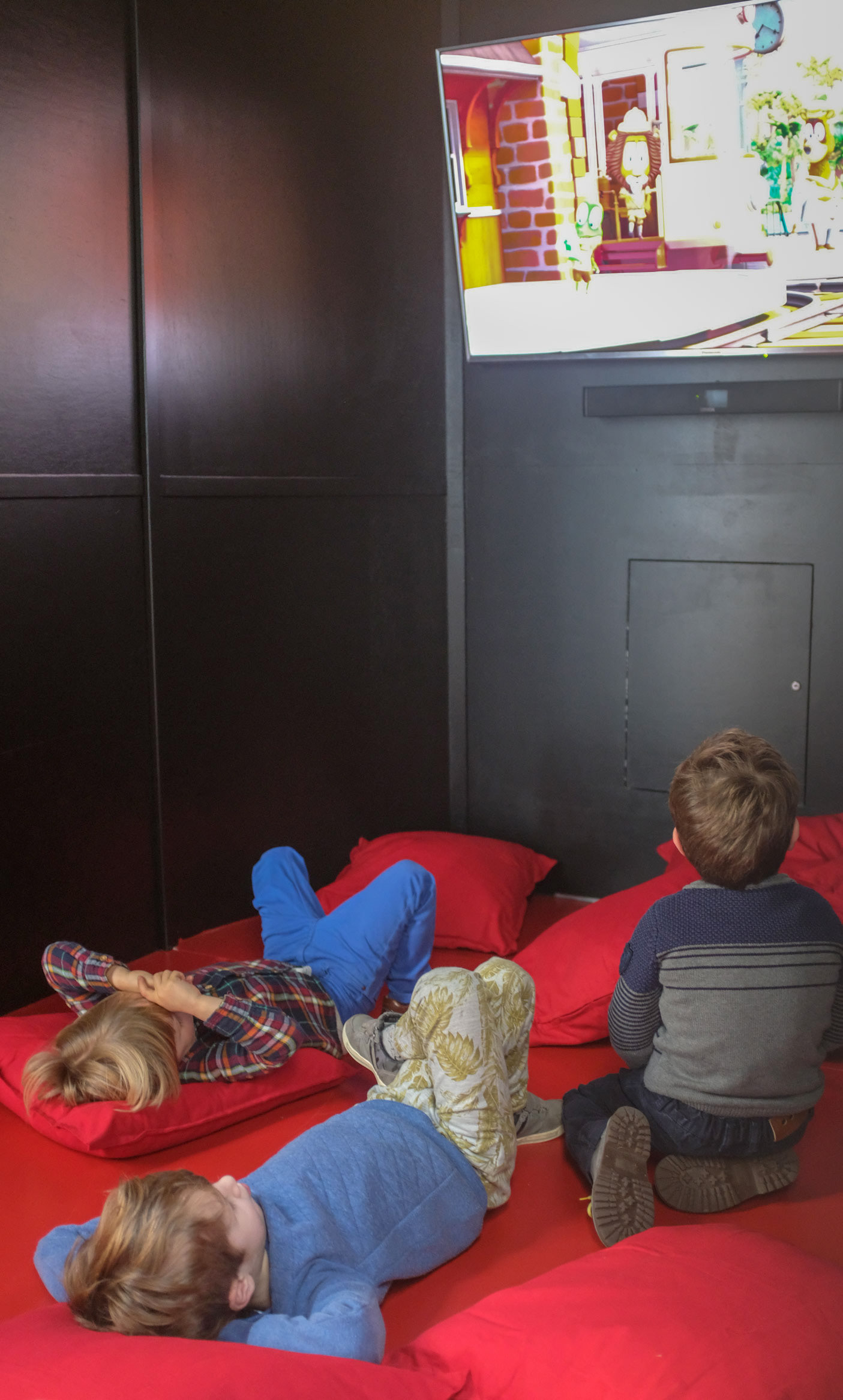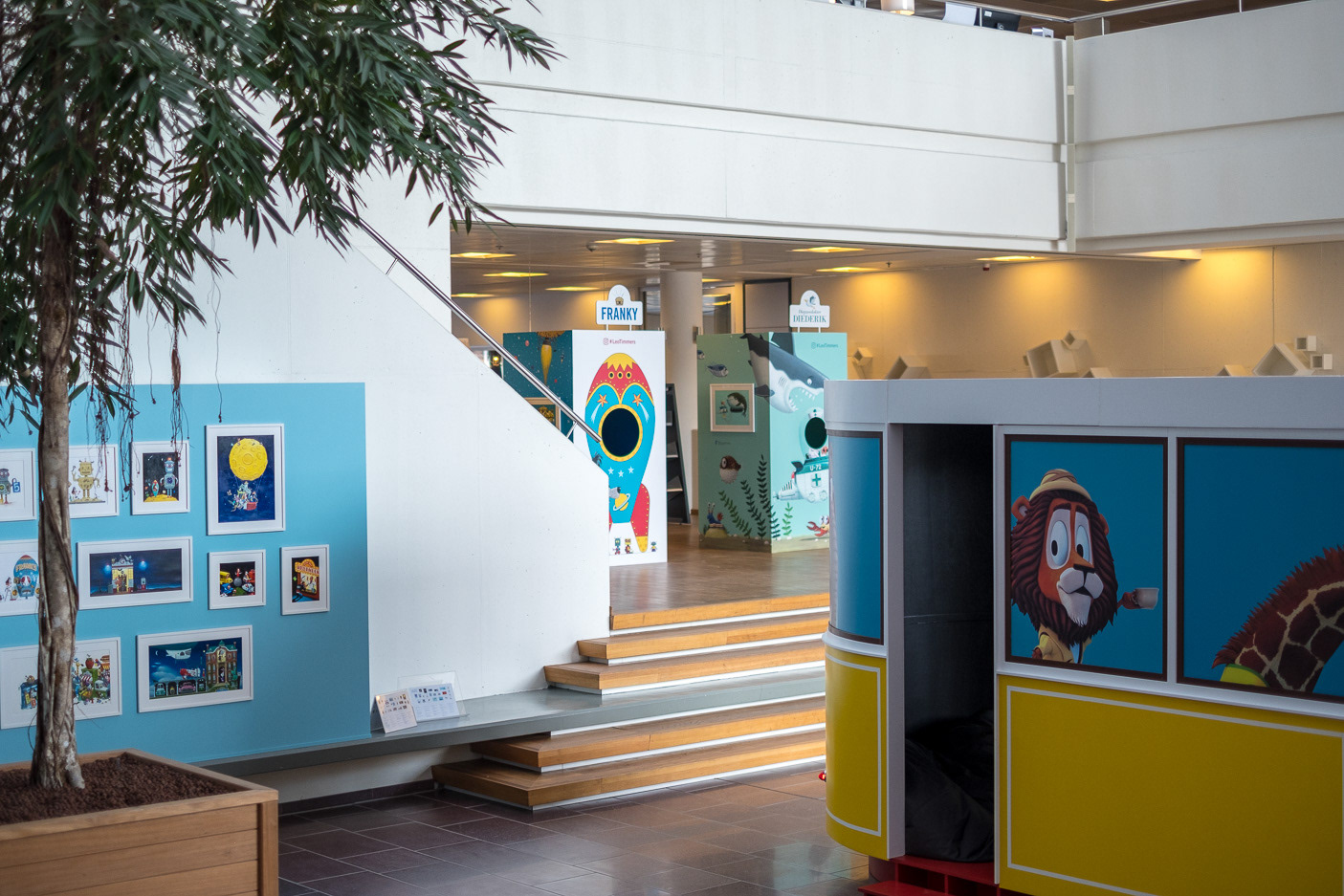 De centrale tentoonstellingswand
De tentoonstellingswand in het atrium van de bibliotheek bevat ongeveer 50 originele illustraties van Leo, variërend van kinderboekillustraties en boekomslagen tot redactionele illustraties en posters. In plaats van een retrospectieve, hebben we een selectie gemaakt op basis van terugkerende thema's en motieven in het werk van Leo, zoals Magritte, auto's, haaien, koningen, robots, drukke straatbeelden, enz. De ingekaderde werken hangen laag genoeg bij de grond zodat kinderen van dichtbij kunnen kijken.
The central exhibition wall
The exhibition wall in the library's atrium displays about 50 of Leo's illustrations ranging from children's book illustrations and book covers to editorial illustrations and posters. Rather than making it retrospective, we made a selection based on recurring themes and motives, like Magritte, cars, sharks, kings, robots, busy street scenes, etc. The frames are hanging low so children can get up close.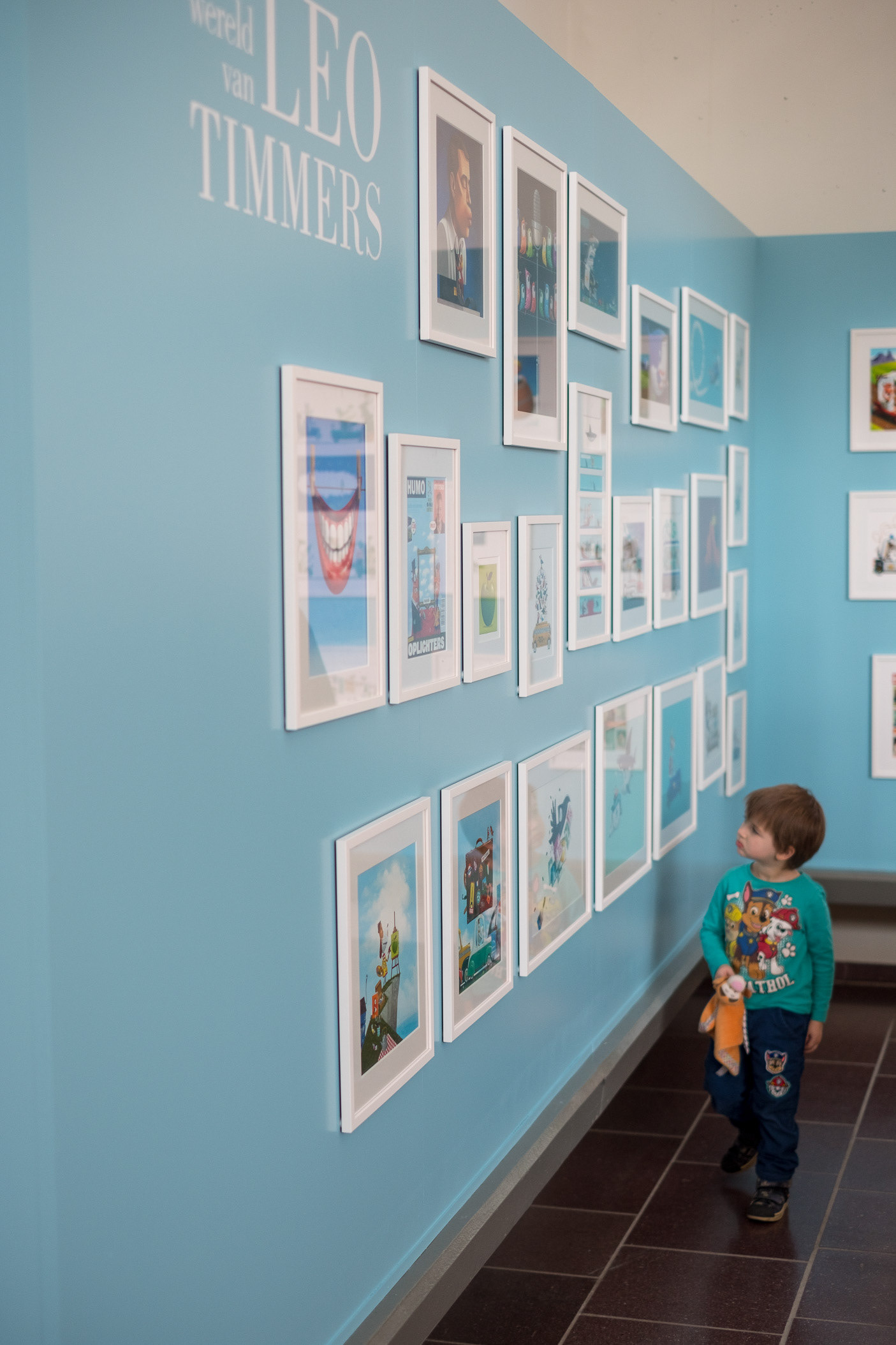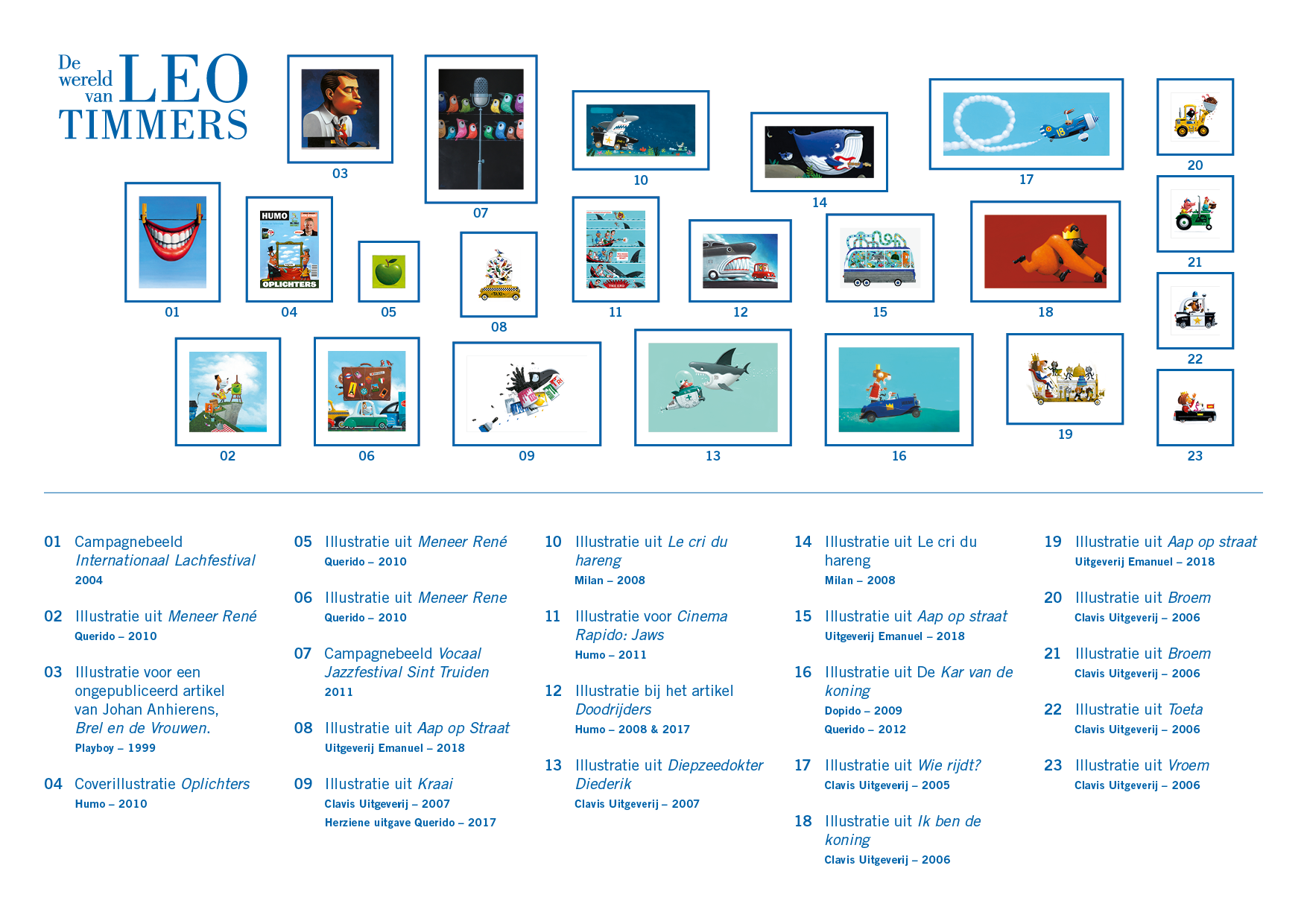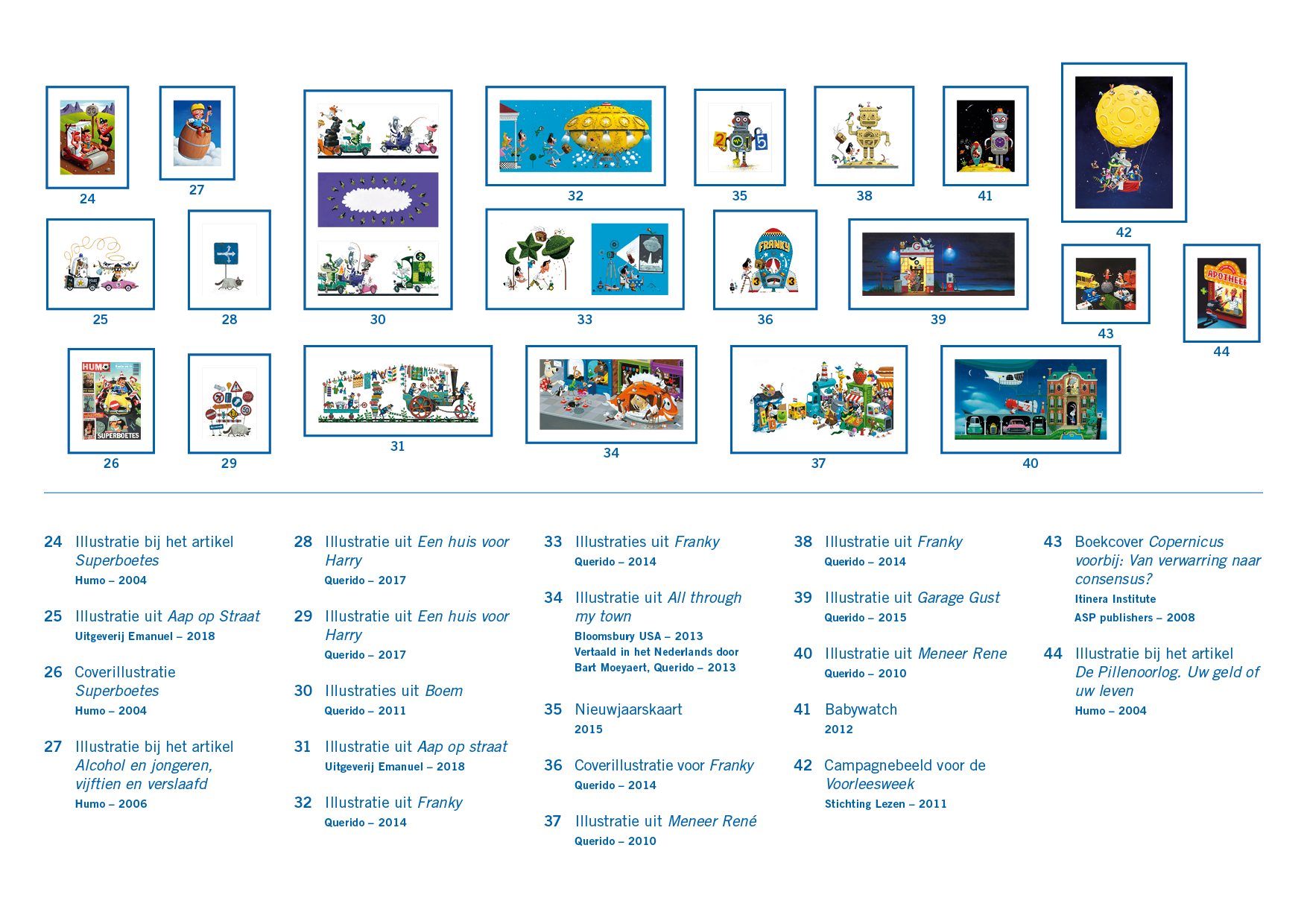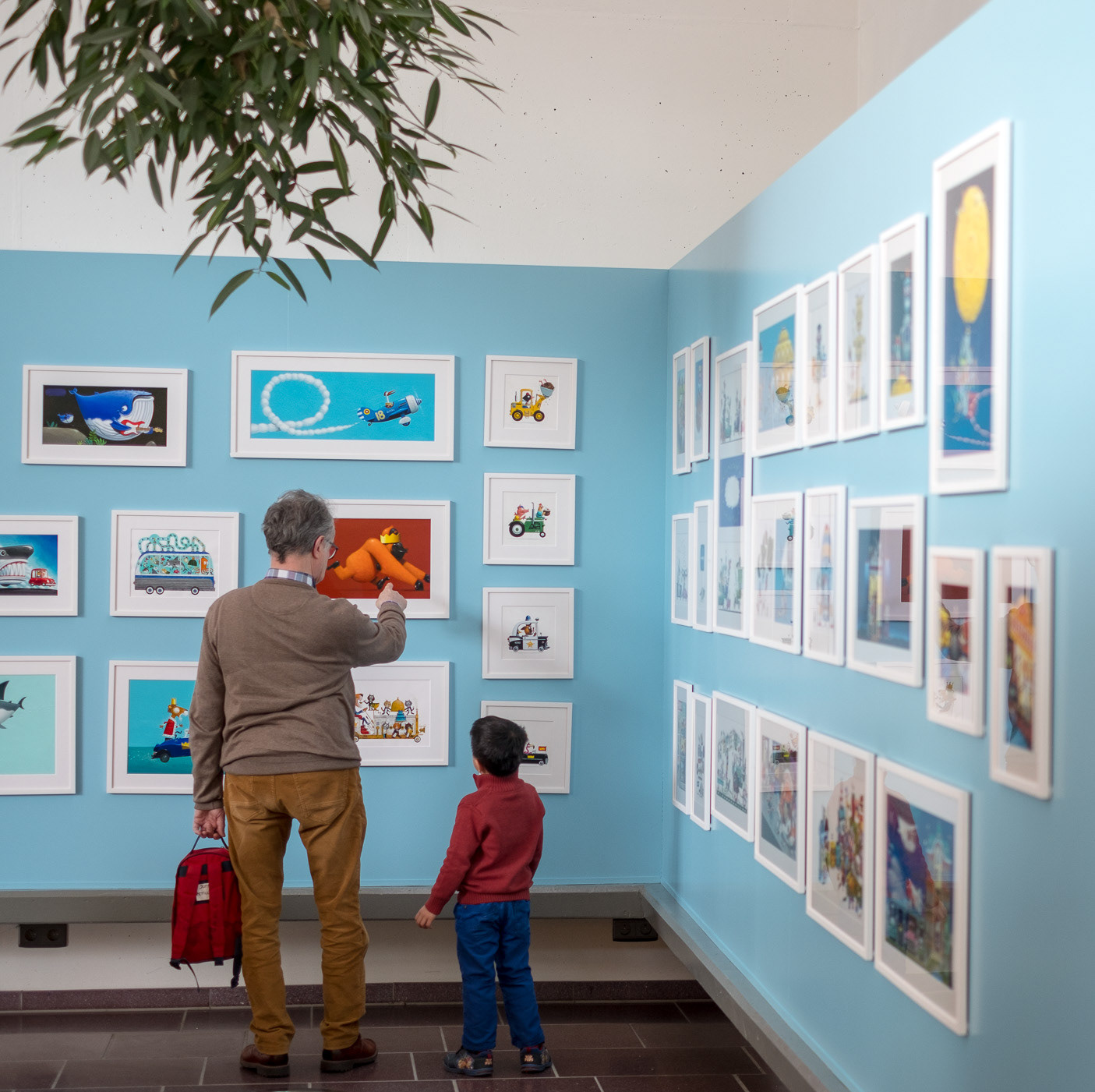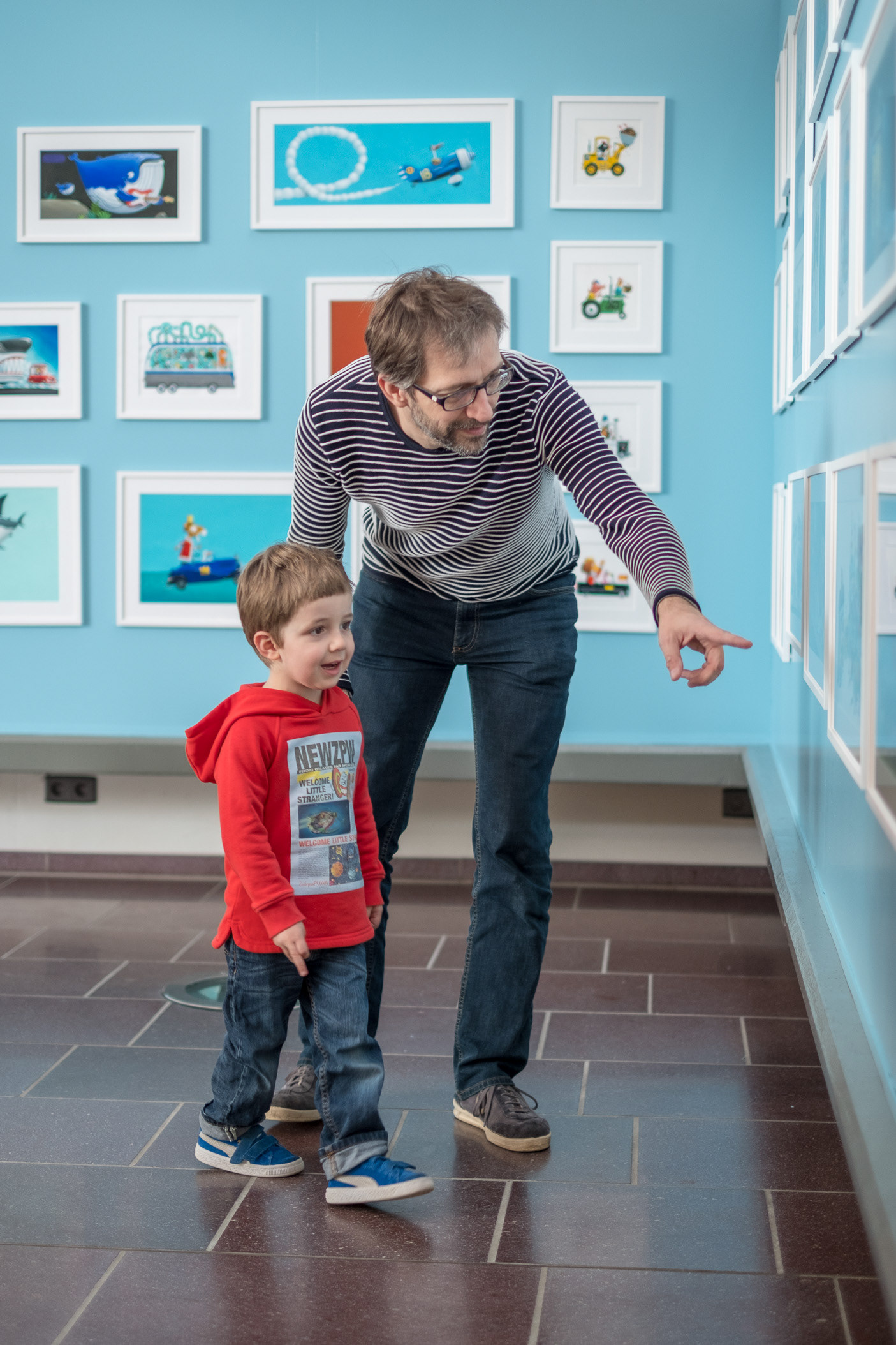 Franky & Diepzeedokter Diederik
Deze twee zuilen nemen je mee naar de wereld van Franky, een verhaal over een vriendschap tussen een jongen en zijn robot, en Diepzeedokter Diederik, een arts die zorgt voor patiënten die in de oceaan wonen. Op elke zuil hangen 3 originele illustraties uit een van de prentenboeken. Door het gat aan de achterkant kruip je in de raket van Franky of in de kleine onderzeeër van Diederik. Aan de voorkant kunnen kinderen hun hoofd naar buiten steken.
Franky & Deep-sea doctor Derek
These two columns take you into the worlds of Franky, a story about a friendship between a boy and his robot, and Deep-sea Doctor Derek, a doctor who cares for  patients that live in the ocean. Each column exhibits 3 original illustrations and has a hole in the back through which you can crawl to get inside Franky's rocket or Derek's little submarine. Kids can stick their little heads out so mom or dad can take a picture.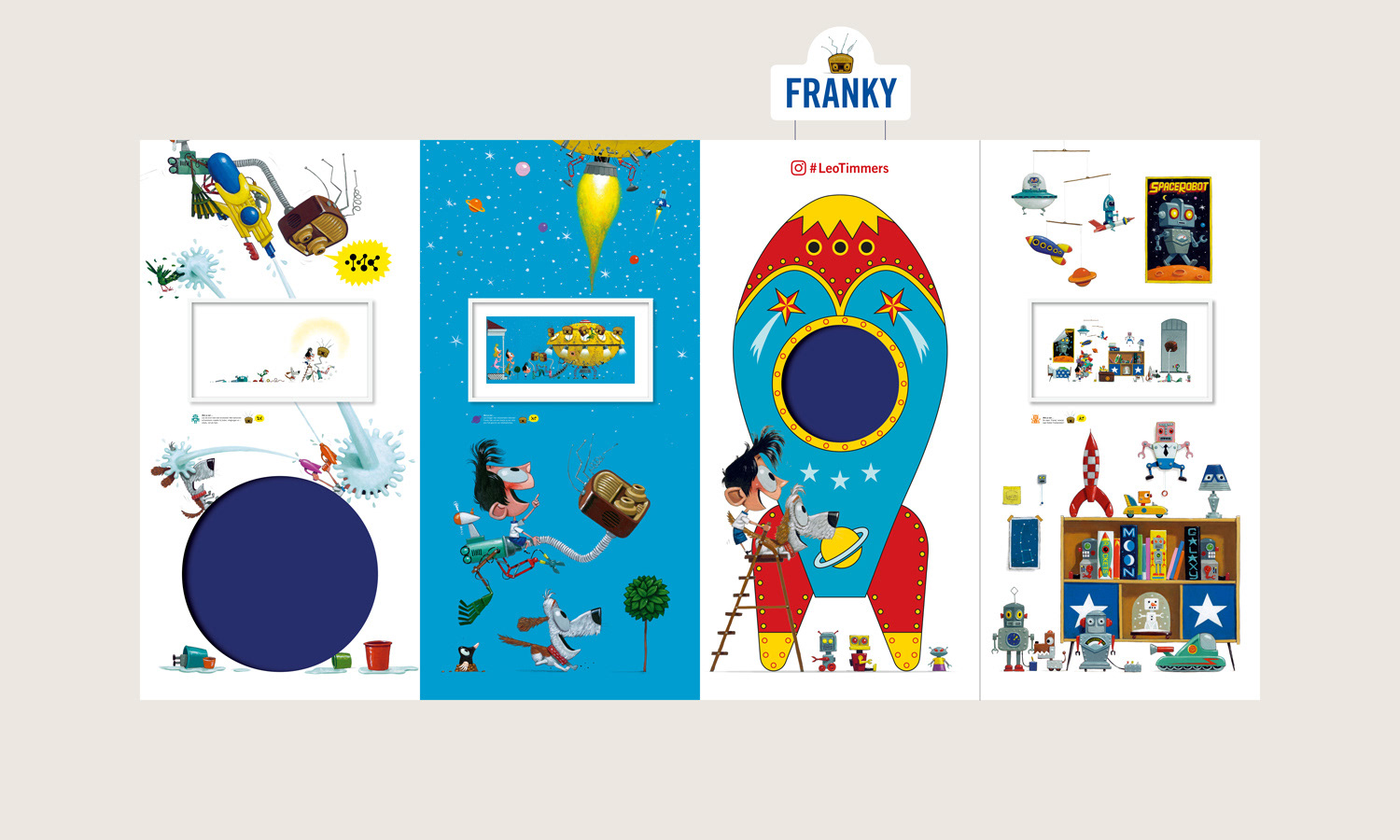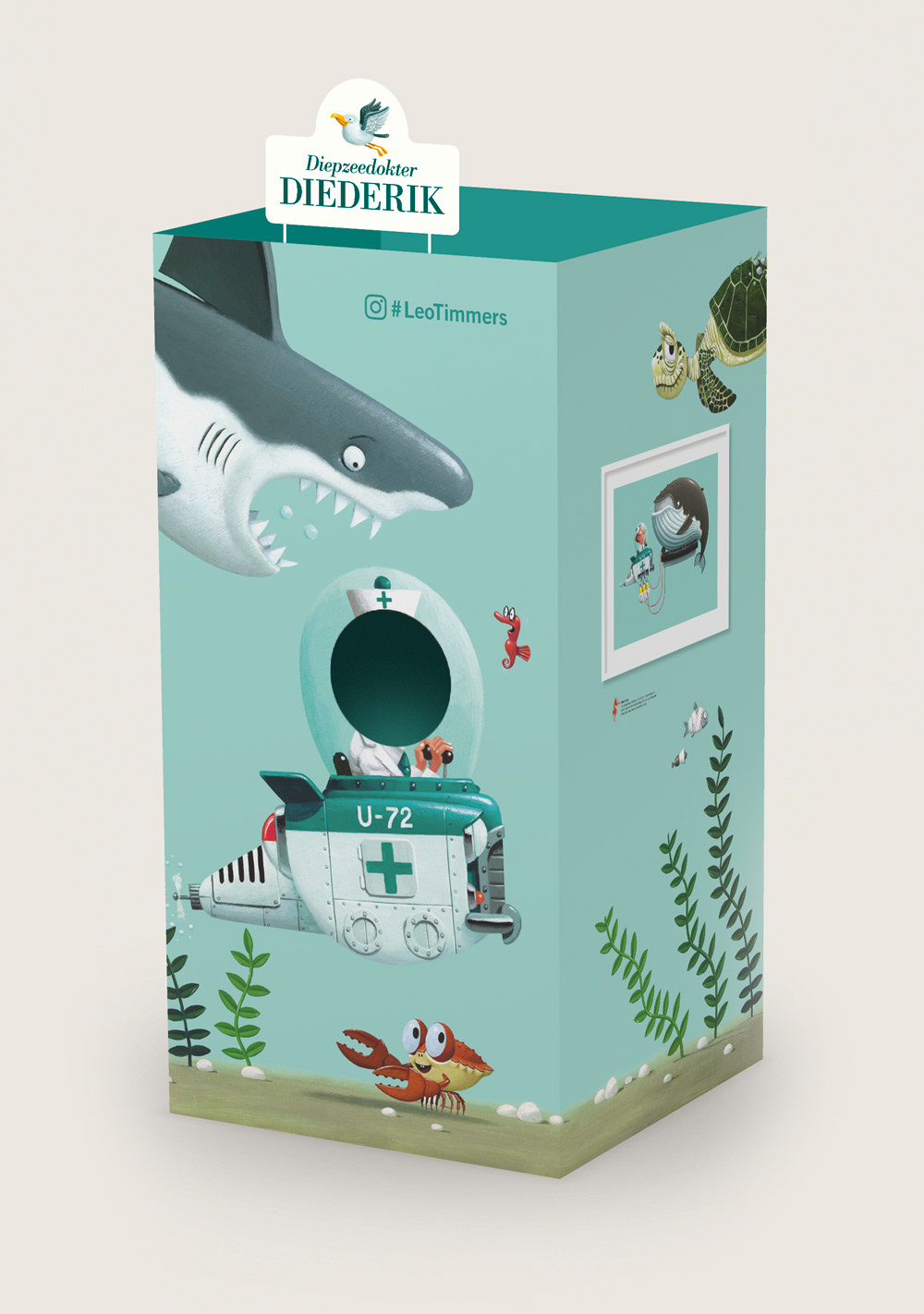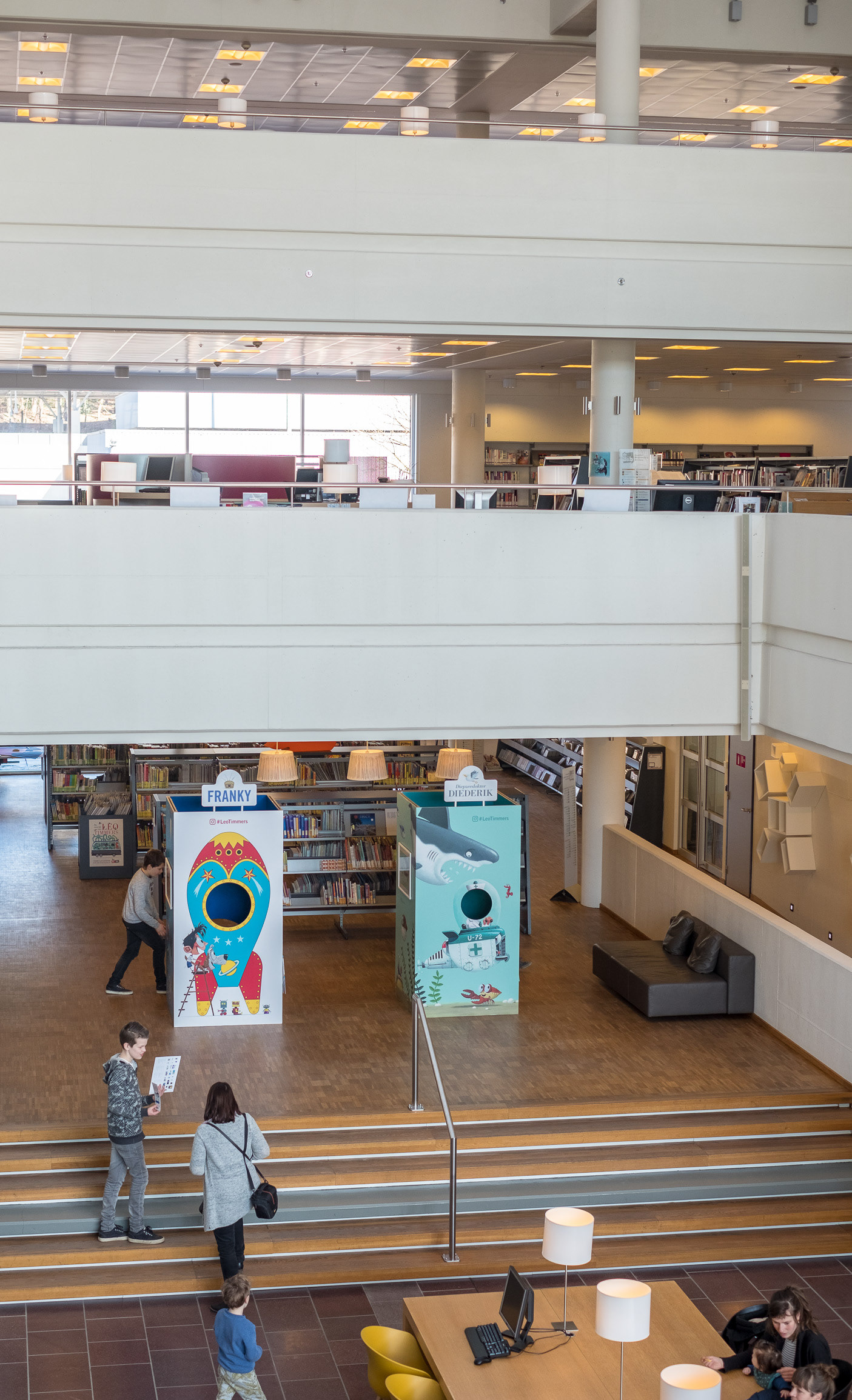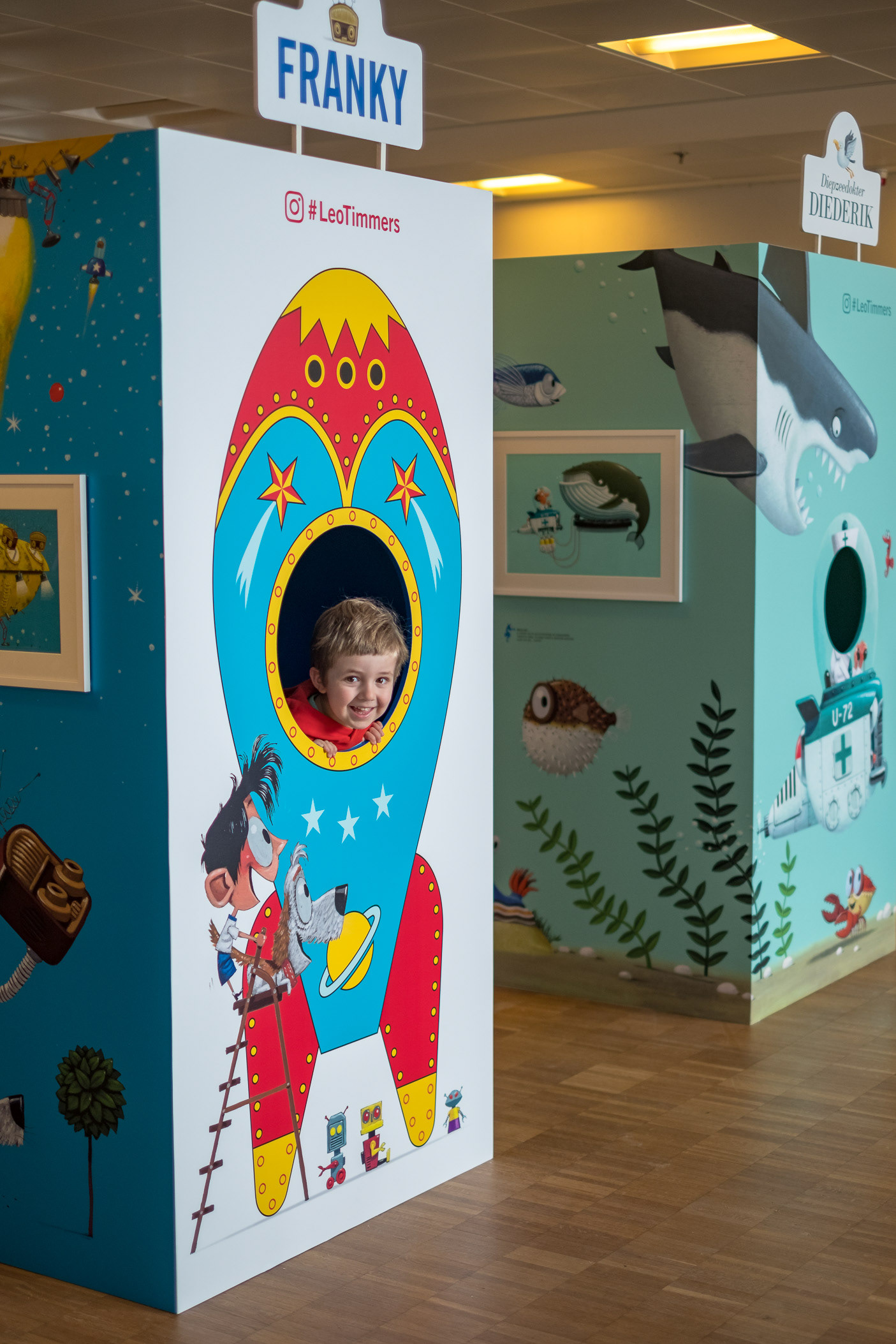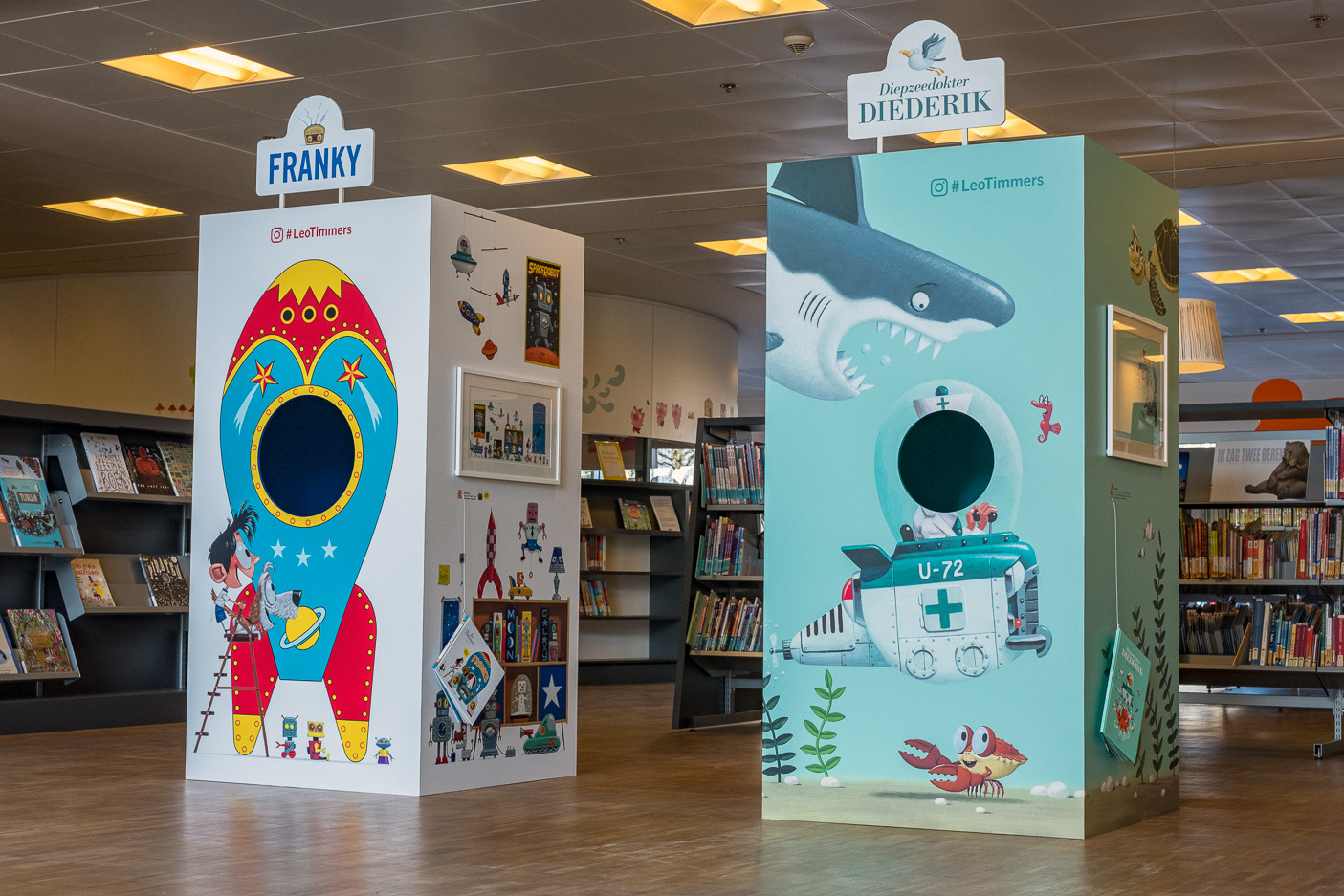 Een andere eye-catcher in de tentoonstelling de garage van Gust die, afgezien van zijn hoogte, sterk lijkt op de garage uit het prentenboek. En net als in het verhaal, ligt de werkplaats van Gust vol attributen zoals oude banden, olievaten, velgen, een oude koelkast, een werkbank en zelfs een badkuip. Sommige objecten bevatten zelfs een verrassing: wanneer je de telefoon van Gust oppakt, op een knop op zijn radio drukt of in zijn favoriete stoel zit en zijn helm draagt, klinkt er een stem die je een verhaal vertelt. Er is ook een bad op wielen waarin je een boek kan lezen, een coole vintage scooter om op te klimmen en een speciaal olievat. Wanneer je op de knop drukt en door het kijkgat van het olievat kijkt, zie je de auto's uit het prentenboek rondcirkelen.
Another big feature in the exhibition is Gus's Garage which, apart from its height, closely resembles the garage from the picture book. And just like in the story, Gus's workshop is full of odds and ends like old tires, oil barrels, wheel hubs, an old fridge and sofa and even a bathtub. Only now these objects hold a surprise: when you pick up Gus's phone, push a button on his radio or sit in his sofa and wear his helmet, a voice comes on and tells you a story. There's also a bath on wheels to sit in and read, a cool vintage scooter to climb on and a special oil barrel. When you push its button and look through its peeping hole, you can see cars driving circles around Gus's Garage.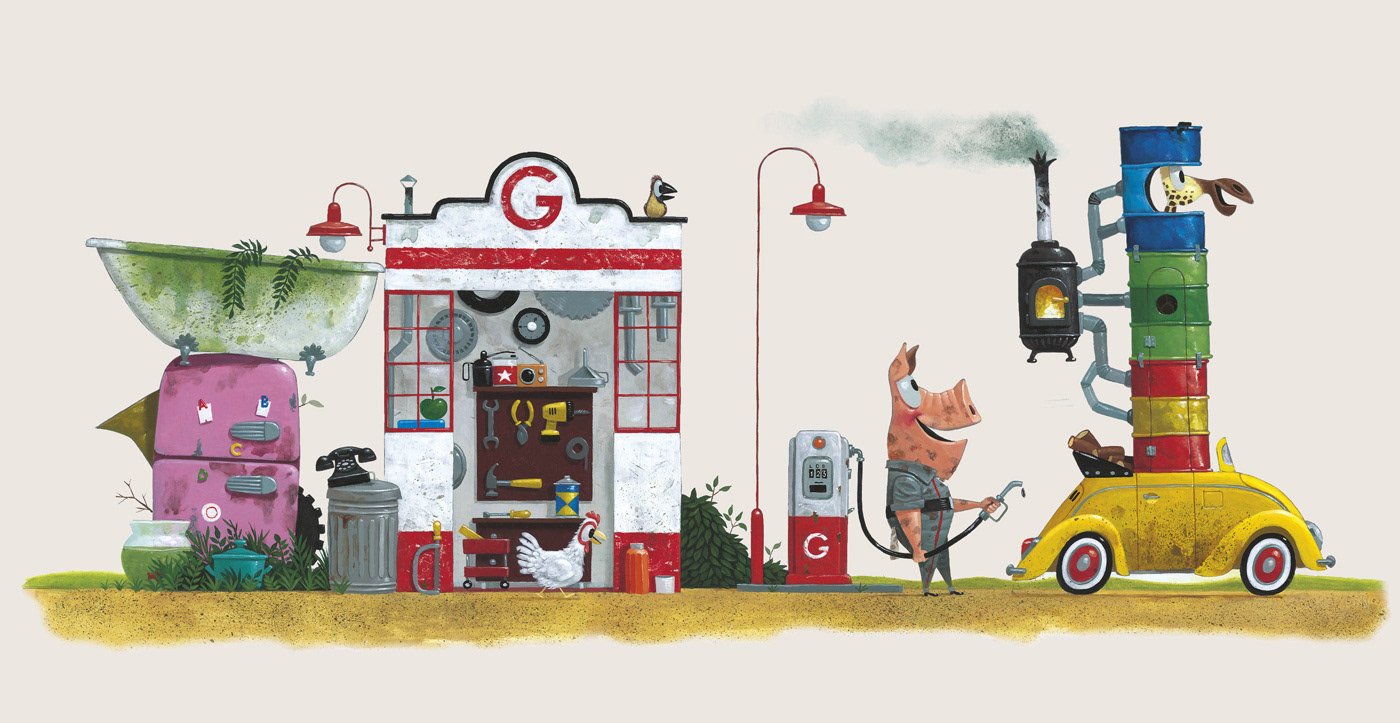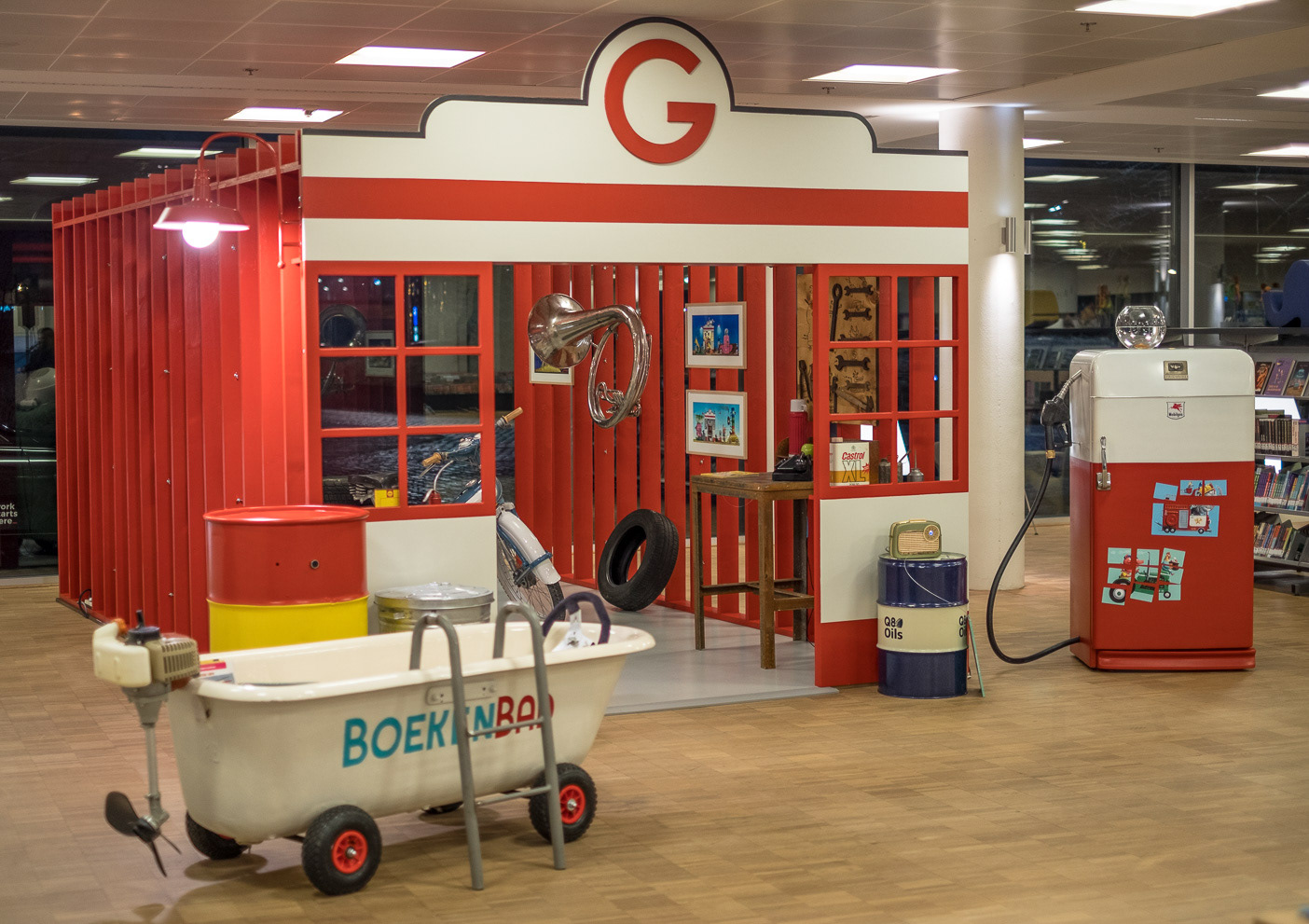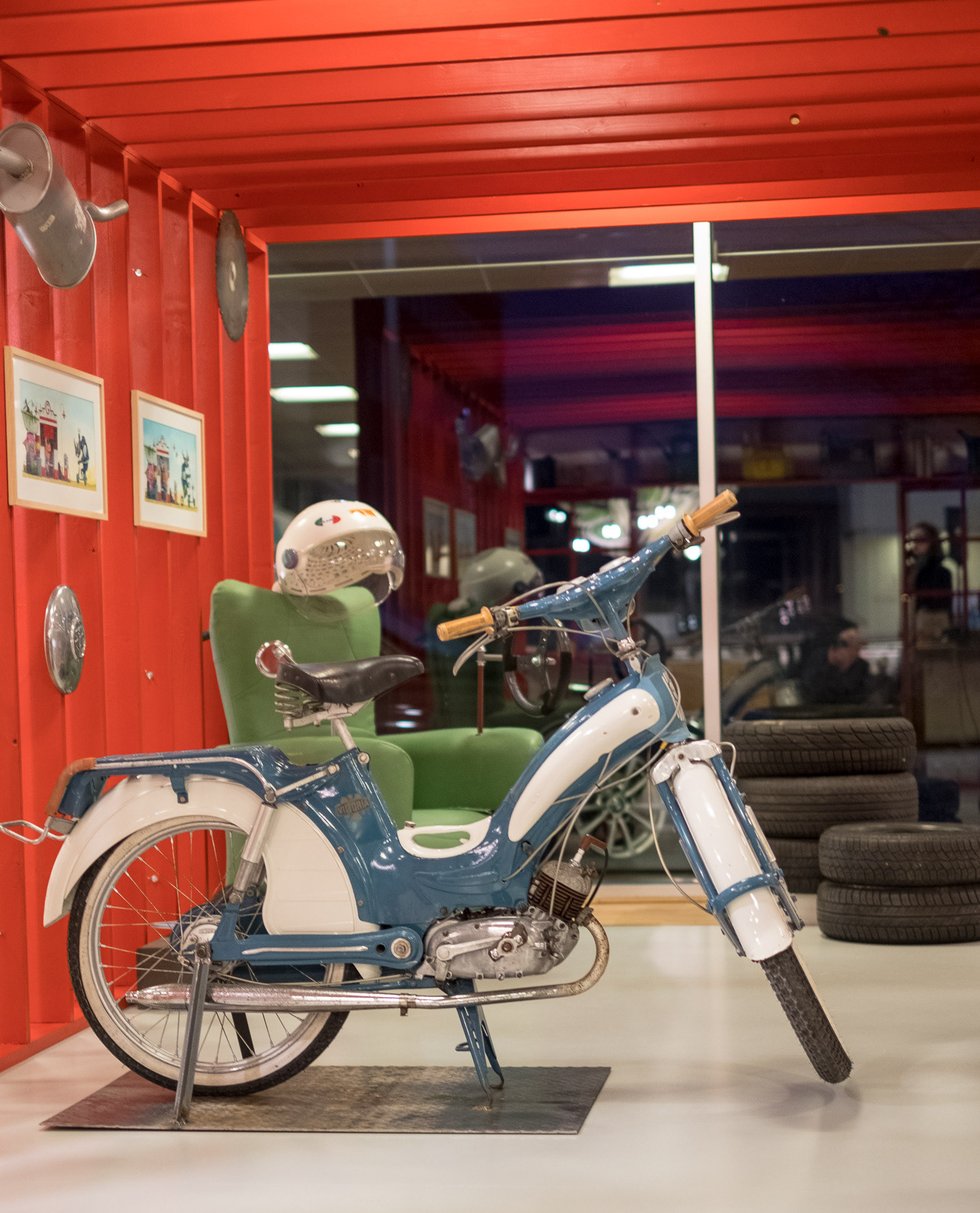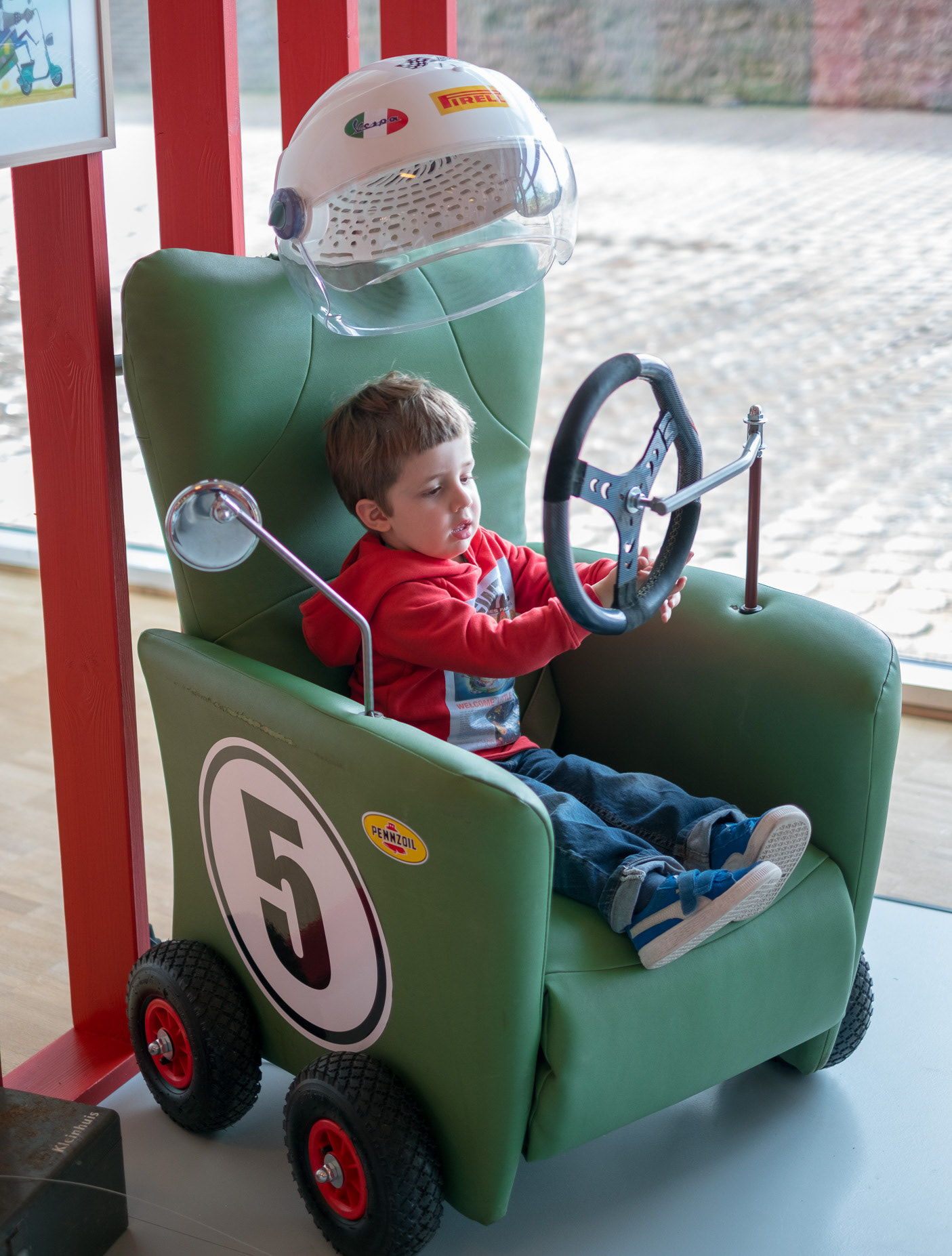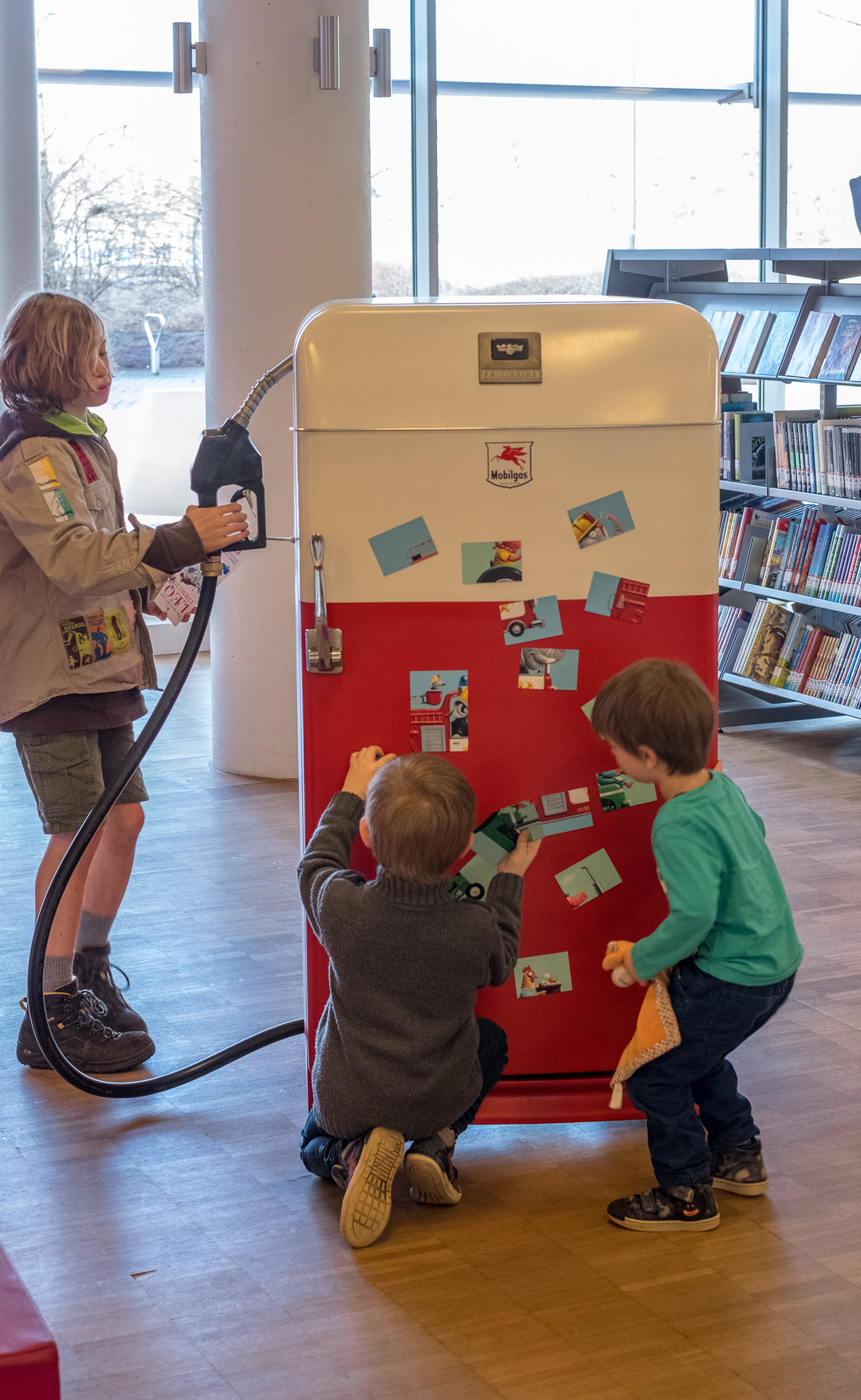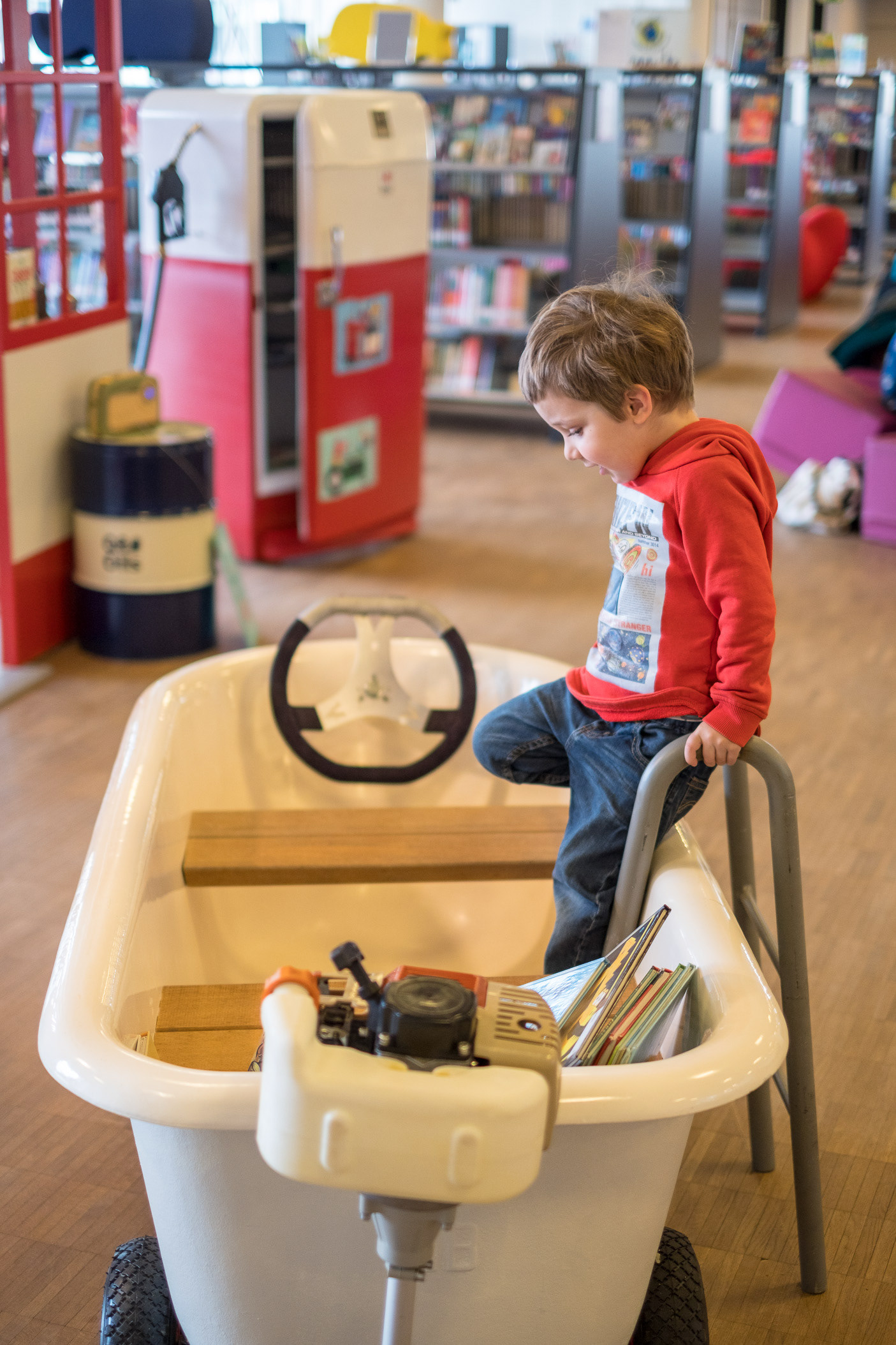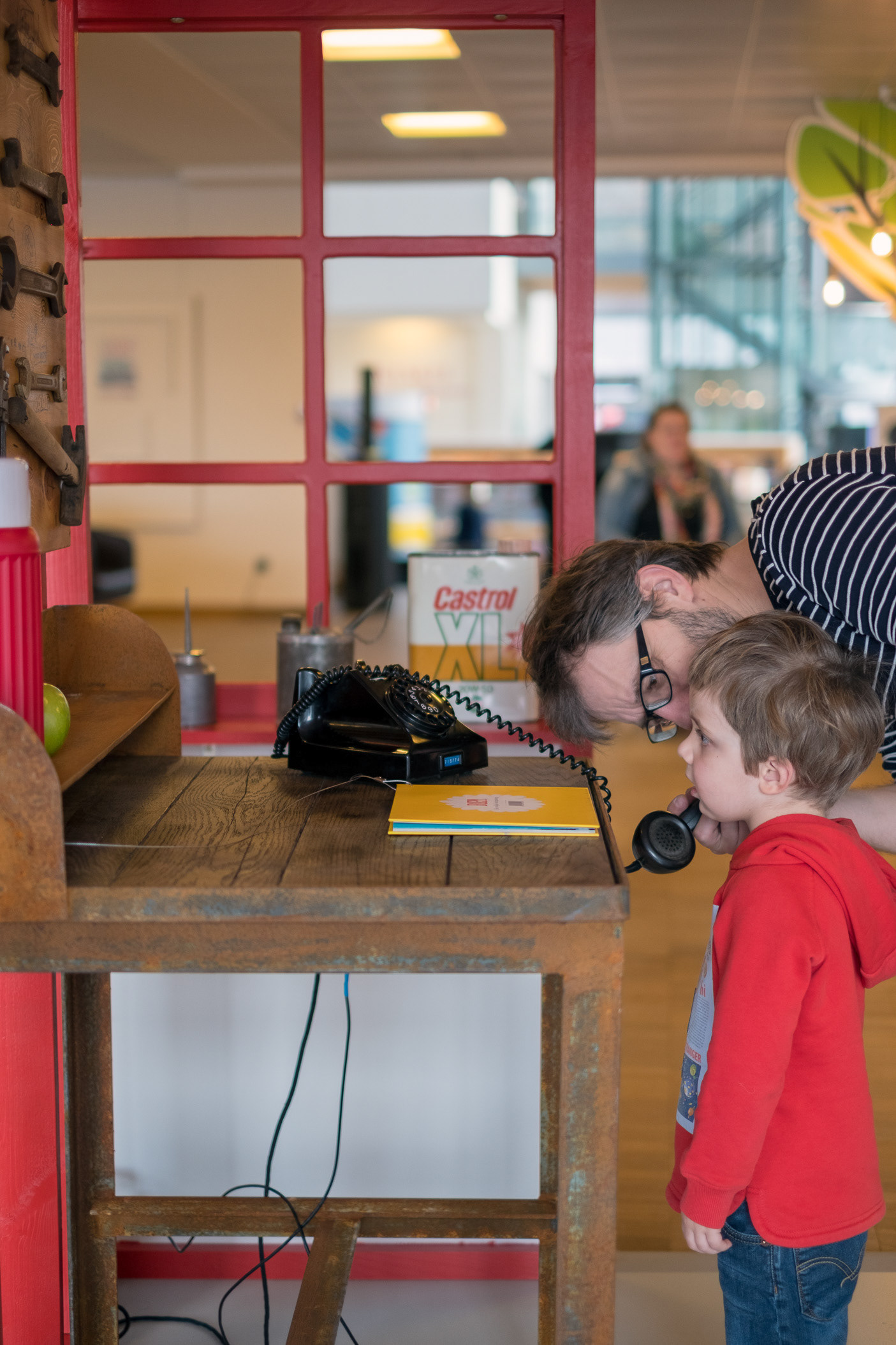 Dit deel van de tentoonstelling richt zich op techniek en laat kinderen zien hoe een 3D-print wordt gemaakt. Tijdens de tentoonstelling wordt iedere dag een model van Ziggy live afgedrukt, zodat kinderen kunnen zien hoe de printer Ziggy laag voor laag opbouwt met behulp van plastic filament. Tijdens workshops kunnen kinderen nadien een gedetailleerde, hoogwaardige poederafdruk van Ziggy met de hand beschilderen.
This part of the exhibition focuses on technique and shows kids how a 3D print is made. During each day of the exhibition, a model of Ziggy is printed live so kids can see how the printer builds up Ziggy, layer by layer, using plastic filament. During workshops kids can hand paint a detailed, high quality powder print of Ziggy.