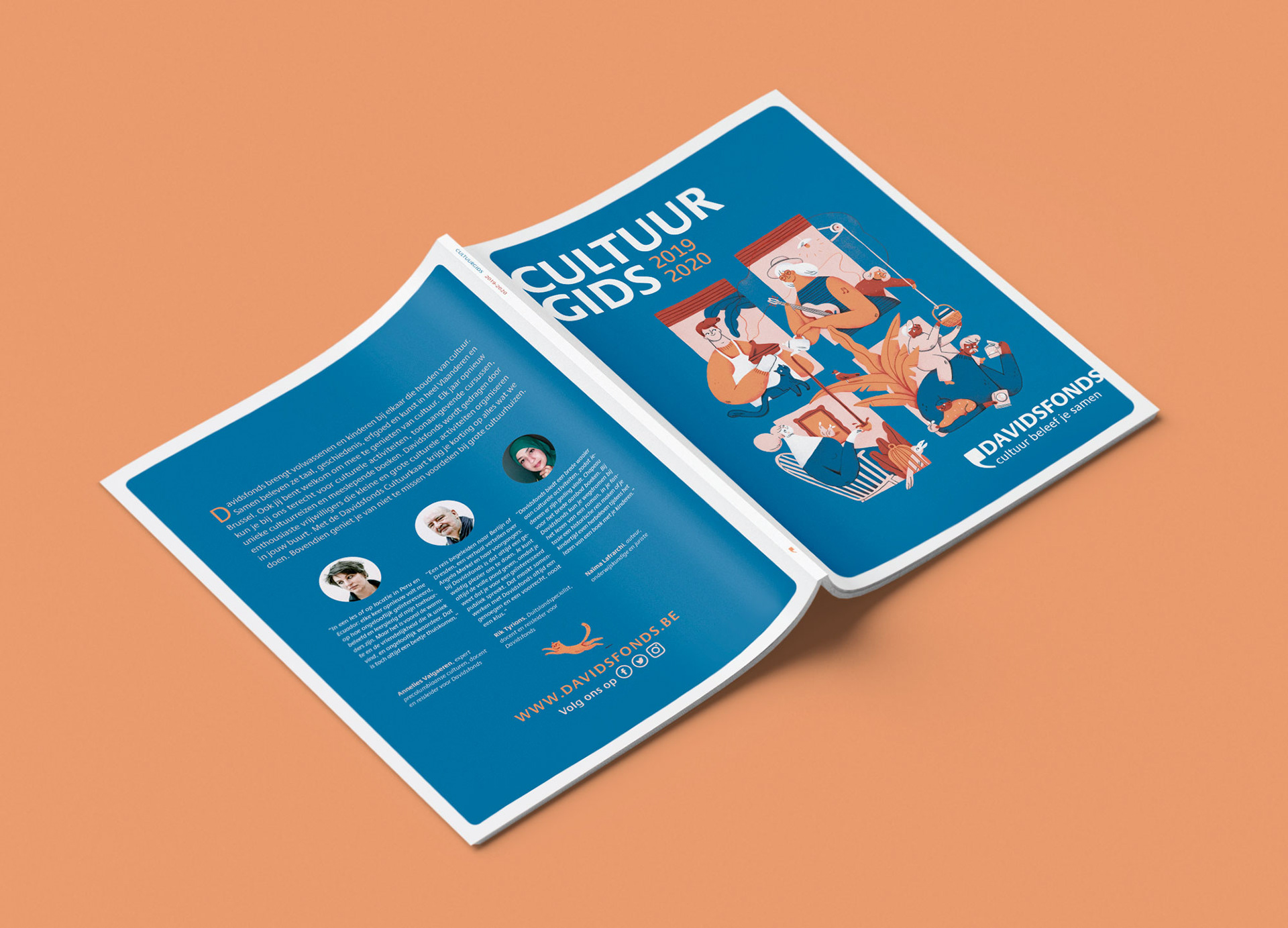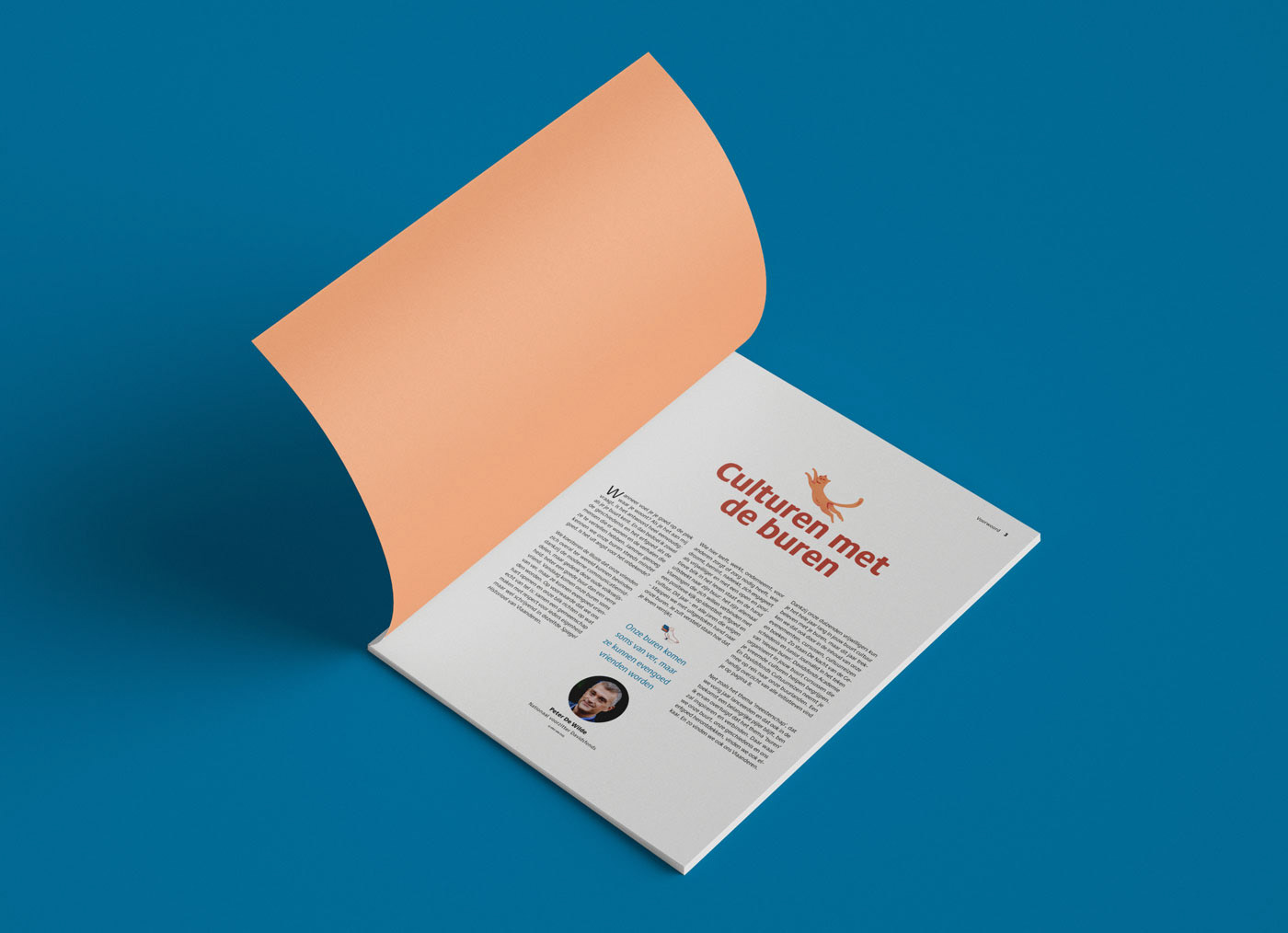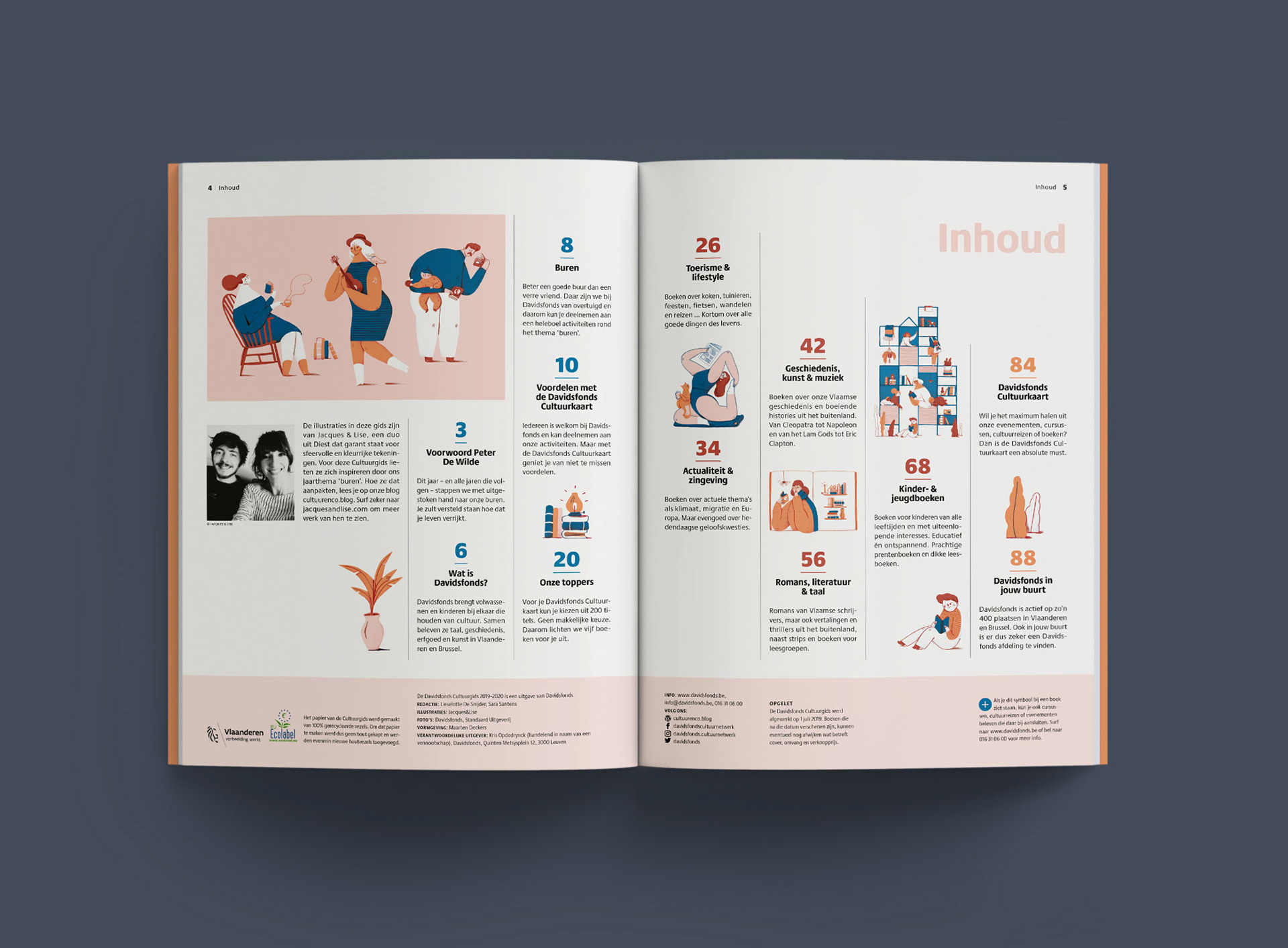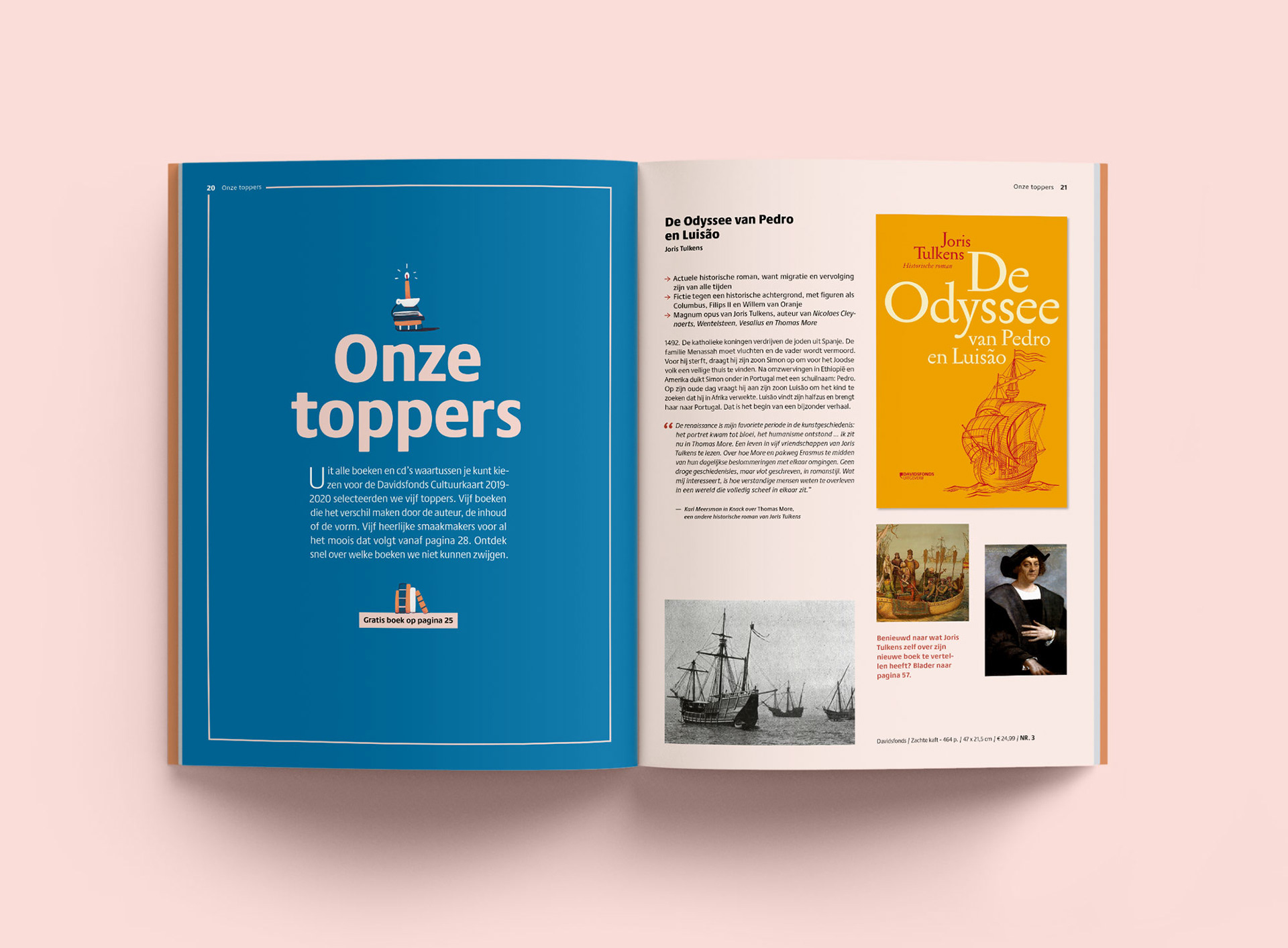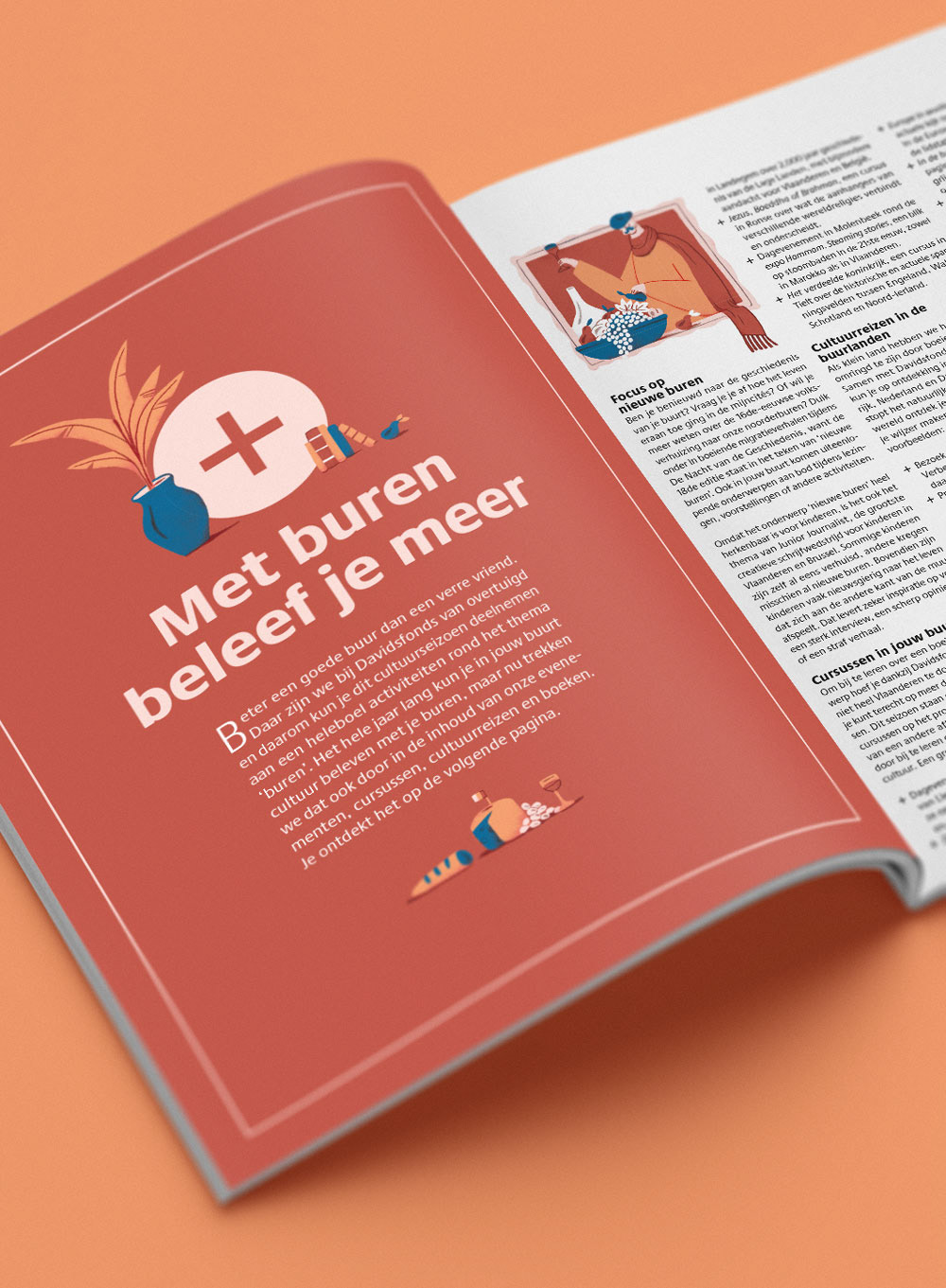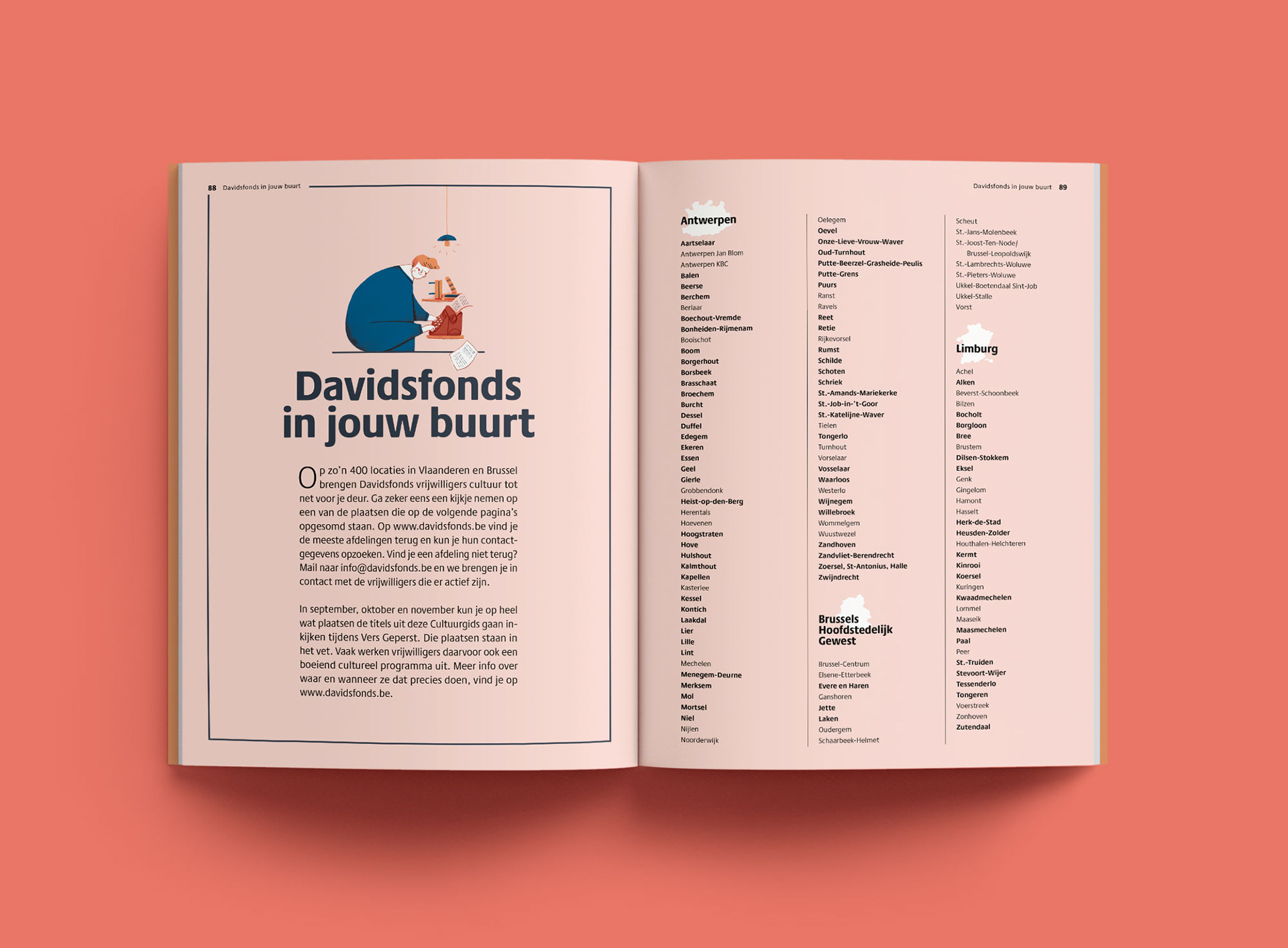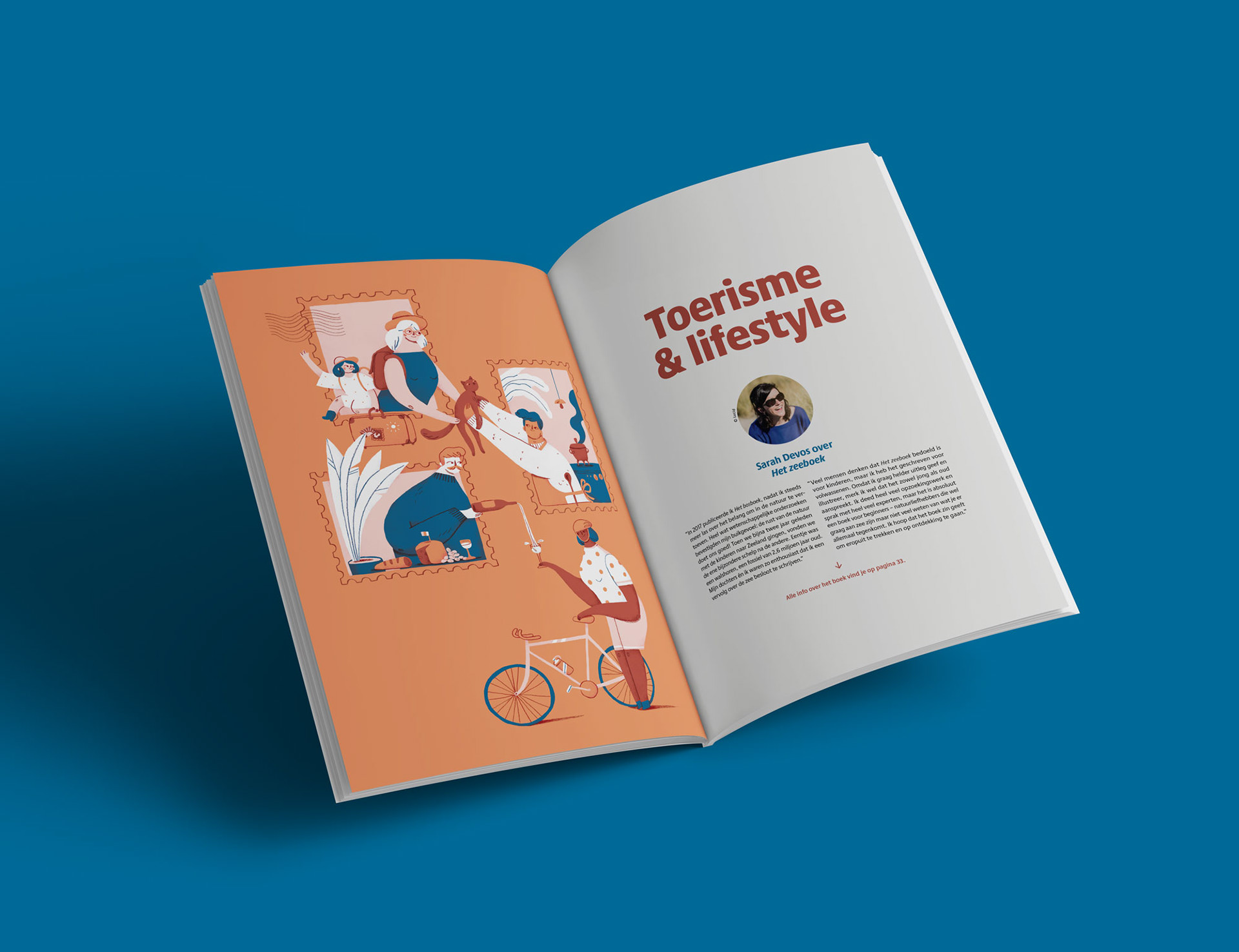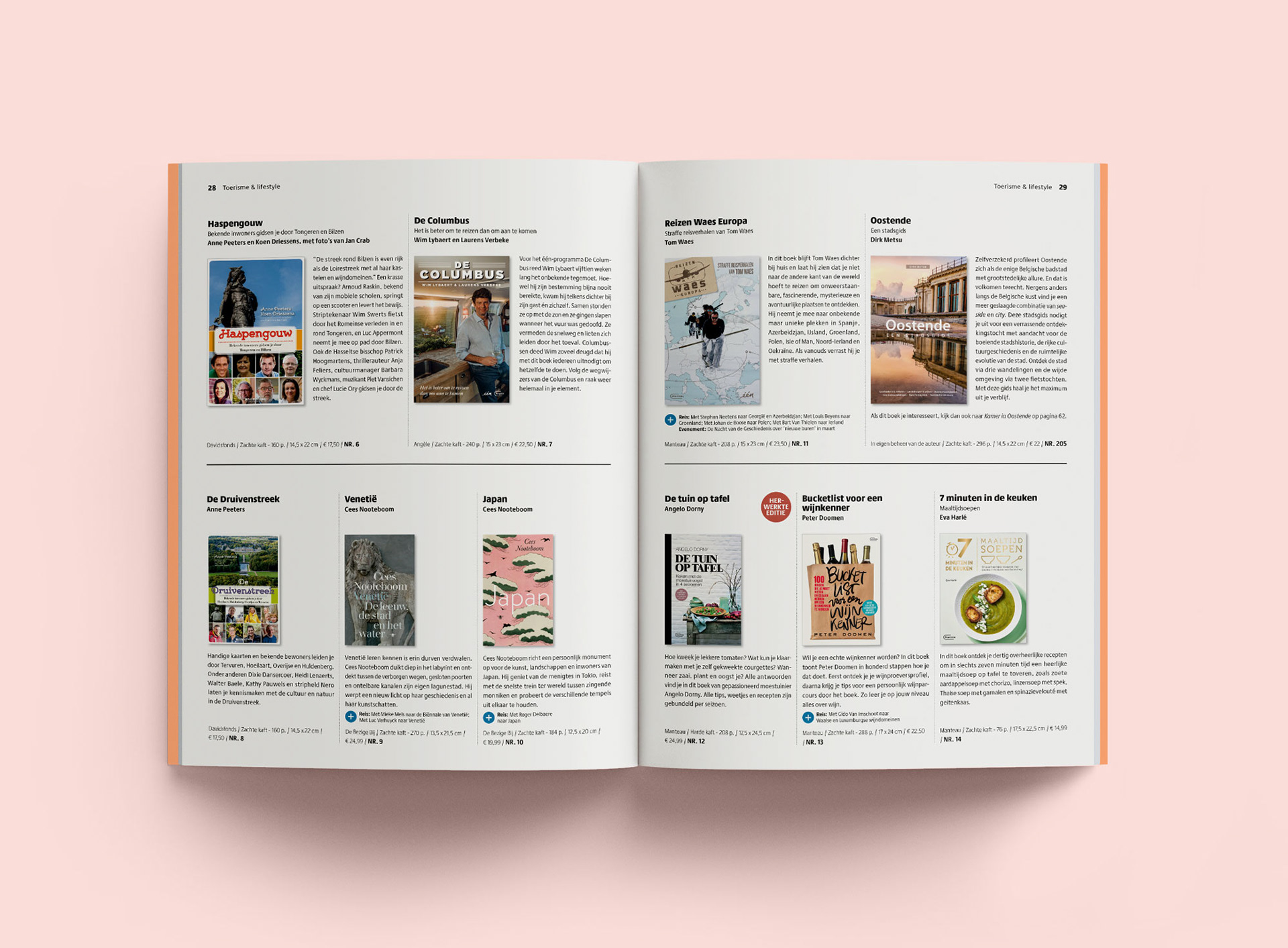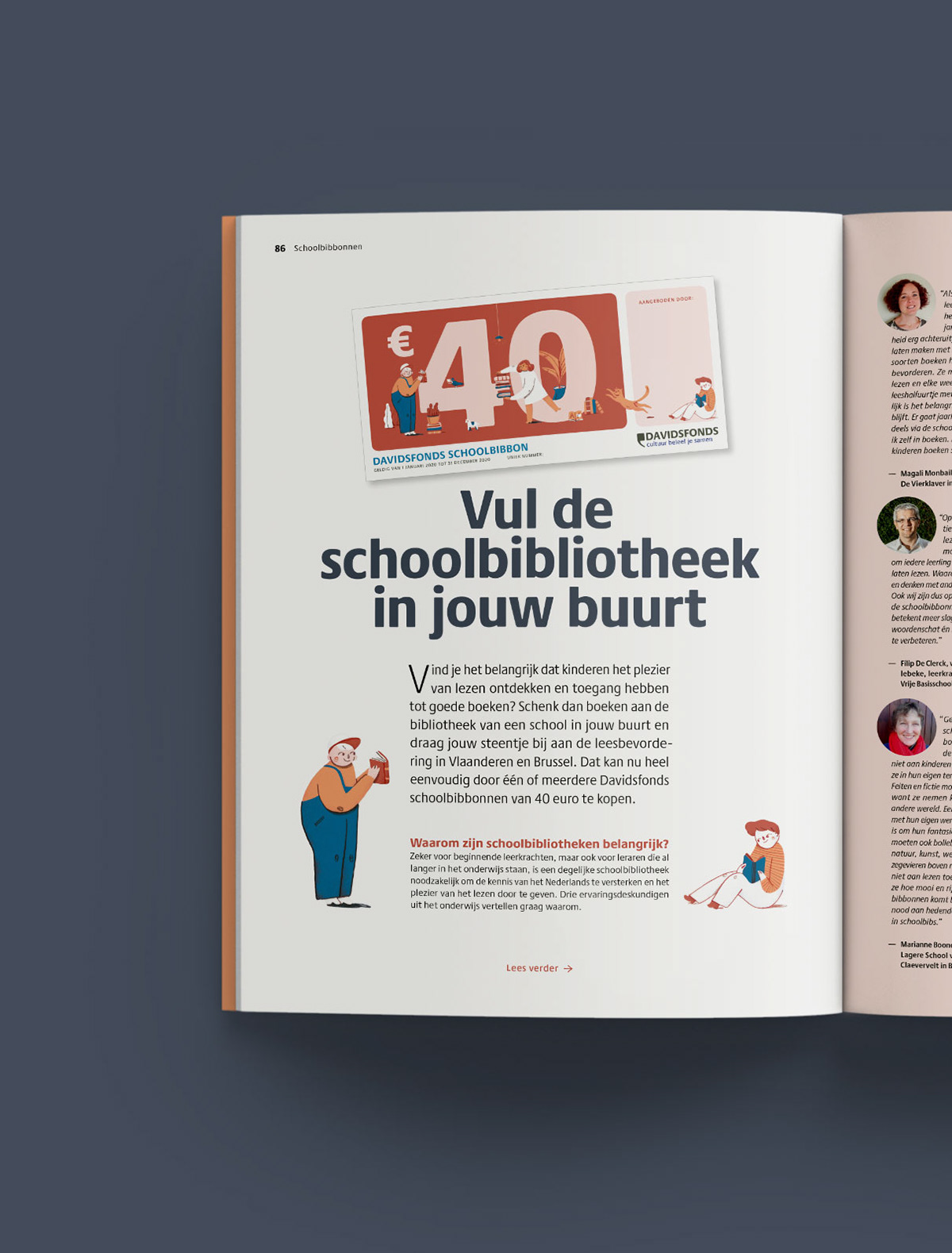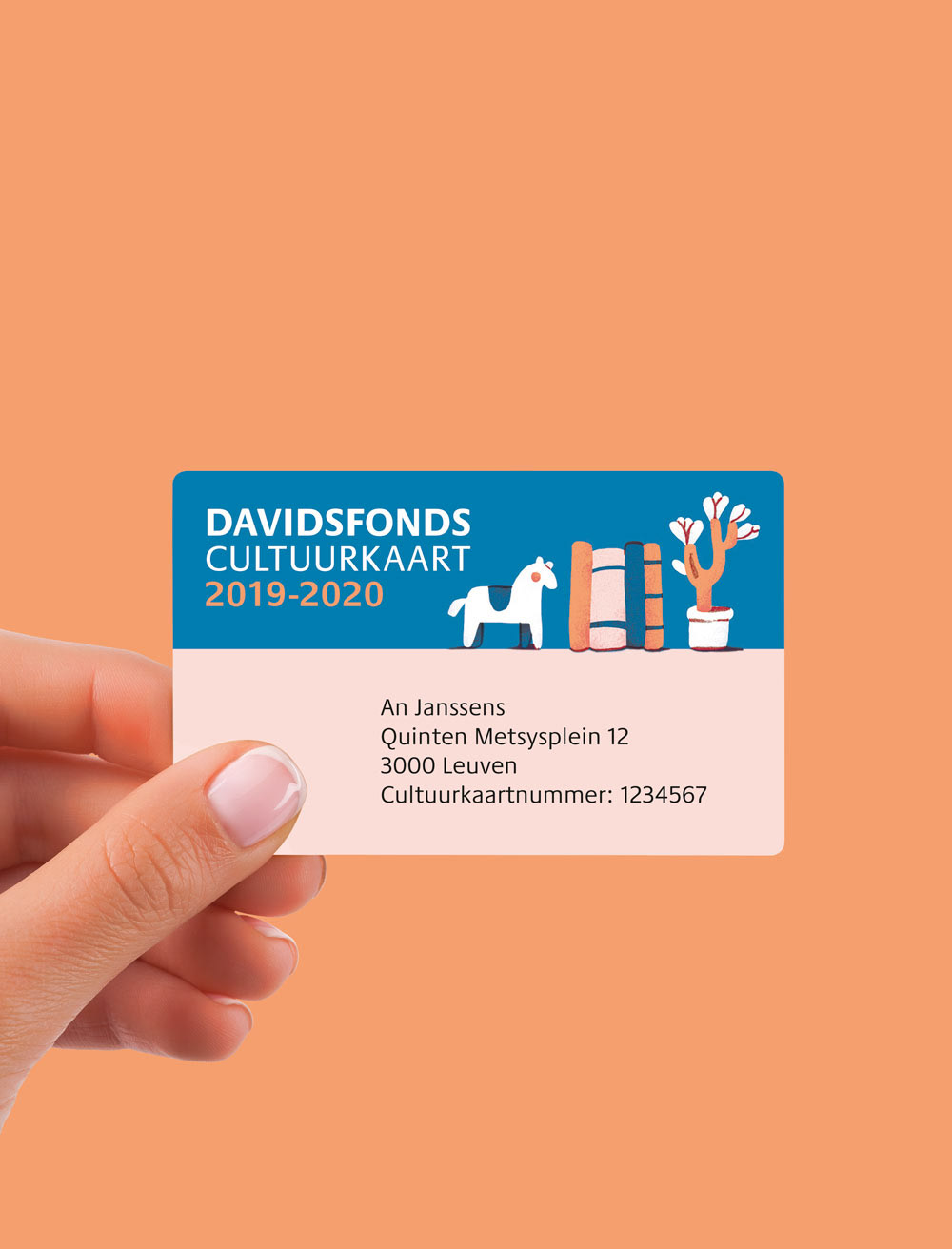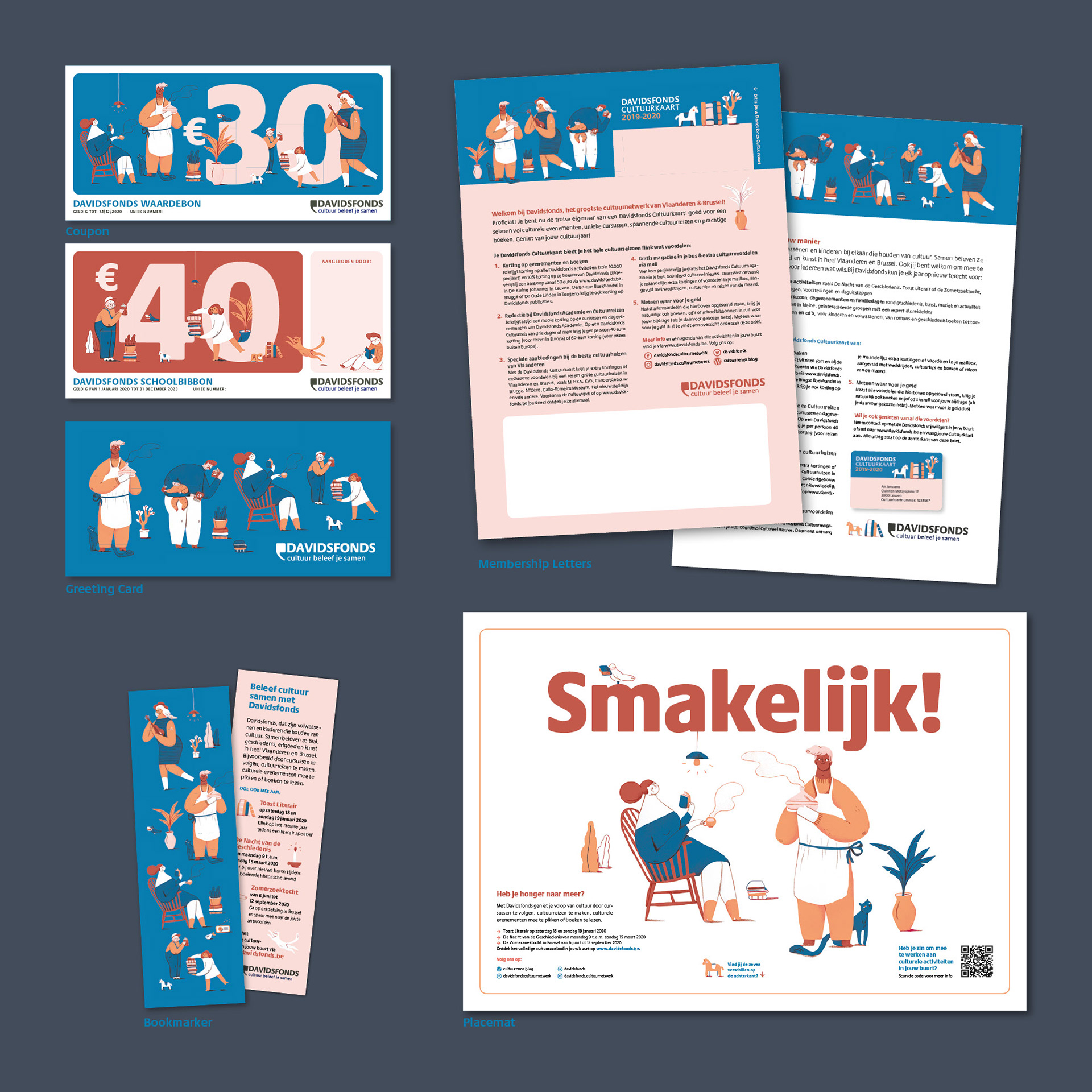 Een gids voor het grootste cultuurnetwerk van Vlaanderen
Elk jaar publiceert Davidsfonds, het grootste culturele netwerk van Vlaanderen, een gids om zichzelf aan nieuwe leden voor te stellen en bestaande leden aan te sporen hun lidmaatschap te vernieuwen. Naast een overzicht van de organisatie en hun cultuurpartners, bevat de gids een grote selectie boeken waaruit leden kunnen kiezen (als onderdeel van hun lidmaatschapsvernieuwing). Sinds 2011 verzorg ik de layout van deze culturele gidsen en al hun afgeleiden, en werk ik nauw samen met de redactie van Davidsfonds. Elke gids heeft zijn eigen thema en look. Mijn belangrijkste doelen voor de lay-out zijn duidelijkheid, aandacht voor detail en consistentie. Om elk thema tot leven te brengen, huren we een andere illustrator of fotograaf in om de belangrijkste visuals te maken.
Voor het thema van dit jaar,

buren

, vroegen we de getalenteerde Jacques & Lise om de omslag en vijf volle themapagina's te illustreren. Daarnaast leverden ze ook een reeks losse illustraties aan die ik kon gebruiken doorheen de layout, zodat de hele gids en alle campagne-items één geheel zouden vormen. Om dit doel nog beter te bereiken, gebruikte ik consequent eenzelfde kleurenpalet en selecteerde ik lettertypes die bijzonder goed passen bij hun illustratiestijl.
A guide to the largest cultural network of Flanders
Each year Davidsfonds, the largest cultural network of Flanders, publishes a guide to present themselves to new members and to prompt existing members to renew their membership. Besides an overview of the organisation and their partnerships, it contains a large selection of books for members to choose from (as part of their membership renewal). Since 2011 I've been the main designer of these cultural guides and their derivatives, working closely with the Davidsfonds editorial team. Each guide has a new theme and look. My main goals for the layout are clarity, attention to detail and consistency. To bring each theme to life, we hire a different illustrator or photographer to create the main visuals.
For this years theme, neighbours, we asked the talented Jacques & Lise to illustrate the cover and 5 full-pages for the 5 main sections. They also drew some additional, loose figures for me to scatter across my layout so we could end up with a consisted look throughout the guide and other campaign items. To further accomplish this goal, I consistently used a similar colour palette and selected typefaces that work particularly well with their illustration style.