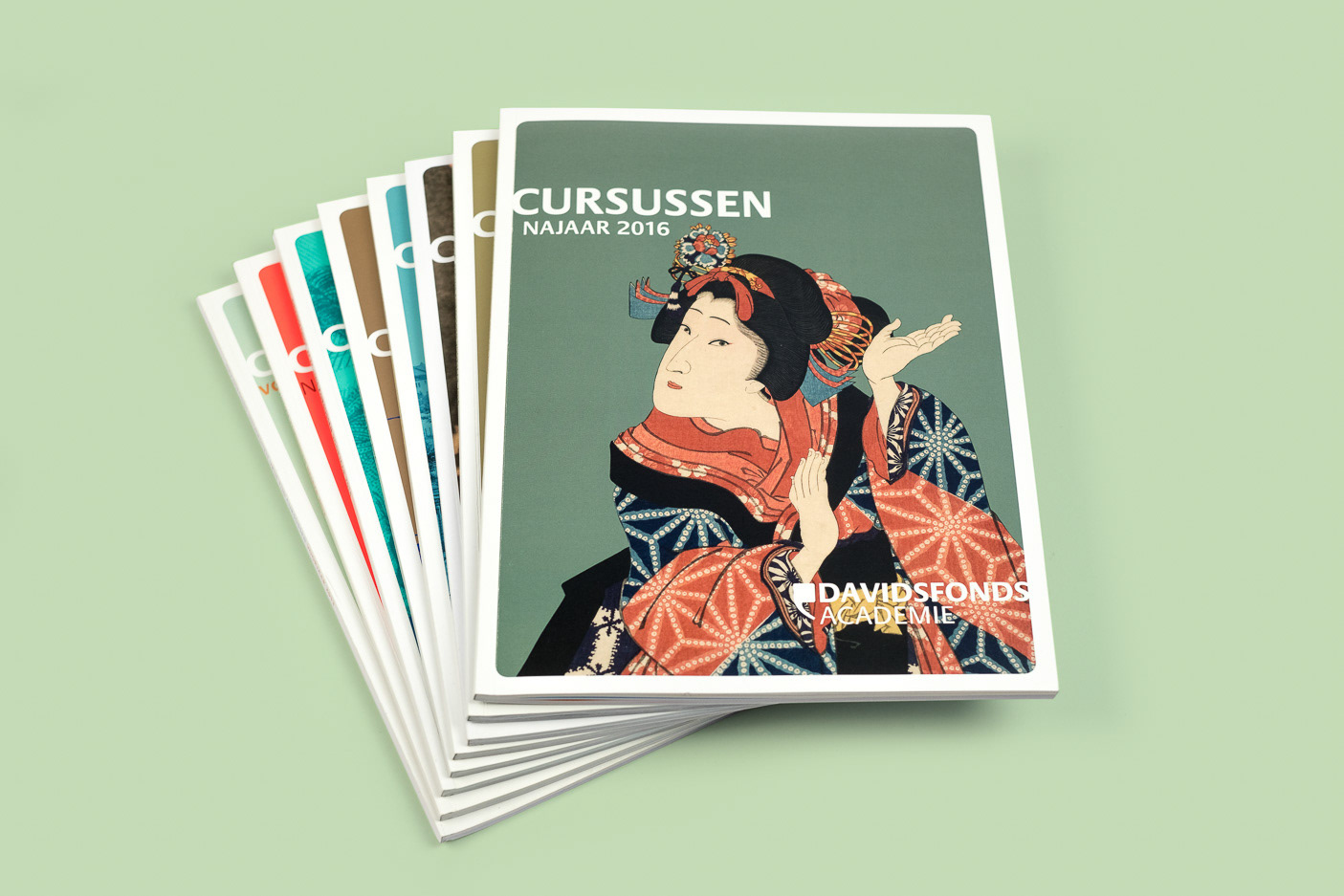 Een overzichtelijke gids vol fascinerende cursussen van Davidsfonds Academie
Op een ontspannende manier bijleren over historische en actuele onderwerpen: dat is Davidsfonds Academie. Een keur van experts en docenten van verschillende Vlaamse universiteiten, hogescholen en conservatoria geeft de liefde voor hun vak aan u door in een viertal lessen, op meer dan 70 plaatsen in Vlaanderen. In 2012 gaf ik de cursusgids van Davidsfonds Academie een volledige make-over met als doel een heldere en gestructureerde look die met behulp van evenwichtige typografie en kleurgecodeerde secties de kijker een duidelijk overzicht biedt van het ruime aanbod. De cursusgids verschijnt tweemaal per jaar en jaarlijks worden de kleuren, sectie pagina's en lettertypes bijgewerkt om het geheel fris te houden zonder daarbij de algemene stijl en overzichtelijkheid uit het oog te verliezen.
A clear guide full of fascinating Davidsfonds Academy Courses
Learning about history and current topics in a relaxing way: that's Davidsfonds Academy. A variety of experts and lecturers from various Flemish universities, colleges and conservatories share their love for their profession in four classes at more than 70 locations in Flanders. In 2012 I redesigned the Davidsfonds Academy course guide, giving it a clean and structured look that easily guides the viewer's eye with the help of balanced typography and color coded sections. The Davidsfonds Academy course guide is published twice a year and since I regularly updated the colors, section pages, graphic elements and typefaces to keep it fresh without loosing it's overall style and clarity.