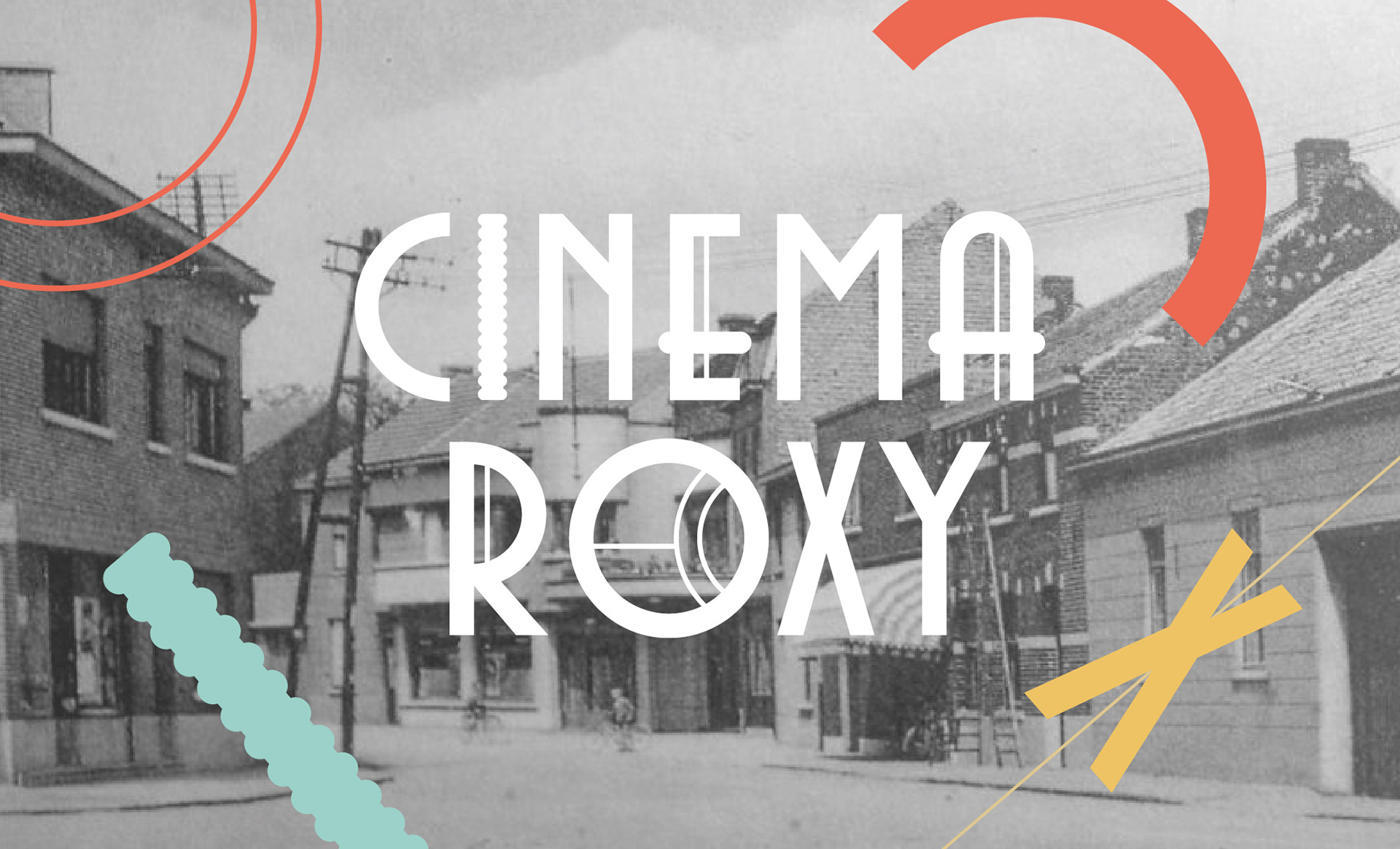 Het verhaal achter Cinema Roxy
Wijgmaal (bij Leuven) had vroeger drie bioscopen om de arbeiders van de lokale Remy-fabrieken te entertainen. Cinema Roxy was een van die prachtige bioscopen en werd gebouwd tussen de jaren 1930 en 1960. Tegenwoordig is deze voormalige cinema een thuis voor vier families die de geschiedenis van het gebouw koesteren en de naam Cinema Roxy opnieuw gebruiken om zo nu en dan huiskamerconcerten te organiseren. Als een van de bewoners van Cinema Roxy raakte ik betrokken en ontwierp ik een logo en huisstijl. Hiervoor liet ik me inspireren door de vormen en kleuren van het oude gebouw.
The Story behind Cinema Roxy
The little village of Wijgmaal (Leuven) used to have three cinemas to accommodate the workers of the local Remy factory. Cinema Roxy was one of those beautiful cinemas and was built in between the 1930's and the 1960's. Nowadays, it is a home to four families who cherish the history of the building and re-use the name Cinema Roxy to host living-room music concerts every once in a while. As one of the Cinema Roxy residents, I got involved by designing a logo and poster template and drew inspiration from the old building's features and color palette.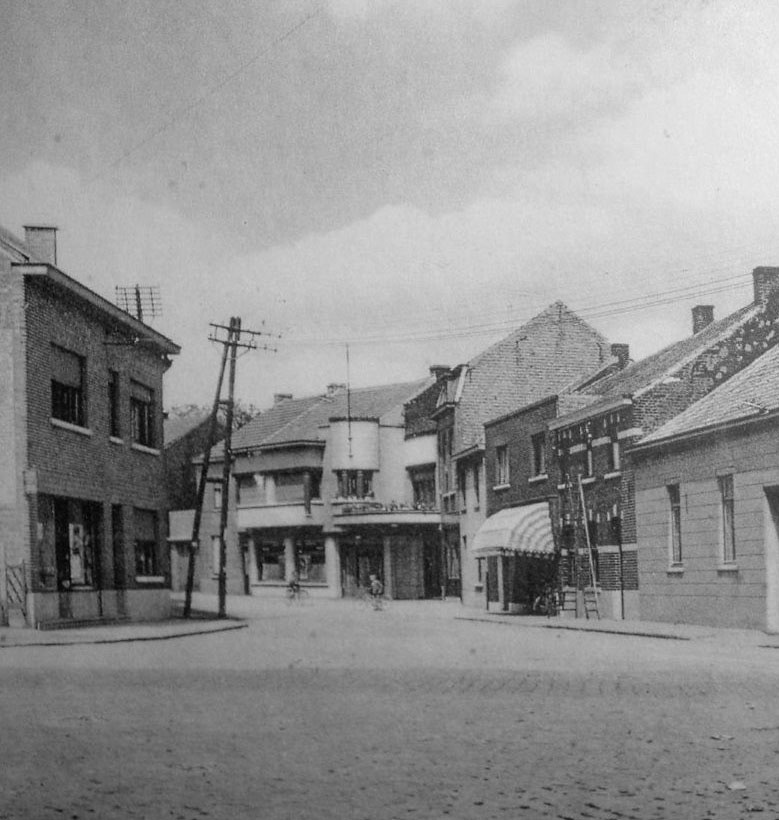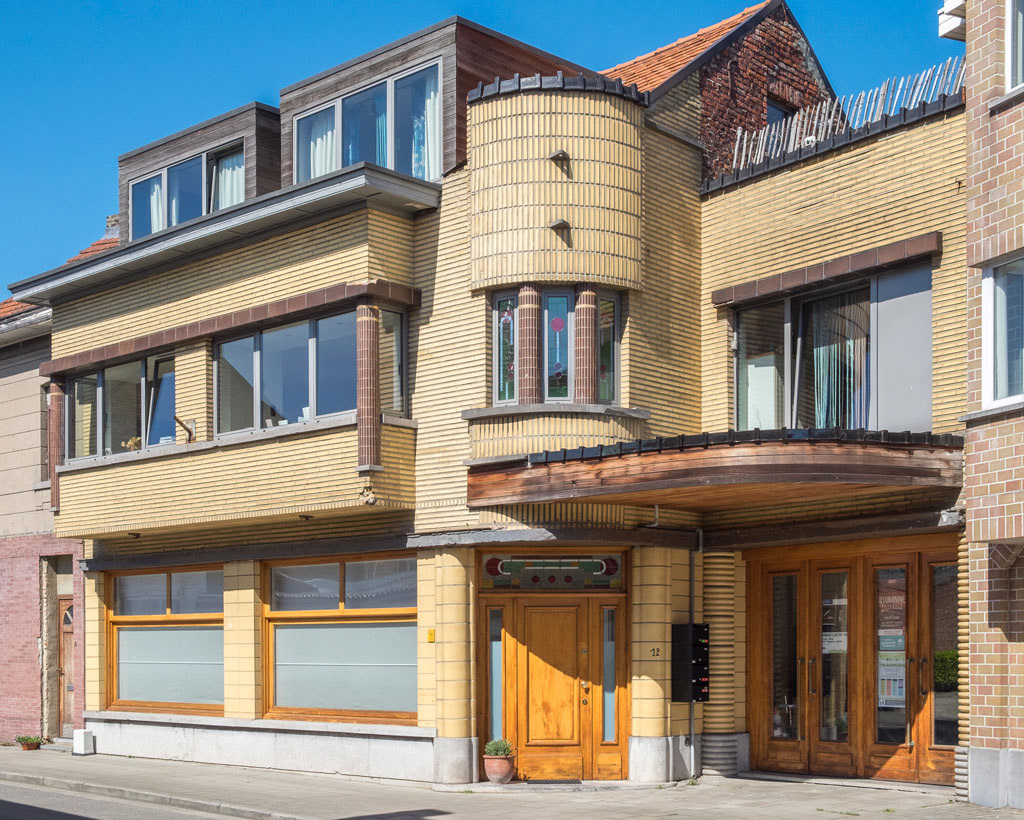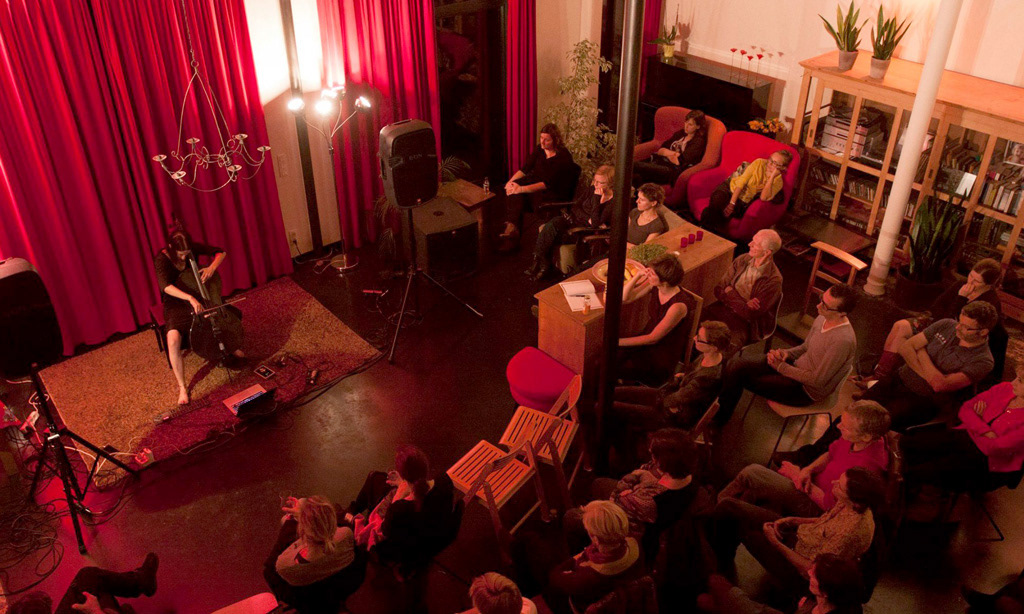 Met behulp van de kenmerken van het Cinema Roxy gebouw
Als uitgangspunt nam ik gedetailleerde foto's van alle kenmerken van het gebouw. (zie hieronder) De ronde lijnen, geribbelde tegels, glazen venstermotieven en kleurenpalet werden de belangrijkste inspiratie voor het logo. 
Het op Art Deco geïnspireerde lettertype Avenida, ontworpen door architect en ontwerper John Chippindale, heeft dezelfde rondingen, cirkels en rechte lijnen als het glazen raammotief van de bioscoop en lijkt veel op de stijl van het gebouw.
Using the features of the Cinema Roxy building
As a starting point, I took detailed pictures of all the features of the building. (see below) Its curvy lines, ribbed tiling, glass window motifs and color palette became the main inspiration for the logo.
The Art Deco inspired typeface Avenida, created by architect and designer John Chippindale, holds the same curves, circles and straight lines as the cinema's glass window motif and very much resembles the style of the building.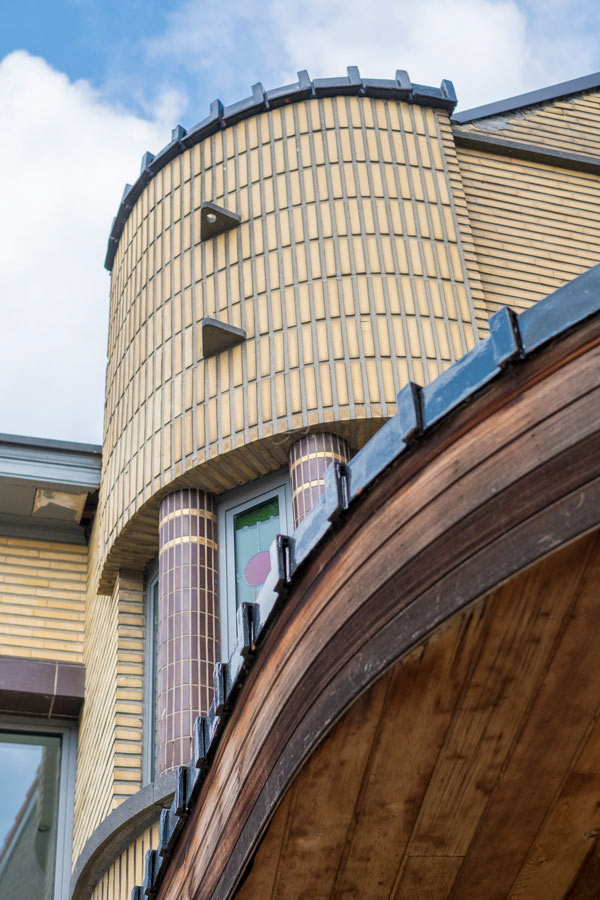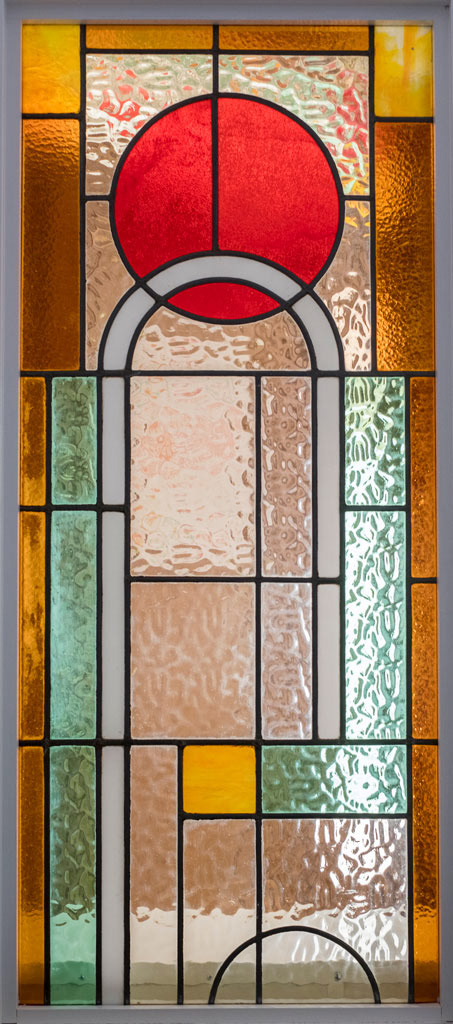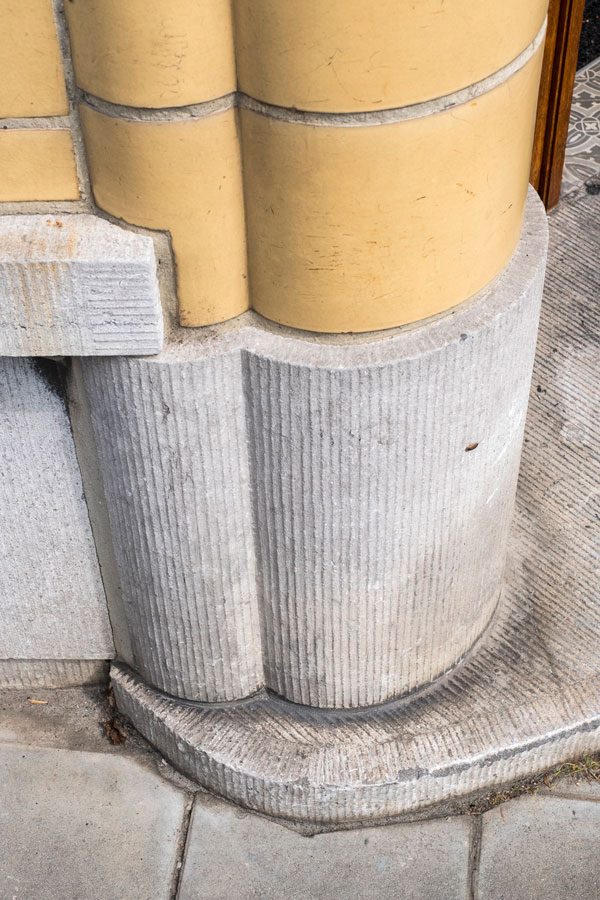 Het uitgangspunt voor het logo is Avenida, een op Art Deco geïnspireerd lettertype met dezelfde rondingen, cirkels en rechte lijnen als de glazen raammotieven in de bioscoop. Door kenmerken van het gebouw aan het logo toe te voegen, werd het uiteindelijke logo gevormd: de bubbelende kolom bij de hoofdingang van de bioscoop fungeert als de letter 'i', de verticale lijnen van de glazen ramen zijn verwerkt in de letters E, A en R, de horizontale lijnen van de E en A zijn afgerond om beter te lijken op de rondingen van het gebouw en de O bevat een deel van het glazen raammotief.
The starting point for the logotype is Avenida, an Art Deco inspired typeface that holds the same curves, circles and straight lines as the cinema's glass window motif and very much resembles the style of the building. By adding features of the building to the logotype, the final logo was formed: the bubbly column near the cinema's main entrance serves as the letter 'i', the vertical lines of the glass windows are incorporated into the letters E, A and R, the horizontal strokes of the E and A are rounded to closely resemble the building's curves and the O contains part of the glass window motif.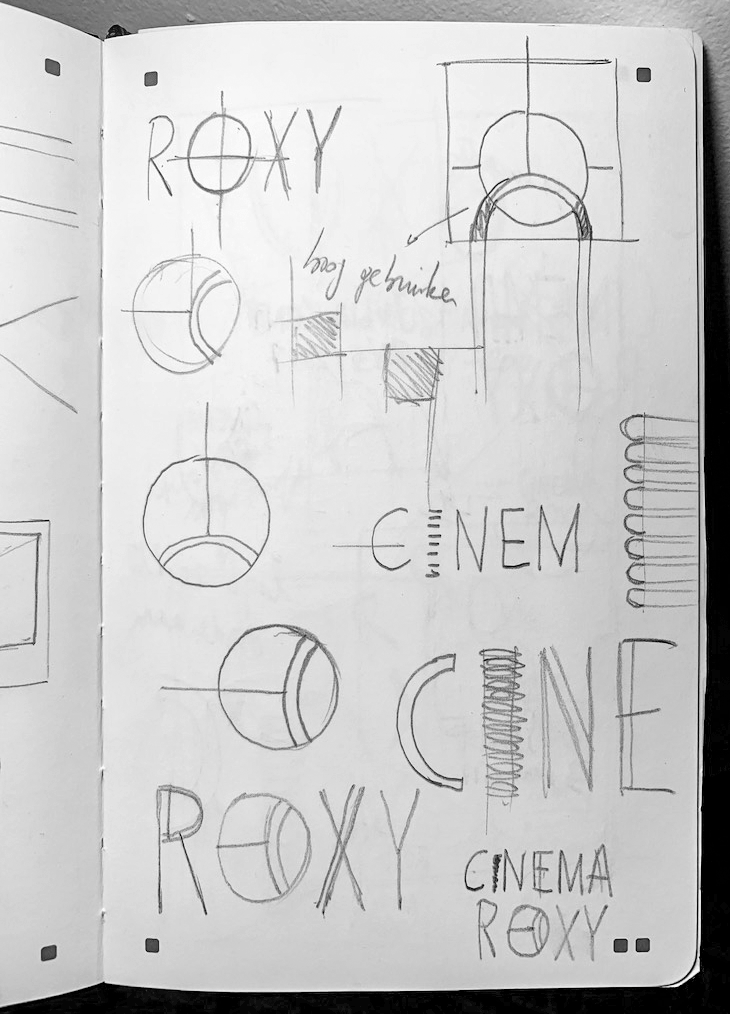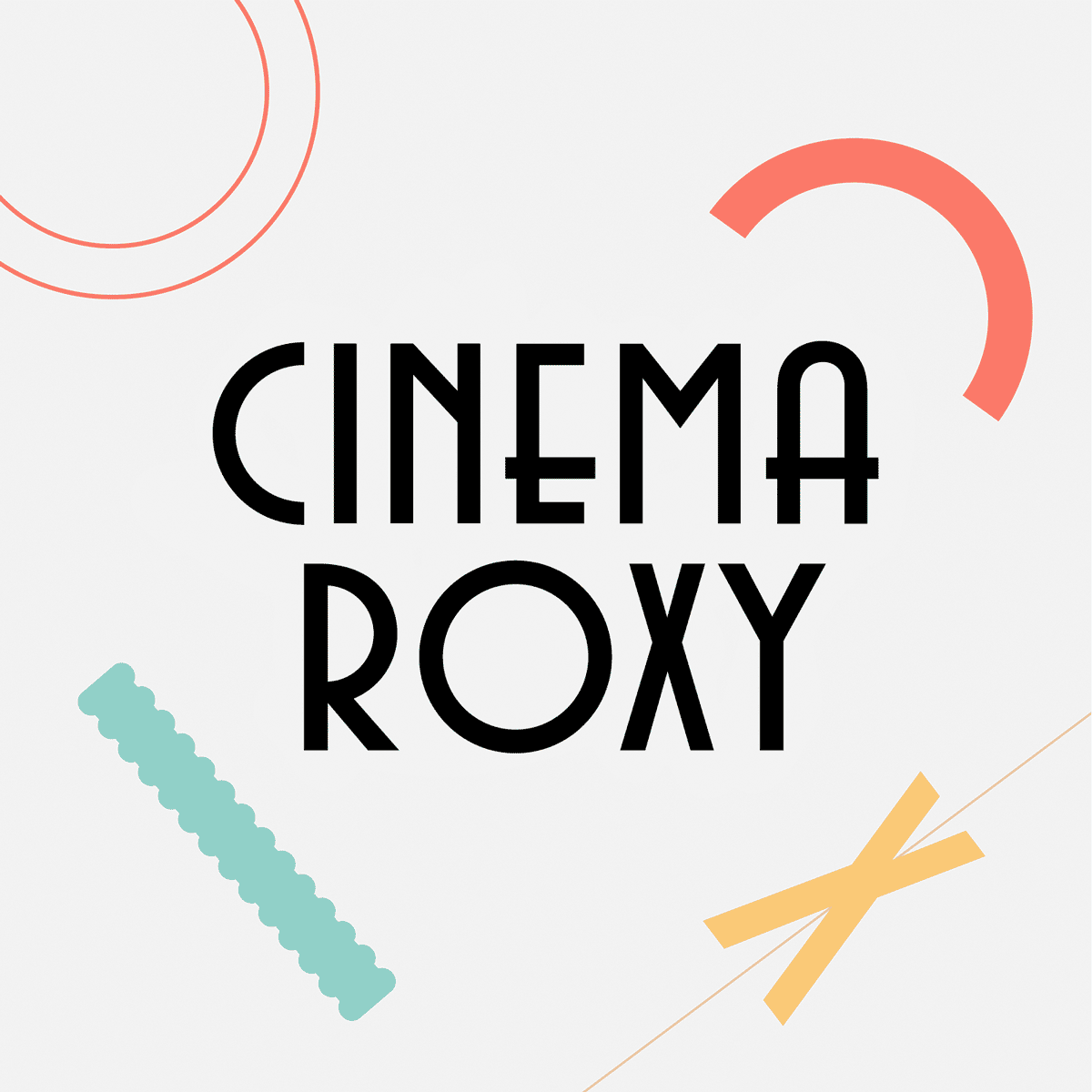 Voor de posters van Cinema Roxy heb ik een flexibel sjabloon ontworpen. Het logo bevindt zich steeds in de rechter benedenhoek en enkele delen van het logo zweven boven de portretfoto's of gaan er mee in interactie. Het lettertype dat wordt gebruikt voor de headlines noemt Rosina en werkt perfect samen met de letters van het logo. Hieronder zie je de posterontwerpen voor de optredens van Julia Kent en Roosbeef. Het prachtige portret van Julia Kent is gemaakt door PEPE fotografia, het portret van Roosbeef is gemaakt door Elisabeth Van Lierop.
For the Cinema Roxy announcement posters, I designed a flexible template. The logo is positioned at the lower right-hand corner, the exit point of the viewer's eye. Parts of the logo are used as graphical elements that are placed on top and interact with the portrait image of the musician(s). The typeface used for the headlines is called Rosina which resembles some of Avenida's features and forms a great pair. Below are the poster designs for the gigs by Julia Kent and Roosbeef. The beautiful portrait of Julia Kent is made by PEPE fotografia, the portrait of Roosbeef was taken by Elisabeth Van Lierop.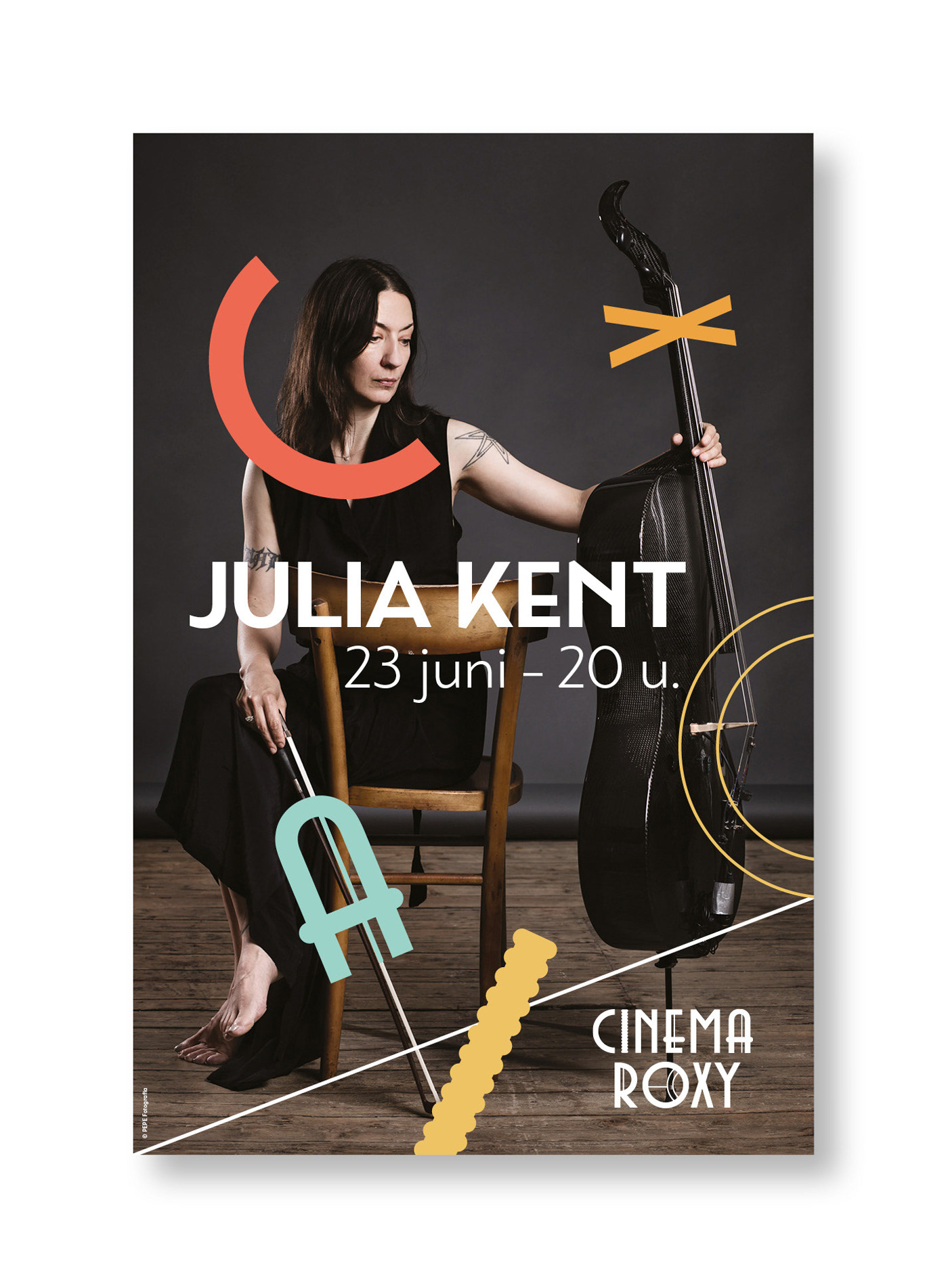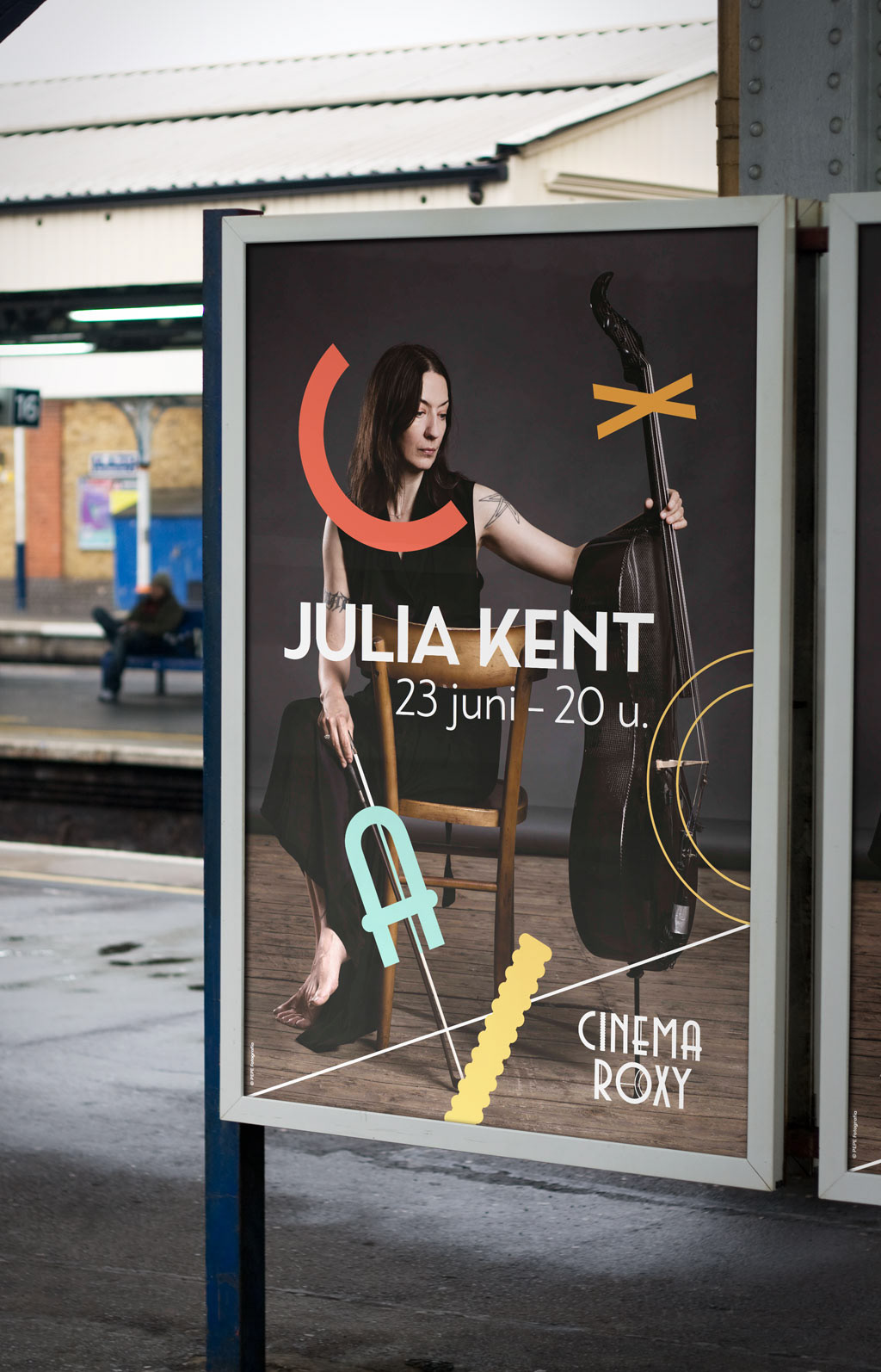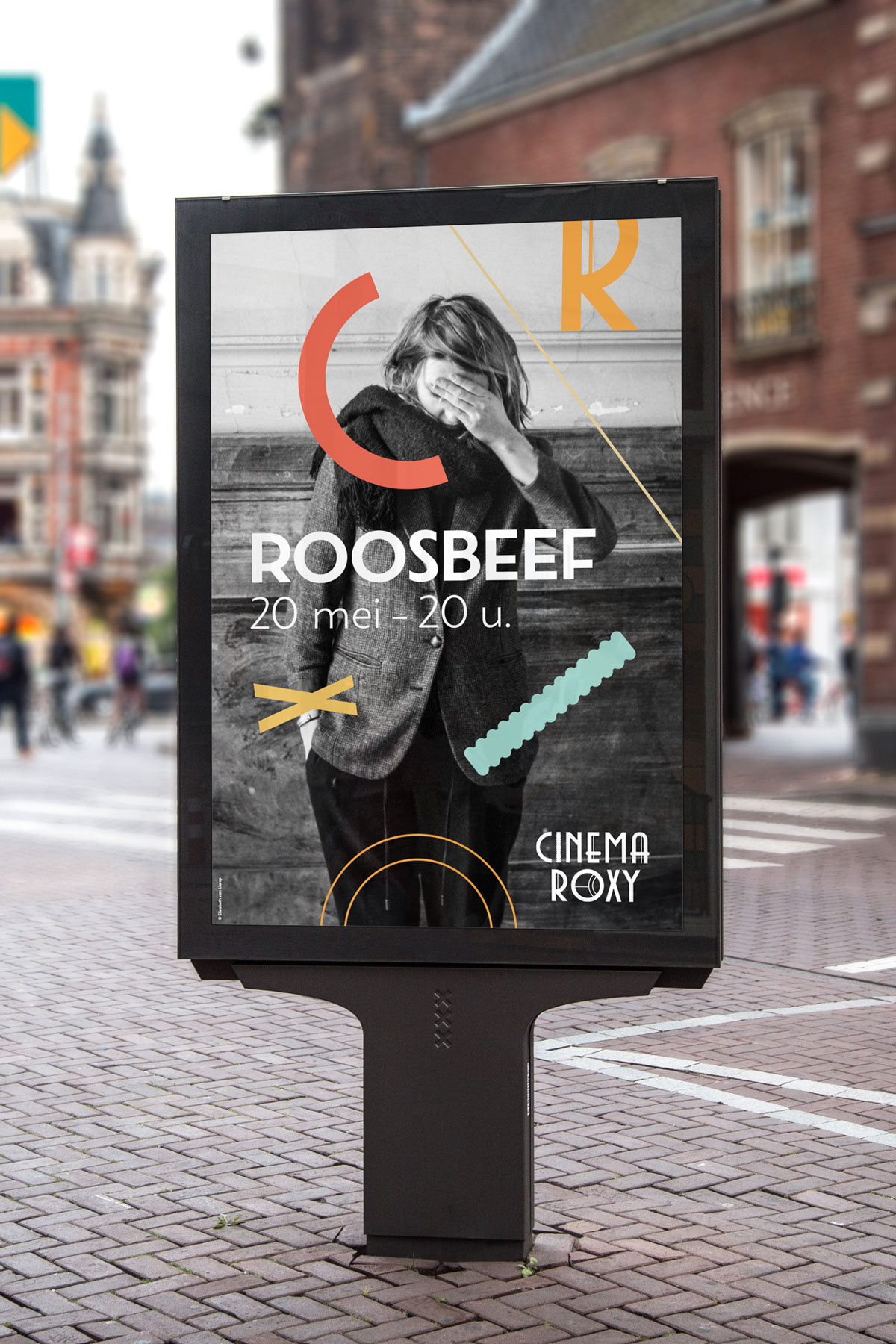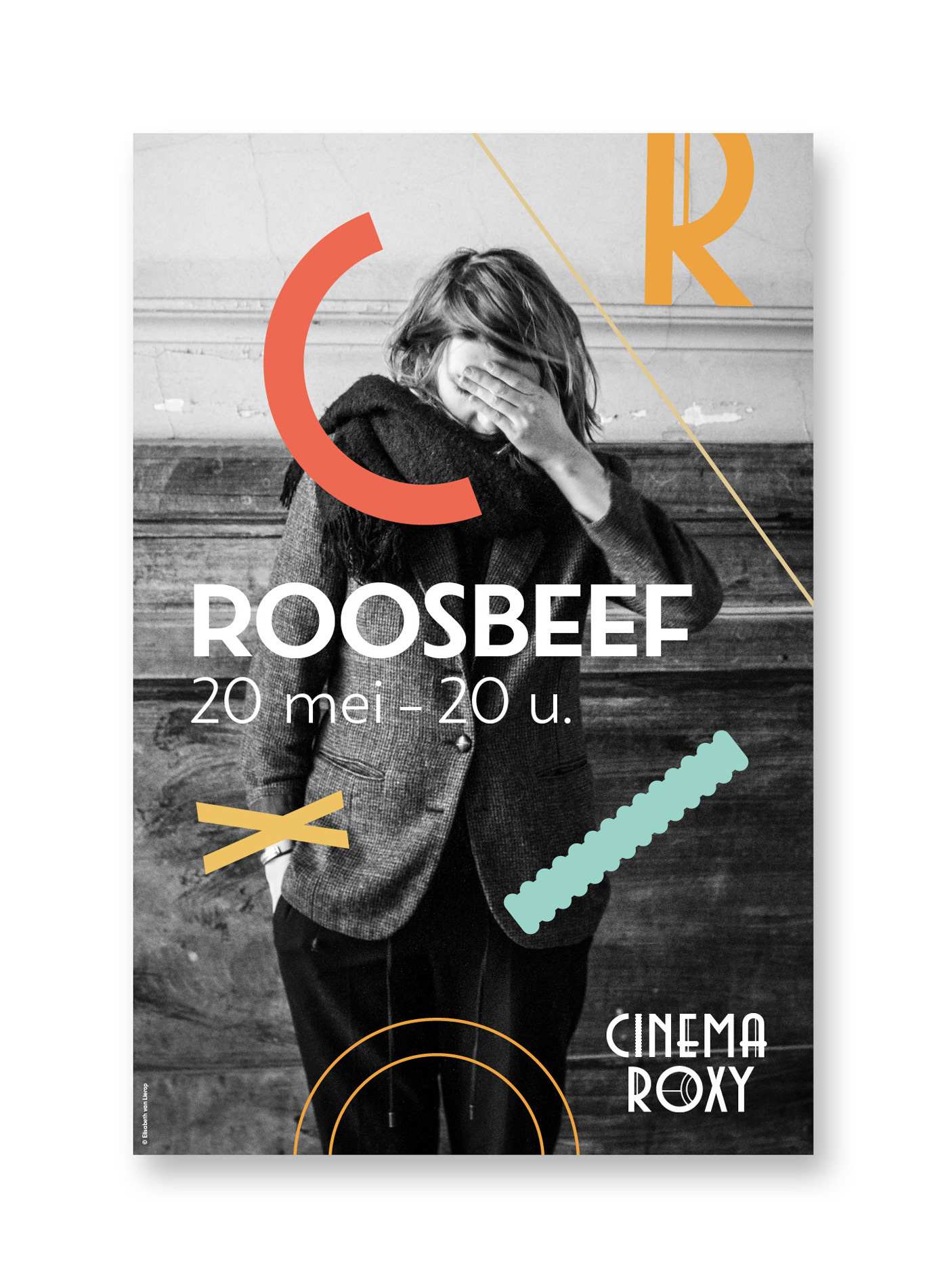 Een deel van de huisstijl van Cinema Roxy werd gecreëerd tijdens een uitzending van Adobe Live, live vanuit het Adobe hoofdkwartier in Parijs. Klik op de video om precies te zien hoe ik het logo en de posters heb ontworpen, wat mijn denkproces was en waar ik mijn inspiratie gehaald heb.
Part of the Cinema Roxy brand identity was created during my appearance on Adobe Live, recorded live from Paris on May 9th, 2017. Click on the replay video to see exactly how I designed the logo and posters, what my thought process was and what elements inspired my design.