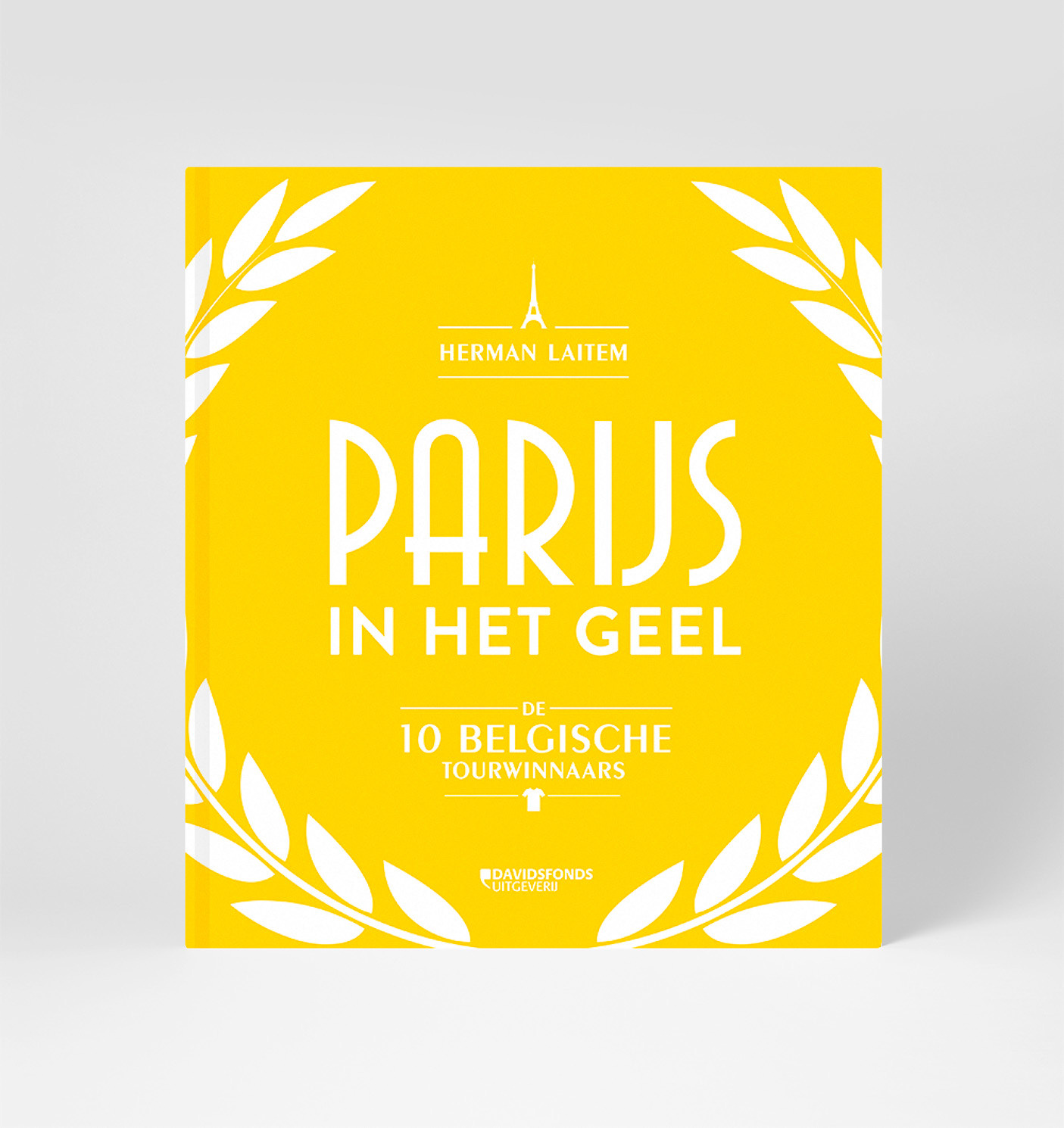 Een boek over alle Belgische Tour-winnaars
In Parijs in het geel vertelt Herman Laitem de straffe verhalen achter alle Belgische overwinningen in de Tour de France. Met de in totaal achttien gele truien was mijn keuze snel gemaakt: een knalgele cover met een lauwerenkrans, kleine grafische elementen die verwijzen naar Parijs en de winnaarstrui en zorgvuldig gekozen lettertypes die verwijzen naar de jaren veertig (waaronder het typisch Franse Peignot, in 1937 ontworpen werd door Parijzenaar en poster kunstenaar A.M. Cassandre). Door het grote aantal historische zwart-wit foto's is het binnenwerk volledig opgebouwd uit grijstonen met geel als steunkleur voor quotes, klassementen, tussenbladen en grafische elementen. Om het geheel wat speelser te maken heb ik verschillende foto's aangevuld met kransen, Eiffeltorens, gele bollen en gele truien. 
A book about all Belgian Tour winners
In Paris in Yellow, Herman Laitem tells the badass stories behind all Belgian wins at the Tour de France. With a total of eighteen yellow jerseys, the cover design formed quickly: a bright yellow cover with a laurel wreath, small graphic elements referring to Paris and the winning jersey and carefully chosen fonts that refer to the 1940s (including the typically French typeface Peignot, designed in 1937 by Parisian poster artist A.M. Cassandre). Due to the large number of historical black and white pictures, the interior is completely composed of grey tones with PMS yellow as a color accent for quotes, classifications, section pages and graphics. To add some playfulness, I placed bright yellow wreaths, Eiffeltowers, circles and jerseys on top of several black and white images.